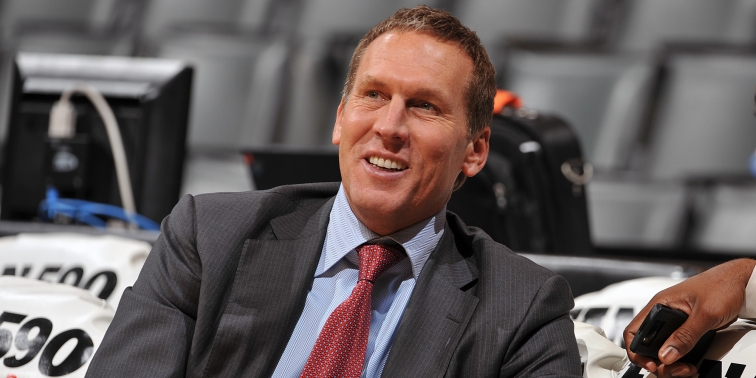 It it officially official. The Philadelphia 76ers have completed the process of moving away from Sam Hinkie and they have moved a Colangelo into power. Jerry Colangelo was once the lead man in Philly with Hinkie operating under him but seemingly out of nowhere, Hinkie elected to step down with a 13 page letter coupled with his resignation.
With Hinkie stepping down, there had to be someone to replace him and that man taking over the 76ers will be the son of Jerry, Bryan Colangelo.
Following from an official Philadelphia 76ers press release.
Philadelphia 76ers Managing General Partner Josh Harris announced today that the team has named Bryan Colangelo as President of Basketball Operations.

As part of the transition, Jerry Colangelo will relinquish the role of Chairman of Basketball Operations and remains as a special advisor to Harris.
According to Keith Pompey of Philly.com, Jerry Colangelo had nothing to do with the hiring of his son.
Harris said Jerry Colangelo wasn't involved in the hiring of Bryan

— Keith Pompey (@PompeyOnSixers) April 10, 2016
Either way, whoever had to do with whatever happened, the Colangelo's are in power in Philadelphia. It could prove to be good or it could be very bad. Jerry's track record speaks for itself but for Bryan, it's been up and down. He was the man who made the Steve Nash era happen in Phoenix as well as placing the building blocks for the current Toronto Raptors roster including the acquisition of Kyle Lowry and drafting of DeMar DeRozan and Jonas Valanciunas. On the other hand, he also gave Andrea Bargnani a big contract, he traded for Rudy Gay and also dealt for Stephon Marbury by giving up Jason Kidd right before his prime began. Hopefully with a crop of young talent and a ton of assets, Colangelo can make something happen for the 76ers.