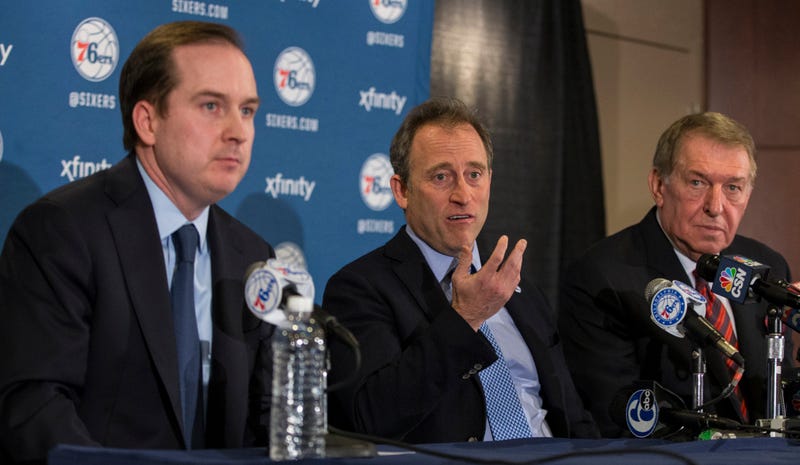 Update: 76ers' general manager Sam Hinkie reportedly resigned due to changes in the Sixers' front office structure including plans to hire more high-level executives to share similar roles. Hinkie announced his resignation through a 13 page letter. The following excerpt was provided by ESPN's Marc Stein:
"… Given all the changes to our organization, I no longer have the confidence that I can make good decisions on behalf of investors in the Sixers — you. So I should step down. And I have."
The Sixers were reportedly not planning on firing Hinkie but did want him to share his responsibilities with either Bryan Colangelo or Danny Ferry. As it stands now, Colangelo seems to be the favorite to be hired to Hinkie's previous position per Stein and The Vertical's Adrian Wojnarowski.
Original post follows
Philadelphia 76ers' general manager and president of basketball operations Sam Hinkie has resigned from his positions according to ESPN's Marc Stein.
ESPN sources say Sam Hinkie has stepped down from his posts in Philadelphial

— Marc Stein (@ESPNSteinLine) April 7, 2016
Hinkie operated within the Sixers organization starting from 2013. The GM was known for his revolutionary tactics of accumulating multiple draft picks and young players while living with consistently being near the bottom of the standings. In that time, Philadelphia adopted his motto to "Trust the Process." Hinkie previously worked under Daryl Morey with the Houston Rockets.
The Sixers had seemingly started to grow wary of multiple losing seasons in a row and were attempting to change that. The first move was hiring Jerry Colangelo as a chairman and co-decision-maker with Hinkie, leading to much speculation that the latter's job security was in danger.
Hinkie recently spoke to ESPN's Zach Lowe stating that the 76ers would be aggressive in free agency and attempt to add more wins than they had reached for in his time as the team's general manager.
As of right now, no reason has been given for Hinkie's resignation nor has a successor been chosen. However, it seems that the Sixers are targeting Colangelo's son Bryan for the GM role. It seems as though the 76ers were already planning on bringing in the younger Colangelo. The idea of working in a crowded front office may have had something to do with Hinkie's decision to step down.
This story will be updated as more details become available.