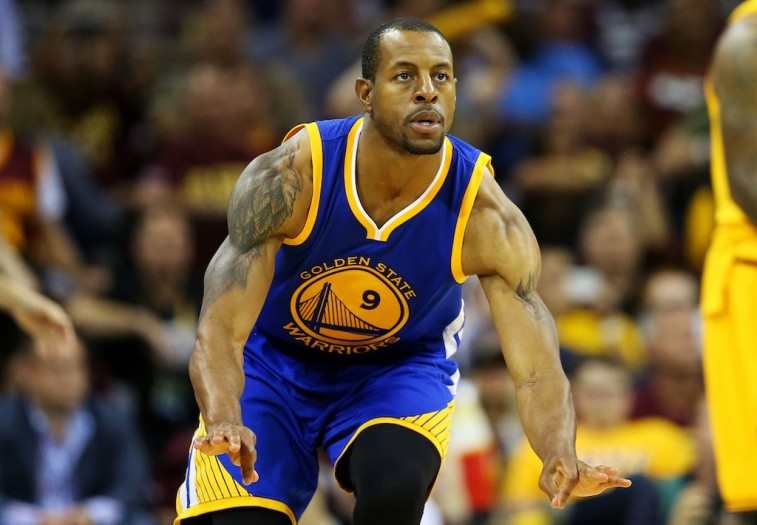 Warriors fans, Andre Iguodala doesn't care about your aspirations of seeing the team reach 73 wins.
With a thrilling 100-99 win against the Memphis Grizzlies last night, the Golden State Warriors' chances at setting the all-time wins record in a single season is still alive. Regardless, the task at hand has always remained the same: Win the NBA Championship. When asked if he cared about 73 wins as the game began slipping away from the Warriors last night, Iguodala replied with a straight up answer:
Iguodala, on whether he found himself caring about 73 as it was slipping away: "Nah. Not at all."

— Ethan Strauss (@SherwoodStrauss) April 10, 2016
Andre Iguodala was sidelined for 13 games after suffering a left ankle sprain against the Portland Trail Blazers on March 11th. Since making his return on Tuesday, Iguodala has averaged 4.3 points per game and 2.6 rebounds per game in three appearances with the team. Iguodala, the 2015 Finals MVP, is a key piece to the Warriors' chances at winning the NBA Championship this season. The championship remains the only accomplishment he's interested in, as he reiterated here:
So, do accomplishments even feel good?

"Not at all. Winning the championship was probably the only time I was like, 'Yo, that was really cool.' And then it goes away in like a week".
The Golden State Warriors will try to steal a win tonight in a San Antonio and keep their 73-win hopes alive. With a win tonight, the Warriors would tie the 1996 Chicago Bulls for most wins in a single regular season (72). But of course, Andre Iguodala couldn't care less. His sights are already set on repeating the history this club made last spring.