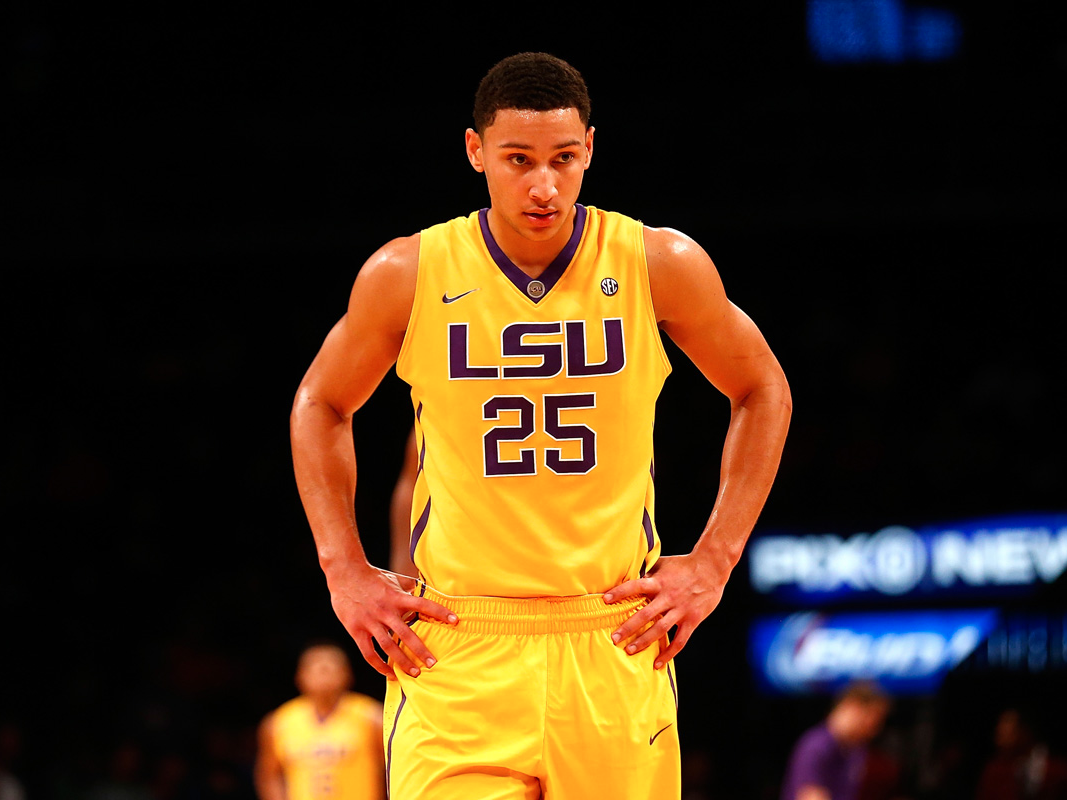 Ben Simmons is a shoe-in (get it) to get drafted 1st overall in this years NBA draft, setting the stakes high for whoever does receive the honours of number 1. The Philadelphia 76ers are poised to get the 1st overall with a 25% chance, while the Los Angeles Lakers trail with a mere 19.9%. We've seen crazier things happen in the draft lottery, but if the Lakers were to get the 1st overall pick, it would change a lot of things for NBA prospect Ben Simmons.
The LSU Forward has been already approached with two different shoe deals from Adidas and Nike, respectively in that order. Adidas offered Simmons a whopping 5-year $10 million deal that includes a $2 million signing bonus and a $1 million ROY bonus. On the other hand, Nike offered just $7.5 million over 5-years with far less performance incentives for Simmons. So what does a 19-year-old kid getting offered millions of dollars do in this situation?
According to Nick DePaula of The Vertical, Simmons and Klutch Sports (you'll see why that's important later) agent Rich Paul are planning a strategy that is focused on the Lakers ping-pong balls tonight:
The early strategy from Simmons and his Klutch Sports Group representation was believed to be a desire to sign a shoe deal before the draft lottery, but they aren't satisfied with the Nike offer, sources said. They're hoping that if the Lakers land the top overall pick – which they have a 19.9 percent chance of doing – Nike will move closer to matching adidas' offer.

Point guard D'Angelo Russell went to the Lakers last year as the second overall pick, and Nike upped its offer considerably to prevent Russell from signing with adidas. Russell agreed to a deal worth $1.2 million annually.
Rich Paul, who is also LeBron James' agent, is very familiar with Life with Nike. His biggest superstar James, recently signed a lifetime deal worth $1 billion dollars with Nike, and mostly all of Klutch Sports is dominated by Nike athletes. This makes it pretty evident that Simmons will be signing his deal with Nike, but not without leverage. If the Lakers were to jump to the 1st overall pick, it will force Nike to cough up more money. A big market like Los Angeles or New York is what companies like Nike want to be involved in, especially with a player with the potential of Simmons. The NBA Draft Lottery is tonight at 7:30pm EST and I have a feeling a lot of people will be closing watching what transpires.