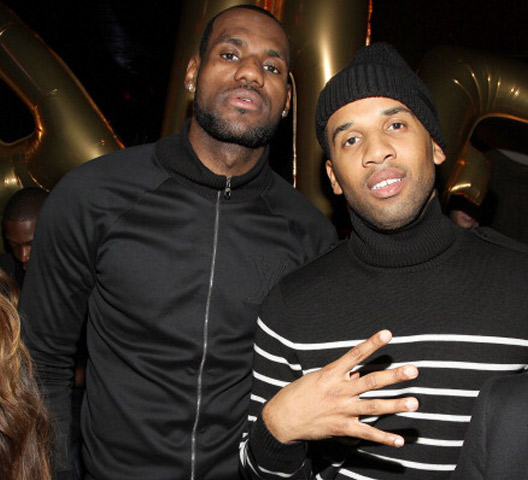 In life, you really know you're good at your craft or at your talent, when it transcends the industry that you work in. You become an icon, like Michael Jackson, Tupac, Michael Jordan, and Prince, to just name a few, and you move past being known just for music or just for basketball, instead you become a living legend. In my opinion, in basketball there are only a handful that have ever transcended basketball and moved on to become icon's in the world; Michael Jordan, Kobe Bryant, Shaquille O'Neal, Allen Iverson and now LeBron James. These are players that have used just their name and their legendary status to reach heights outside of basketball, whether it be in business or entertainment.
In December of last year, LeBron James and his agent and longtime business partner Maverick Carter struck a deal with Nike that has helped LeBron James secure a lifetime worth of money. Literally. The deal was estimated to be worth $1 billion, but it was never confirmed, until Maverick Carter sat down with GQ Magazine's Mark Anthony Green to speak on his development of LeBron's brand throughout his career:
Q:How much was the deal for?
A:I can't say.

Q:Come on, Mav! Can you ballpark it?
A:What are people saying?

Q:Kanye said a billion. So a billion.
[Maverick smiles and points one finger skyward.]

Q:Holy shit.
A:Yeah. It's a fantastic deal. Nike feels great about the deal. That's the most important thing. As great as I feel, as great as LeBron feels—Nike feels fantastic about it. It's the largest deal in the history of the company. Their hope is he makes even more. And our hope is that, too, obviously.
So we know that LeBron James will be joining the shortlist of billionaire basketball players (only Michael Jordan) after this Nike Deal. LeBron James was drafted in 2003, and shortly after signed his Nike deal which has paved the way for his own sneaker line and his own 'King James' clothing line with them. I highly suggest reading the entire article with Maverick Carter because of the invaluable advice he gives for anybody trying to get into sports marketing or management.
Some highlights from the interview include:
Q:Speaking of cards, how much of your job is actually risky?
A:It's all a risk. That's the beauty of it. Some people are just more prepared to take risks than others. I grew up a gambler. That's my name: Maverick. That's what it comes from. My grandmother ran an after-hours joint, and they played cards and shot craps. But you have to know: What's my baseline? What's the worst that could happen to me? And that's what life is all about. Every decision you make, you're simply evaluating risk versus reward.

Q:Do you regret managing Johnny Manziel?
A:No, I don't regret it. I met Johnny and liked him. He obviously was who he was coming out, which is gigantic. I feel like we did a great job with Johnny and helped him a lot. But he was his biggest opponent. He's a very intelligent guy—he's just his biggest opponent. Still is. But to this day, if he called me, I'd go help him in a second. So that's another reason why I can't regret it: I made relationships with him and his family that'll probably last a lifetime.

Q:Why the year-by-year contracts?
A:Because…um…money. The salary cap is going up.

Q:So you knew that would happen.
Yeah, I mean everybody kinda did. The TV deal tripled, right? So the salary caps had to go up, too. It kicks in next summer.