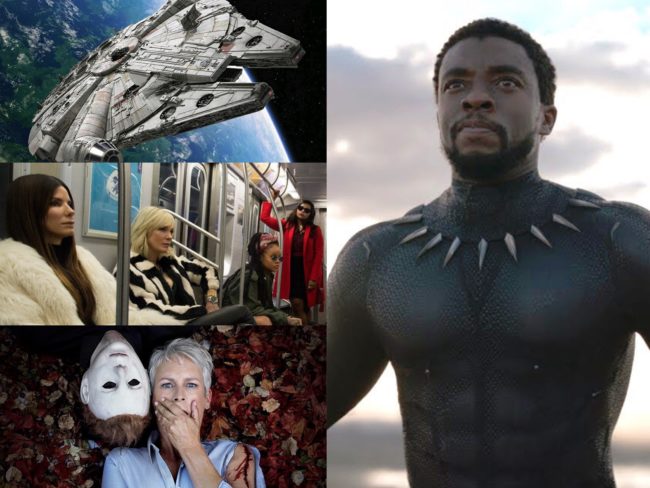 We've had some big releases in 2017, and this new year has quite a lot to look forward to. Here's just a sampling of the movies that will be with us in 2018.
Note: Release dates and titles are subject to change.
Insidious: The Last Key (1/5) – Get used to seeing a lot of sequels on this list. Lin Shaye is back as Elise Rainer, this time traveling to Five Keys, NM to investigate a haunting at her family's old home.
Proud Mary (1/12) – Taraji P. Henson will start the year off with a bang in this action tale about a hitwoman and boy that crosses her path. Costarring Danny Glover and Billy Brown.
The Commuter (1/12) – A businessman on a train gets embroiled in a mystery that he needs to solve before the final stop. This will be Liam Neeson and director Jaume Collet-Serra's fourth film together.
Den of Thieves (1/19) – The LAPD will go up against a master robbery crew as the latter plans to knock over the city's Federal Reserve. Starring Gerard Butler, 50 Cent, and O'Shea Jackson Jr.
Fifty Shades Freed (2/9) – E.L James's infamous trilogy comes to a close. Dakota Johnson, Jamie Dornan, Kim Basinger, and Rita Ora star.
Black Panther (2/16) – Chadwick Boseman reprises the part he debuted in Captain America: Civil War. Ryan Coogler directs and the rest of the incredible cast includes Michael B. Jordan, Lupita Nyong'o, Daniel Kaluuya, Angela Bassett, and Forest Whitaker.
Annihilation (2/23) – Natalie Portman returns to scifi as a biologist searching an environmental disaster zone for her missing husband. Oscar Isaac, Tessa Thompson, and Gina Rodriguez co-star.
Death Wish (3/2) – The classic vigilante story gets remade by Eli Roth (Hostel). Starring Bruce Willis, Vincent D'Onofrio, Kimberly Elise, Mike Epps, and Elisabeth Shue.
Red Sparrow (3/2) – Jennifer and Francis Lawrence (no relation) reteam for this spy story. Costarring Joel Edgerton, Jeremy Irons, and Charlotte Rampling.
A Wrinkle in Time (3/9) – Provocative director Ava DuVernay (Selma, 13th) takes on the classic fantasy book by Madeleine L'Engle. Storm Reid stars alongside Oprah Winfrey, Mindy Kaling, Reese Witherspoon, and Chris Pine.
Tomb Raider (3/16) – Lara Croft is off on a new adventure in this cinematic revitalization hoping to match the high profile of the recent games. Alicia Vikander takes over the role.
Pacific Rim: Uprising (3/23) – The battle between Jaeger and Kaiju rages on. Starring John Boyega, Scott Eastwood, Charlie Day, and Rinko Kikuchi.
Ready Player One (3/30) – Steven Spielberg's latest made a big splash with its reveal at ComicCon. Based on the Ernest Cline novel, it concerns how video games might work in the future.
Rampage (4/20) – Speaking of video games, the classic arcade series about giant monsters on the warpath sees its cinematic form. Dwayne Johnson and director Brad Peyton (San Andreas) reunite for this one.
Avengers: Infinity War (5/4) – All of Marvel's movie heroes come together for the event (at least) a decade in the making. This however is but a prelude; Part 2 comes the year after.
Deadpool 2 (5/18) – The Merc with a Mouth is back for more. Ryan Reynolds stars once again, with Josh Brolin and Zazie Beetz getting in on the fun.
Solo: A Star Wars Story (5/25) – Despite some production setbacks, this prequel appears to still be on track. Ron Howard now directs Alden Ehrenreich, Woody Harrelson, Emilia Clarke, and Donald Glover as Lando.
Ocean's 8 (6/8) – It's Ocean's, but with women. Sandra Bullock, Anne Hathaway, Cate Blanchett, Helena Bonham Carter, Rihanna, Mindy Kaling, Sarah Paulson, and Awkwafina will comprise the team this time.
The Incredibles 2 (6/15) – Writer/director Brad Bird and the voice cast of Craig T. Nelson, Holly Hunter, Sarah Vowell, and Samuel L. Jackson are back at long last. This film is said to be taking place right after the events of the first with a greater focus on Elastigirl.
Jurassic World: Fallen Kingdom (6/22) – The first World brought the franchise roaring back to life. This installment sees the return of Jeff Goldblum after a 21-year hiatus.
The Purge: The Island (7/4) – This prequel intends to shed some light on how the holiday came to be. Y'lan Noel and Lex Scott Davis star, with Jason Blum, Michael Bay, and series creator James DeMonaco back as producers.
Ant-Man and the Wasp (7/6) – This'll be what Scott Lang was up to between Civil and Infinity wars. Paul Rudd, Evangeline Lilly, and Michael Douglas reprise their roles, with newcomers Laurence Fishburne and Michelle Pfeiffer.
Mission: Impossible 6 (7/27) – Tom Cruise is back in action for the next part of his flagship series. Also returning are Rebecca Ferguson, Ving Rhames, Simon Pegg, Michelle Monaghan, Alec Baldwin, and director Christopher McQuarrie, while Henry Cavill and Angela Bassett make their first appearances.
The Predator (8/3) – Shane Black (an actor in the original Predator film) takes the director's chair and co-writing duties for the newest sequel. The cast includes Keegan-Michael Key, Sterling K. Brown, Boyd Holbrook, Olivia Munn, Yvonne Strahovski, and Edward James Olmos.
Venom (10/5) – Tom Hardy will don the symbiotic costume as the popular Spider-Man foe. In addition, an animated Spidey film – this one about Miles Morales – is due in December.
Halloween (10/19) – Jamie Lee Curtis comes back to the series that made her a star. Not much is known about the plot, but David Gordon Green (Pineapple Express) will be directing with Danny McBride as a co-writer.
X-Men: Dark Phoenix (11/2) – The last of the X-Men movies for the year, this one continues the ongoing story. Jessica Chastain joins the returning cast that includes James McAvoy, Michael Fassbender, Jennifer Lawrence, Evan Peters, and, of course, Sophie Turner.
Fantastic Beasts: The Crimes of Grindelwald (11/16) – The newest Wizarding World story sees the title baddie on the loose and it's up to Newt Scamander to stop him. With Eddie Redmayne, Katherine Waterston, Ezra Miller, Johnny Depp, and Jude Law as Dumbledore.
Ralph Breaks the Internet: Wreck-It Ralph 2 (11/21) – The title gives some good indication of where this sequel is headed story-wise. Expect to see more appearances from pre-existing characters, and this time those from the Disney stable.
Aquaman (12/21) – The first DC movie to follow Justice League, this one centers on Jason Momoa as the king of Atlantis. Directed by James Wan and also starring Amber Heard, Yahya Abdul-Manteen II, Willem Dafoe, and Nicole Kidman.
Mary Poppins Returns (12/25) – The 1964 classic finally receives a sequel. Featuring Emily Blunt as the title character and Lin-Manuel Miranda.