Welcome to the third edition of the Def Pen 2017 NFL Mock Draft. My first edition was released prior to the end of the college football season while the second edition was released following the conclusion of the 2017 Reese's Senior Bowl. With the 2017 NFL Scouting Combine and a good portion of Pro Days in the books, what better what to kick off more draft coverage by releasing another mock draft. The NFL Draft isn't until April 27th, but it's never too early to start thinking mock draft. Now that the Senior Bowl and Combine have ended, I have a pretty good idea of which NFL prospects I like and dislike. However, I am predicting what teams will do with their draft picks not suggesting who I think each team should select. I do this based off of trends of what teams have done in the past. If I picked this mock based off of my opinion of each prospect, it would look much different and would likely be an unrealistic outcome. For the most extensive NFL Draft coverage questions can be answered by tweeting at me @treydaubert.
1. Cleveland Browns: Mitch Trubisky, QB, North Carolina
Yes, I know, Myles Garrett will likely be the pick #1 overall but this is Browns we are talking about. Until the Browns actually hand that card in, I still believe it's going to be a quarterback because well this is the Browns, they never get anything right. There is no secret that Cleveland needs a quarterback. It appears that they prefer Trubisky at this early juncture (Trubiskey is actually born in raised in the Cleveland area). I've done my homework on Tribisky and, it appears the Browns are set to make another colossal mistake (Shocker, Not!). When it comes to Trubiskey I released a further evaluation on the UNC prospect in my combine notes who has virtually no chance to become a franchise quarterback.
2. San Francisco 49ers: Myles Garrett, OLB-DE, Texas A&M
Garrett is the best defensive player in the draft and almost a clone of Von Miller. Garrett is not just a once in a generational type of talent but he is by far the best collegiate prospect in the draft. The Kyle Shanahan regime has no choice but to take Garrett. For more on Garrett, check out my combine edge rusher notes.
3. Chicago Bears: Jonathan Allen, DE, Alabama
John Fox is a veteran defensive minded head coach. My guess is that he will try to lure a veteran quarterback to Chicago will addressing the defense in round 1.  At Alabama, Allen recorded 10.5 sacks as a 5 technique which is incredible. He becomes a perfect fit for Vic Fangio's 3-4 defense at defensive end. Allen also put on a show in the movement portion of the combine.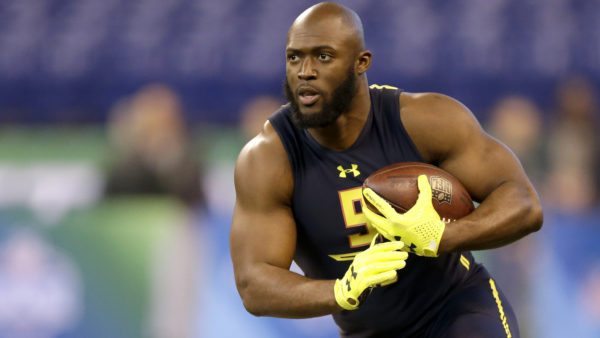 4. Jacksonville Jaguars: Leonard Fournette, HB, LSU
Doug Marrone was announced as the Jaguars head coach this offseason. Marrone's specialty is the offensive lineman and he is going to be a big advocate for running the ball. The idea of this would be to give the Jaguars a dependable running game with the goal of building Blake Bortles' confidence. In previous years the Jags have beefed up the defense. The Jags take Fournette, the draft's most talented prospect. Ezekiel Elliot went 4th overall last year so there is no reason this is too high. Fournette had an up and down day at the combine but should still be considered a top 10 pick.
5. Tennessee Titans via LA Rams: Jamal Adams, S, LSU
Dick LeBeau is desperate for his version of Troy Polamalu in this Titans defense. Adams is a really rangy safety who fits the mold. Taking a defensive back from LSU usually tends to work out pretty well. For more on Adams, check out the combine safety notes.
6. New York Jets: Marshon Lattimore, CB, Ohio State
Lattimore is a long corner who fits a really big need for the Jets. The former Buckeye also had 4 picks last year which should be a welcome fit for the Jets. Darrell Revis was released as well so he can slide in the opposite of Buster Skrine. The issue with Lattimore is he has serious hamstring issues during his college career and comes to the NFL as a one-year starter. Many like Lattimore but those are serious red flags.
7. Los Angeles Chargers: Malik Hooker, S, Ohio State
I love Malik Hooker. He is the closest thing I have seen to Ed Reed since the man himself. His instincts really separate Hooker from the rest of the group. After losing Eric Weddle last year, the Chargers would be wise to select Hooker in this slot. His 7 interceptions were 3rd best in college football. The only question mark is he did only start for 1 season and almost quit football prior to 2016. Hooker did not participate at the combine due to an injury but should be considered an elite prospect.
8. Carolina Panthers: Marlon Humphrey, CB, Alabama
Humphrey is had a terrific year at Alabama. Teams almost refuse the ball to his side. After the Josh Norman departure last year I expect Carolina to target a corner like Humphrey. After proving doubters wrong about his pure straight line speed, Humphrey likely locked himself into a top 10 selection.
9. Cincinnati Bengals: Solomon Thomas, DE, Stanford
As a red-shirt sophomore, I wasn't even sure Thomas was going to declare but he is fly up draft boards and a player I need to do more work on. Thomas also looks versatile enough to play defensive tackle in sub packages. Teams value pass rushers and his 8 sacks are exactly what Ciny needs. The Bengals only had 33 as a team in 2016. Thomas couldn't have helped himself more at the Combine and may realistically rise into the top 5 by draft day. Think Michael Bennett when looking for a comparison.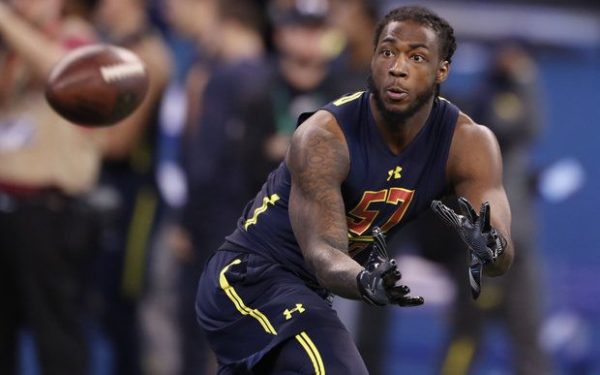 10. Buffalo Bills: Mike Williams, WR, Clemson
The Clemson connection continues in Buffalo as their G.M. seems to love guys from that school. Williams looks to be an excellent pairing to Sammy Watkins putting two freaks on the outside. Remind me again why the Bills didn't keep Chris Hogan? Clemson, wide outs are always dependable (Sammy Watkins, DeAndre Hopkins, Martavis Bryant). Williams decided not to run at the combine which does raise a red flag considering his top end speed is a concern.
11. New Orleans Saints: Derek Barnett, DE, Tennesee
The Saints defense is a complete mess. Taking Sheldon Rankins last year helps but I think the Saints will continue to bulk up the defensive line. Put Barnett on the other side of Cameron Jordan and let him go hunt. Barnett is the all-time leading sacker in Tennessee history. Barnett had a really nice showing at the Combine despite being sick for his workout and has the potential to be a difference maker.
12. Cleveland Browns Via Philadelphia Eagles: Corey Davis, WR, Western Michigan
Davis missed the combine which could cause him to slide down the board a bit but there is no denying the Browns need weapons. Corey Coleman looks like a bust waiting to happen as well. Davis is a big physical receiver but has struggled with drops in the past. I'm not sure what to make of Davis at this point considering he is also coming from a small school.
13. Arizona Cardinals: O.J. Howard, TE, Alabama
Larry Fitzgerald is essentially the tight end at this point for the Cardinals so I'm not sure if this would work schematically but Arizona could use a big target in the middle of the field. Howard was really impressive during the Reese's Senior Bowl proving he was more than just an inline blocker. Bruce Arians would be an interesting fit for Howard who could use him in the ground game blocking for David Johnson too. Despite the recent failures of first-round tight ends, Howard looks like a stud after a flawless combine.
14. Philadelphia Eagles Via Minnesota Vikings: Gareon Conley, CB, Ohio State
Gareon Conley has been overshadowed a bit by collegiate teammate Marshon Lattimore but might end up being the better prospect when it is all said and done. Conley also comes in a similar mold as a long corner but interesting enough comes with much more starting experience. He also flashed in the movement skills but needs to clean up his tackling at the next level.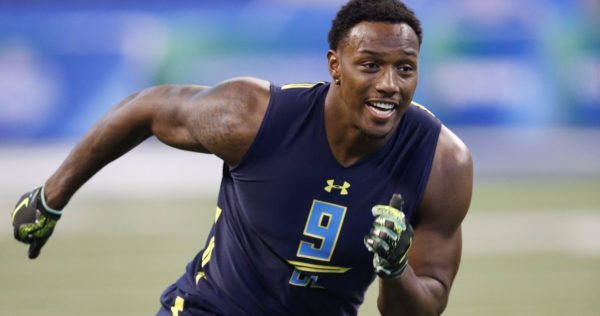 16. Baltimore Ravens: Taco Charlton, OLB-DE, Michigan
Ravens head coach John Harbaugh will likely be on the phone discussing a bunch of Michigan players with his brother Jim. Charlton is a safe bet commanding double teams regularly on the Michigan defensive line. Big Taco went on a tear late in the year recording 10 sacks during his final 10 games. Charlton is such a long pass rusher that can play in any defense.
17. Washington Redskins: Forrest Lamp, G, Western Kentucky
Lamp looked pretty terrible in my opinion at the Senior Bowl but somehow still has a lot of buzz around him. It's an odd circumstance for a small school player. Lamp did look a lot better at the combine which likely saved his first round status. The Redskins have made the offensive line a very important component when they decided to draft Brandon Scherff over Leonard Williams. Bill Callahan has a lot of say in Washington and gets another guard for his line.
18. Tennesee Titans: John Ross, WR, Washington
Ross was terrible in the College Playoff against Alabama who couldn't beat press coverage to save his life. Nevertheless, the Titans want to do everything they can to help Marcus Mariota. Ross can fly and resembles a Desean Jackson type of player. It's possible his 4.22 – 40 yard dash time pushes him up even further up the board.
19. Tampa Bay Bucs: Reuben Foster, LB, Alabama
Tampa is missing an elite middle linebacker to pair with outside guys Kwon Alexander and Levonte David. Foster becomes a steal for the Bucs who could really slide following an unfortunate event at the combine. An elite tackling machine in the middle could really turn this defense elite. Want a comp for Foster? Just look at the recent success of Alabama defenders Dont'a Hightower and C.J. Mosely. Reuben Foster isn't much different.
20. Denver Broncos: Cam Robinson, LT, Alabama
Robinson is the best offensive line prospect in what is a weak group. Robinson does have a lazy streak in him from time to time but putting him in the right organization can fix that. No one has better tools than this guy who is similar to Laremy Tunsil from a year ago. Robinson also might be the only pure left tackle prospect in the draft and really had a good combine showing.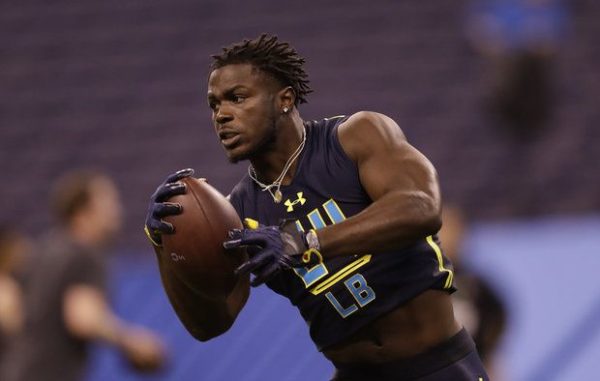 21. Detriot Lions: Jabrill Peppers, S-LB, Michigan
Let's keep the Michigan product in the same state with the Lions. Peppers can play linebacker in the nickel or safety. Truthfully I don't know what position he is going to play but he plays well in the division that's full of aerial attack quarterbacks. Detroit could use him for future Aaron Rodgers encounters.
22. Miami Dolphins: David Njoku, TE, Miami
Njoku won't be leaving Miami anytime soon as he could be selected by the Dolphins. Teams are starting to fall in love with big play tight ends. Look no further than Njoku who 16.2 yards per reception. There is plenty of risks here though as he is sort of a one year wonder stemming from that new Mark Richt Miami offense. The combine also really helped Njoku solidify a first round status.
23. New York Giants: Haason Reddick, LB, Temple
Reddick has been flying up draft boards after a lights out Senior Bowl and Combine showing. After playing defensive end in college, Reddick will transition to linebacker where he excelled in space in the draft process. For a team that loves to get after the quarterback, the Giants will use creative ways for him to blitz as a 4-3 outside linebacker that can work at defensive ends on third downs.
24. Oakland Raiders: Tre'Davious White, CB, LSU
Oakland whiffed on Sean Smith in free agency and could really use a corner. Tre White was tremendous during the Senior Bowl and projects as a number one corner in the league. LSU has a pretty good track record of defensive backs working out in the NFL.
25. Houston Texans: Ryan Ramczyk, RT, Wisconsin
The Texans have a dominant left tackle but have a huge hole on the other side. Ramczyk can fill that void. You kind of know what you're getting with these Big 10 linemen. Ramczyk probably is a better fit at right tackle as he is better in run defense. That's exactly what Houston needs.
26. Seattle Seahawks: Garett Bolles, RT, Utah
Seattle has one of the worst offensive lines in football. It became the epitome of their demise in the playoffs. I'm personally against taking Bolles who is already 24 which is not a good look. At this point, Seattle must invest in the offensive line one way or another. Bolles played his collegiate career with a real mean streak that should play well in Seattle. Bolles fits well in the Seahawks zone-run scheme and is immediately plugged in at left tackle.
27. Kansas City Chiefs: Patrick Mahomes, QB, Texas Tech
Mahomes probably has the best arm talent in the entire draft. Andy Reid will be too tempted to pass as Mahomes where he can develop him for a year or two. The downside to Mahomes is he tries to play the hero too often refusing to take what the defense gives him. Is there a better coach to reel him in than Andy Reid?
28. Dallas Cowboys: Charles Harris, OLB-DE, Missouri
Harris is a skilled pass rusher and fills a big void. Guys like DeMarcus Lawrence and Randy Gregory have been huge failures. Harris led the SEC with 18.5 tackles for loss in 2015. He also has big sack production regarding 8 in 2015 and 2016. Harris had one of the best combine showings of any player and put himself into the first round.
29. Green Bay Packers: Malik McDowell, DE-DT, Michigan State
The Packers need that interior line pressure that has been missing since the days of B.J. Raji. Packers take a tough Big 10 defensive tackle for the middle of their defense. McDowell suffers from poor motor syndrome and wasn't that impressive during the combine.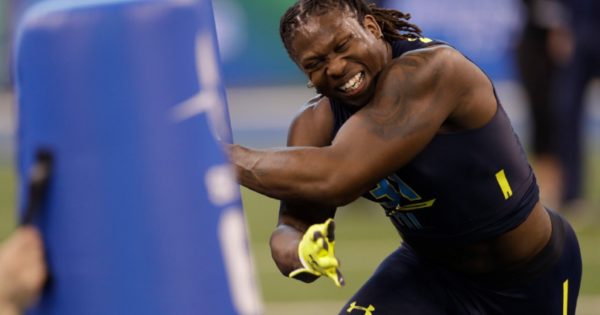 30. Pittsburgh Steelers: Takkarist McKinley, OLB-DE, UCLA
James Harrison is literally 800 years old. Bud Dupree has also been sort of a bust since the start of his rookie year. McKinley has a great motor that the Steelers will love. His 10 sacks in 2016 are pretty impressive as well. Tak really performed well at the combine and was a better athlete than I anticipated.
31. Atlanta Falcons: Jarrad Davis, LB, Florida
Dan Quinn loves Florida. He took Keanu Neal a year ago as it's no surprise considering he use to coach for the Gators. Davis gives Atlanta another speedy linebacker to pair with Deon Jones and DeVondra Campbell. Davis did not work out at the combine which likely drops him to late first round status.
32. New Orleans Saints Via New England Patriots: Deshaun Watson, QB, Clemson
The Saints traded away Brandin Cooks in order to acquire this pick but why did they covet the 32nd selection? Likely because of that 5th-year option so they can groom a quarterback to take over for the aging Drew Brees right? Watson becomes too tempting to pass on late in the first round. There is no reason to believe Watson can't replicate the success Dak Prescott had a year ago.
2017 Reese's Senior Bowl Coverage:
South Team Day 1 Recap:                                                 North Team Day 1 Recap:             
South Team Day 2 Recap:                                                 North Team Day 2 Recap:
South Team Day 3 Recap:                                                 North Team Day 3 Recap:
South Team Game Recap:                                                 North Team Game Recap:
2017 NFL Scouting Combine Coverage:
Quarterback Notes:                                                             Defensive Line Notes:
Running Back Notes:                                                           Edge Rusher Notes:
Wide Receiver Notes:                                                        Linebacker Notes: