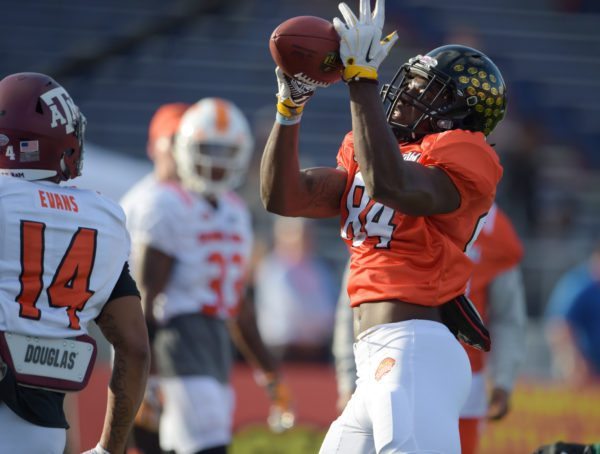 The final day of the 2017 Reese's Senior Bowl practices wrapped up on Thursday. It's always impressive to see which players really improve from the beginning of the week compared to the last practice. I thought overall the South team's practices were often times hard to judge due to the fact that Hue Jackson didn't run a very organized practice. Often times you saw quarterbacks having to go back into the huddle 2 or 3 times.  I think it's a safe bet that it's on the Browns as I figured I would throw that in as a side note. Take a look at some of my thoughts on the final practices down in Mobile.
For more on the 1st day of South team practices click here!
For a recap on the 2nd day of South team practices click here!
Quarterbacks:
After 3 days of practice, I'm blown away by Davis Webb. He is such an exciting quarterback prospect. Yes, I talked about Webb at length during the 1st and 2nd practice recap articles, but I think this dude is going to be the real deal. The first thing I watch in regards to any quarterback prospect is their footwork. There's only one quarterback in the NFL who's can be successful without driving the ball off of their back foot, Aaron Rodgers. No one else can simply just rely on their arm talent which is why I love just watching a quarterback's feet. I want you to look at Webb drop back and throw but just look at his feet. He sets his feet, step up with a hitch, and most importantly drives off that back foot. His knees are constantly bent and never looks upright so that at any time he is in a position to release the ball and creates a nice rhythm throw.
Davis Webb footwork https://t.co/A71qWoTqMX

— Trey Daubert (@treydaubert) January 26, 2017
The other quarterback's footwork simply doesn't look that pretty. It's why Josh Dobbs of Tennessee has his moments where he is very inaccurate. Dobbs can throw a pretty ball and it looks beautiful but his errant throws are because he tries to overthrow everything instead of doing what Davis Webb does. As for Tiffin's Antonio Pipkin, he certainly had his moments but I'm really curious what he would look like at another position because he looks really athletic for the position. We have seen successful quarterback to wide receiver conversations in the past. I feel like Pipkin could be an Antwaan Randle El type of player but I'm sure he will try to make it as a quarterback first.
*Side Note: Chad Kelly from Ole Miss spent the entire week watching from the sidelines because of a knee injury. From a talent perspective, Kelly might actually be the best quarterback here. Kelly, the nephew of hall of fame quarterback Jim Kelly, had a nice college career that includes a win over Alabama. He is sort of your typical gunslinger quarterback but has serious off the field question marks.
Running Backs:
In my opinion, Matt Dayes has been the most explosive player out of this group. He just has a different gear compared to the rest of the guys especially coming out of the backfield to catch. Donnel Pumphrey was a player who really disappointed to me. He just didn't have that explosion that I saw at San Diego State. Like I mentioned earlier Pumphrey being the lightest player at the Senior Bowl hasn't done himself any favors in that regard either.
Wide Receivers:
How about Chad Williams from Grambling State. I'm always cautious of overhyping small school guys because you can get burned if you're not careful but this guy really flashes. Williams even got into a fight yesterday which I love. He wasn't afraid to mix it up and shows he cares about the practices. Williams has been sensational all week but really showed off today. At 6'1″ 194, I saw him really separate from press coverage and beat guys with his speed. Check out this highlight below where Davis Webb drops a dime to Williams beating Miami cornerback Corn Elder over the top. I'm curious to see how he will play on Saturday.
Chad Williams beats Corn Elder https://t.co/vKymBACTNL

— Trey Daubert (@treydaubert) January 26, 2017
I thought Josh Reynolds from Texas A&M had a nice day too. Earlier in the week, he was a victim of numerous dropped passes but he looked awesome today snagging everything in sight. The receiver I'm the most confused about is Artavis Scott from Clemson. He isn't a very good route runner and often times the defenders is hip to hip with him the entire way down the field yet he somehow seems to make impressive catches constantly. He isn't a very big guy either being only 5'10". When you watched Clemson games often times they got him the ball on reverses or bubble screens which didn't give me any clarity in grading him.
Tight Ends:
O.J. Howard is a stud, enough said. He probably will be the first player taken in the draft at the Senior Bowl. I think a lot of people's questions were answered considering he didn't have much production at Alabama in a run heavy offense. According to many people, Gerald Everett of South Alabama was a first round pick but I just didn't see him flash the way I needed him to coming out of a small school. I was however impressed with Evan Engram who I already knew could really catch the ball. Engram has the best chance to be the next Jordan Reed type of player.
Offensive Line:
I'll be honest, I still don't like any of these linemen as 1st, 2nd, or 3rd round prospects. The injury to Forrest Lamp didn't really give me the opportunity to see if I may have liked him. If I have to pick one it's Justin Senior from Mississippi State who held up really well again in the one on one drills. I can tell you right now some guys I would immediately cross off my draft board. Antonio Garcia gets abused by speed and his arms are too short, Danny Isidora gets too wide with his feet and has a terrible center of gravity, and Jon Toth probably didn't win a rep the entire week. It's not a very good offensive line class. Let's hope some of the underclassmen at the combine show up in a big way.
Defensive Line:
Dalvin Tomlinson was one who caught my attention. He looked good in the previous two days but really carried that momentum into day 3. After learning about his wrestling background I only grew to become a bigger fan since I also was a wrestler. Tomlinson also played soccer and had an offer to play for Harvard's football team which makes him even more impressive. I think he is more of a run stuff than a pass rusher which is why teams are sleeping on him for all the wrong reasons. Check out the move that Tomlinson displays on this rep.
Dalvin Tomlinson https://t.co/IamRU0zw59

— Trey Daubert (@treydaubert) January 26, 2017
Eddie Vanderdoes had a better today but he still has that out of control characteristic of him. I thought he had a bad year at UCLA and his inconsistent play has me hitting the stay away from button. The same goes for Jordan Willis of Kansas State who had serious trouble with the mauling tackles. He led the Big 12 in sacks this year and didn't look very explosive at the practices. I prefer Texas A&M's Daeshon Hall at this point.
Linebackers:
I want to touch on Tyus Bowser quick from Houston. He is one of those 4-3 outside linebackers who really gets after the quarterback as a natural bender and freaky athlete. The opening game against Oklahoma, Bowser really flashed causing a sack and forced a fumble in the game I watched. I thought Duke Riley had a nice day as well. He should translate into a nice inside linebacker as he showed more pure speed than I anticipated. Finally, I have to give some love to Ben Boulware. This guy is the definition of a football player. He ripped the ball away from O.J. Howard on one play which is a difficult feat. The more you watch this guy, the more you want him on your team. Who cares if he isn't a superior athlete, all I know is that Boulware can play.
Defensive Backs:
I really like Damontae Kazee from San Diego State. He's not very big or very fast but he continues to be one of those scrappy corners that just keeps grinding. He had his moments where he held but did an awesome job with press coverage despite never doing it in college. I would take a flier on him in the 5th round or so. I thought Marquez White and Cam Sutton really stood out while Tre White sat out of this practice. Both corners are very similar with above average height and long arms. Every year it seems like one of these long corners ends up making it. Last year it was James Bradberry. This year it could be one of those two guys.