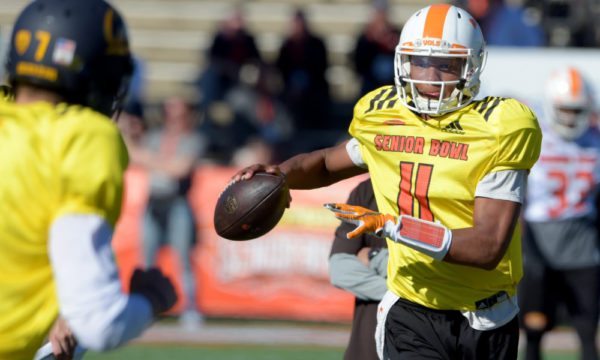 The Reese's Senior Bowl is college football's most decorated All-Star Game. The best collegiate seniors across the country gather around during the week in hopes of improving their draft status moving forward. Tuesday opened up the first day of practices in a week-long evaluation for each player. The South team is being coached by Hue Jackson and the rest of the Cleveland Browns coaching staff as they get the advantage of getting to know these players a little better. Starting with the South team, who caught my eye for better or worse down in Mobile?
Quarterbacks:
For starters, Clemson quarterback Deshaun Watson opted not to participate in the Senior Bowl. He would have been eligible to compete after graduating in only 3 years despite declaring for the Draft as a Junior. Clemson's head coach Dabo Swinney could not have given more praise to Watson.
#Clemson's Dabo Sweeney says If #Browns Hue Jackson passes on Deshaun Watson at 1 he's "passing on Michael Jordan" pic.twitter.com/OLxZGwrliD

— Mary Kay Cabot (@MaryKayCabot) January 24, 2017
Every team is looking for the next Dak Prescott. Dak was the MVP of last year's game which should stress how important this process is. The South team are represented by Antonio Pipkin of Tiffin,  Josh Dobbs of Tennessee, and Davis Webb of California. Pipkin coming from a small school seemed to struggle a lot with the terminology having to restart plays often. He is being mentored by quarterback guru George Whitfield as it will be interesting to see if he can start to build some momentum later this week. Dobbs had his ups and downs to put it lightly. At time Dobbs throws a really beautiful ball with a lot of zip on his passes. Other times he makes boneheaded mistakes like the one below. Becoming more consistent is something Dobbs will need to do if he has any chance to make it in the NFL.
Josh Dobbs picked by Tre White https://t.co/5XbpH1KnLq

— Trey Daubert (@treydaubert) January 24, 2017
(Side Note: Shout out to Arden Key for the love. Key broke the single season sack record for LSU this past season and cheered on the efforts of former teammate Tre White.)
The real story is Davis Webb of California. He is by far the best quarterback prospect at the Senior Bowl. Not only does he have the best tools and highest ceiling of any quarterback here, he showed a high character trait as well. Webb was the only player at the Senior Bowl to show up not only early but two days early. The Cal product threw to a bunch of South Alabama players in preparation for the practices. From what I saw Webb is probably a first round pick that will just need some time to develop. He has never taken a snap under center in college and attempted 52 passes per game in the Air Raid offense. If you're looking for a sleeper quarterback prospect, Webb is your guy considering the rest of the Draft experts seem to be blind to this one. Let's face it; he is bigger (6'5″ 229), stronger arm, and more athletic than Jared Goff who was the first overall pick a year ago. Then again I shouldn't be surprised as I wrote in September that Webb had a brighter NFL future than Goff. Take a look at the velocity that comes off of Webb's passes.
Davis Webb https://t.co/h8BPs6dOGf

— Trey Daubert (@treydaubert) January 24, 2017
Running Backs:
Donnel Pumphrey is the most decorated running back of the South team who is the NCAA FBS all-time leading rusher. The problem is he only weighed in at 169 pounds. It's hard to find a running back who makes it at that size no matter how explosive they are. Dri Archer, DeAnthony Thomas, and so on haven't made an impact in the past as others had hoped and Pumphrey looks like he is fitting into that trend.
Wide Receivers:
A common theme for the receivers was the drops. It seemed like receivers all afternoon long were dropping easy passes which made it hard to evaluate as nerves had to play a factor. The best pure route runner of the group was Ryan Switzer of North Carolina. He consistently beat defensive backs all afternoon. I'm not sure how fast his pure speed is but he is definitely a guy who gets in and out of his breaks very quick and efficiently. Switzer was also a return man and played some tailback for North Carolina.
Tight Ends:
As I stated during the East-West game, this is one of the deepest tight end drafts I have ever seen. The MVP of the day was Alabama's, O.J. Howard. There is no question that the Bama product is a complete player and is without a doubt the best blocker of the group. Of course at Alabama O.J. wasn't asked to catch the ball a ton playing in a run-oriented offense. I think he answered those questions pretty well as he couldn't have looked better in the drills.
Davis Webb to oj Howard https://t.co/5bizEurcbP

— Trey Daubert (@treydaubert) January 24, 2017
The other two tight ends on the roster are considered primarily receiving threats. In a tight end class that is as deep as this one, I don't think there is any urgency to overdraft one of these guys no matter how talented they are. It's time to start evaluating Evan Engram and Gerald Everett the same way you would a tall receiver. To me, those guys should be 4th round picks in because the tight end class is so deep.
Offensive Line:
OL-DL 1-on-1s underway at South practice. @WKUFootball Forrest Lamp and @AlabamaFTBL Dalvin Tomlinson pic.twitter.com/11IgFZTSrB

— Reese's Senior Bowl (@seniorbowl) January 24, 2017
This year's offensive line group is one of the worst in recent memory. Forrest Lamp of Western Kentucky looks like he can make a living in the NFL as a guard. The former tackle in college has shorter arms than most anticipated making the transition to guard imperative. He had an up and down day but he looked like a 3rd round pick in my estimation. Ethan Pocic, the center for LSU, seems like the perfect zone read center. For a guy who is 6'6″, Pocic held up well in the one on one drills despite having a big disadvantage in the leverage department. Justin Senior of Mississippi State held up well in the drills as well but is probably a right tackle only looking very stiff in the knee bend at times. Some guys who took themselves off of my draft board include
Some guys who took themselves off of my draft board include Conor McDermott of UCLA, Jon Toth of Kentucky, and Antonio Garcia of Troy. All 3 guys consistently got beat in the drills. McDermott got bullied by every defensive lineman that came his way that shouldn't happen for a guy who is a touch over 6'8″. Toth played mostly center and was taken advantage of on more than one occasion by Dalvin Tomlinson of Alabama. As for Garcia, well we will get to him in a bit.
Defensive Lineman:
No one was more impressive than Daeshon Hall of Texas A&M in my opinion. I had questions about Hall coming into this week simply because Myles Garrett is the team's leading pass rusher. With Garrett on the other side getting constant double teams, Hall had a clear path to quarterbacks a lot of the time. He quickly silenced any critics out there. Take a look at these two reps during the 1 vs. 1 drills vs. previously mentioned Antonio Garcia.
Hal vs Garcia 1 v 1 https://t.co/LOuHmw3pyV

— Trey Daubert (@treydaubert) January 24, 2017
Hall looks fantastic https://t.co/FjjdTfP2wy

— Trey Daubert (@treydaubert) January 24, 2017
Dalvin Tomlinson and Carlos Watkins are pretty similar scheme fits as they are both able to play the 3 technique in the 4-3 or the 5 technique in a 3-4. Tomlinson continued to push the pocket and was a part of Alabama's tough defensive line all season. Watkins showed up in a big way down the stretch for Clemson helping them win a national title. Watkins has very violent hands but I'm not so sure he is going to give you the kind of sack production everyone is anticipating. Montravius Bryant from Auburn also caught my eye as he was virtually unblockable during every rep.
On the opposite end of the spectrum, there is UCLA Eddie Vanderdoes. I was excited to see Vanderdoes as he was a highly touted prospect a couple of years ago, but he couldn't have looked worse. He displayed horrible balance and kept falling on the ground. There seemed to be a lack of urgency and no motor.
*Tanoh Kpassagnon looks like a raw player who could be a nice developmental guy.
Linebackers:
Clemson inside linebacker Ben Boulware personifies your throwback linebacker. There aren't many downhill linebackers like Boulware left in the NFL and will probably find himself getting drafted later than anticipated because the NFL is more predicated on undersized, speed linebackers in today's NFL. Having said that, Boulware looked better in coverage than I anticipated for a guy who probably won't run that fast. He reminds me of a Chris Borland type player who in incredibly smart and instinctive.
I think Ryan Anderson of Alabama really helped himself on day 1. He was stout at the point of attack in the run game and shows incredible power. Anderson isn't one of those twitchy, freaky pass rushers but he is going to beat you with his bull rush. Some scouting will question his length but I would absolutely feel comfortable picking him in the late first round discussion.
Defensive Backs:
The best corner I saw on the South team was LSU's Tre'Davious White. You can see in the video above of him intercepting Josh Dobbs. White looks like a sure-fire first round pick in my eyes. This guy is going to be a shutdown corner in this league and maybe the best overall player at the Senior Bowl. Damontae Kazee from San Diego State also impressed me. He looks like a perfect slot corner all day and has great ball skills reeling in 6 interceptions last year. Kazee isn't the biggest guy at 5'10" but he doesn't panic when the ball is in the air. I would throw him in the slot all day with the fact that he could be susceptible to the deep ball but is quicker than fast making perfect for the middle of the field. Finally, there is Corn Elder of Miami but he didn't show me exactly what I was looking for. Elder struggled in off coverage and looked extremely stiff in the back peddle.