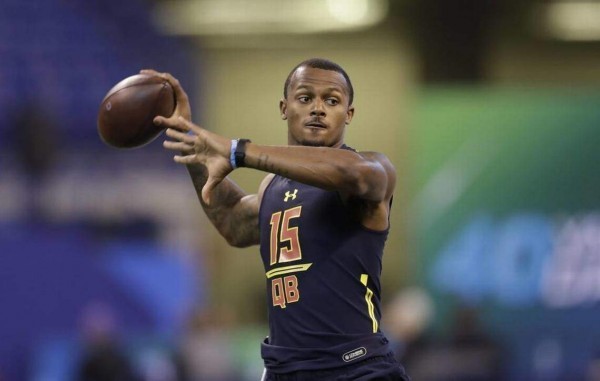 The longest day of the combine takes place between the quarterbacks, wide receivers, and tight ends. Starting with the quarterbacks the overall theme I got was it is an extremely deep group that maybe lacks that one true home run prospect. As many as four quarterbacks could go in the first round but it's possible that neither of them really deserve to be first round prospects. Let's take a look some of the takeaways I had from the quarterbacks as a whole from the 2017 NFL Scouting Combine.
>Overview:
When watching the quarterbacks during the combine I am more concerned with arm strength and footwork rather than focusing on completions. During the drills, you may notice the timing may be off with unfamiliar receivers. However, I pay more attention to how much zip a quarterback has on the ball and how he is able to shuffle his feet. Does the quarterback repeat his mechanics? Does the quarterback really drive the ball off his back foot? Those are the things I'm looking for in watching these workouts.
The Elite:
Two quarterbacks shined above the rest in my opinion. Davis Webb and Deshaun Watson are neck and neck at the top of my quarterback rankings. Let's start with the California quarterback Webb to kick things off who has been on my radar for quite some time. Before the start of the season, I said he was better than Jared Goff who was the first overall pick in the 2016 NFL Draft from Cal. I didn't really need to see a whole lot from the California signal caller after he put on a show at the Senior Bowl including winning MVP of the game. The only real question I had about Webb was his pure athleticism often times not having great mobility to move outside of the pocket. I think those questions were answered as he ran a 4.79 – 40 time and was a top performer in the broad jump, vertical jump, and shuttle run (33 inch vertical & 118 inch broad). It's definitely fair to say considering he has never taken a snap under center in high school or college his pocket awareness and mobility will improve once he gets more comfortable e in a pro style system. Davis Webb has all the pure tools that you look for in a quarterback with elite size (6'5″) and rocket arm strength. There was one pass he threw in the drills on a curl route that the receiver almost fell over from a ball Webb threw.
You can tell Webb is going to become a stud just by looking at his feet. Just watch him drive off his back foot and keep his knees bent as he drops back to throw. It is something to marvel at. You can't say enough good things about Davis Webb and the good news is it appears like all of the scouts haven't taken notice yet and could maybe even fall to the 3rd round for all the wrong reasons. Part of those nonsense concerns includes that he started out his college career at Texas Tech and lost his job after an injury to Patrick Mahomes but we will get to him later. There is no doubt this guy is a first round talent but could benefit from taking some time to learn after playing in the Air Raid offense in college. His final collegiate season included a stat line of  4,295 yards, 37 TD, 12 INT, and 61.6 completion pct.
Some guys are just winners. Clemson signal caller Deshaun Watson is the epitome of this. He went 28-2 during the final two years of his college and shined brighter during the games that matter. There is something to be said for that as we all know quarterbacks often times either rise to another level during postseason play or choke in the playoffs. Watson ran very fast with a 4.66 – 40 time and is extremely mobile. His broad and vertical jumps were also well above average too (32.5 inch vertical & 119 inch broad). He fits that Russell Wilson Dak Prescott mold for comparison. The good news for the Clemson product is he measured in at 6'2″ and 9 3/4 inch hands which is better than expected for his size.
I thought he threw a really nice ball today. Some will question his accuracy issues as he threw for 17 interceptions this past year but most of that was a product of taking so many chances with the deep ball to Mike Williams and others. I saw no concerns with his accuracy with quick footwork in his drop back and he can really let it rip showing more than enough arm strength when needed. That was certainly on display in college completing a ton of deep balls. When you're talking about the difference between Webb and Watson it might come down to which teams fit better but it appears to me that neither answer is wrong. You would love to see Watson go to a system similar to Kyle Shanahan's running bootlegs and getting him in space while Webb can do his damage in the pocket. To be candid, just go watch the last two Collegiate National Championship games. Watson is going to be a superstar and would compare him to a much better version of Marcus Mariota.
The Wildcards:
There are two quarterbacks that have me intrigued but could realistically go either way. In terms of pure arm talent, Patrick Mahomes tops the charts with the strongest arm of any quarterback in the draft class (Webb probably next strongest arm). The concerns I had when I watched him was he often times tried to play hero ball in college. The Texas Tech quarterback refused to take what the defense gives him and looks for the big play every single time. Sometimes it works but other times he makes really boneheaded mistakes. Either way, something electric is bound to happen on every single play. I'm not sure any quarterback helped himself more than Mahomes which was to be expected.
Mahomes is also extremely athletic at 6'2″. He was drafted by the Detroit Tigers to be a baseball pitcher so the elite arm talent from that side makes a ton of sense. I would link Mahomes to a more athletic version of Jay Cutler. If Mahomes puts it all together, he might have the biggest ceiling of any quarterback in the draft. It's hard to find rare arm talents like this. He has big time college production in 2016 5,052 total, 41 TDs, 10 INTs, 65.7 completion percentage.
Brady Kaaya from Miami also falls into this category. I was expecting Kaaya to be disappointing heading into the combine but I sure was wrong. The Miami quarterback put together a really solid day. He has some polished footwork and throws a beautiful ball. When you watch him throw you will notice he has a very elongated release similar to Philip Rivers which does worry me. That could play some part of his accuracy issues. With elite size at (6'4″) this is a guy that you want to develop and see if he can lead a franchise in a few years.
The False Hype Machines:
Last year I told you Jared Goff was going to stink and I was right. This year there are two highly rated quarterbacks in this draft class that are bound to fail. Mitchell Trubisky of North Carolina is the first who could be selected as high as first overall by the Cleveland Browns. He is a little more athletic than some people give him credit for but everything I saw at the combine already confirmed the suspicions I had earlier. Trubisky reminds me of a more jacked version of Jake Locker who ultimately became a bust in the NFL. Take a look at Trubisky throw here. More importantly just watch his feet. There is no drive off the back foot and does not follow through with his throws.
He had a decent year at UNC with 68 percent completion, 30 touchdowns, and 6 interceptions but is only a one-year starter. There have only been 4 one year starters drafted in the first round in recent memory that include Mark Sanchez, Ryan Tannehill, Akili Smith, and Cam Newton. Let's be honest here as talented as Cam is he is the furthest thing away from a polished passer. He needs more college starts and at the very least probably needs 2 or 3 years to sit and learn. Here's all year need to know about Mitchell Trubisky; He couldn't beat out Marquise Williams for the starting quarterback job in 2015. Williams didn't get drafted and is out of the NFL entirely. Trubisky went 8-5 this year for UNC but people don't realize that their team is super talented with two running backs and 3 receivers at the combine. I smell red flags all over the place with Trubisky as any smart NFL franchise won't touch this guy.
The other is DeShone Kizer from Notre Dame. First of all, I can't even understand how this guy is held in high regard. Kizer only completed 58.7 percent of his throws in 2016. I can promise you that no collegiate quarterback ever makes it in the NFL if he can't throw better than 60 percent in college. Take a look at Kizer throwing. You really want to like what you see as it's easy to tell that he has elite tools but the mechanics are highly inconsistent is can't hit the broadside of a barn.
Kizer was so bad in 2016 that he went 4-8 for Notre Dame in 2016 and was benched in the middle of two games I watched (Stanford & USC). If you can't win in college with an offensive guru in Brian Kelly, good luck having success in the NFL. Trust me pass on Kizer, you won't regret it.
The Developmental Quarterbacks:
If you're looking for a late round prospect to groom there are only 3 that could be worth snagging. Those 3 include Josh Dobbs of Tennesee, Nate Peterman of Pittsburgh, and Jerod Evans of Virginia Tech. Dobbs and Peterman were both at the Senior Bowl. I rank Dobbs ahead of Peterman which makes sense considering he won the quarterback battle in college forcing Peterman to transfer to Pitt. From what I saw, Dobbs has a real whiskey arm but stands far too upright causing inconsistent accuracy concerns. Peterman is quite the opposite and has well below arm strength and was frankly a gimmick quarterback in college running shovel passes about 20 percent of the time. Jerod Evans can be wrapped up very quick. He should have gone back to school. He has a ton of talent but he is incredibly raw. He also looked like molasses dropping back to throw it looked ugly.
*Undraftable: Don't waste your time would be the headline for this group. C.J. Beathard, Mitch Leidner, Sefo Luifau, Trevor Knight, and Cooper Rush. I'm actually a fan of Seth Russell but major injury concerns and a fluky Baylor offense also puts him in this category.
Top 5 Quarterback Rankings:
Tie 1st. Deshaun Watson (Clemson)
Tie 1st. Davis Webb (California)
3rd. Patrick Mahomes (Texas Tech)
4th. Chad Kelly (Ole Miss)
Tie 5th. Josh Dobbs (Tennesee)
Tie 5th. Brad Kaaya (Miami)
*Kelly was not invited to the combine for numerous off the field issues.