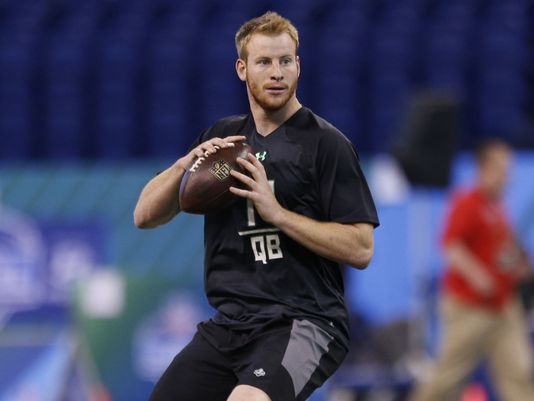 The longest day of the combine takes place between the quarterbacks, wide receivers, and tight ends. Starting with the quarterbacks the overall theme I got was it is an extremely deep group that maybe lacks that one true home run prospect. Lets take a look some of the takeaways I had from the quarterbacks as a whole.
>Overview:
When watching the quarterbacks during the combine I am more concerned with arm strength and footwork rather than focusing on completions. During the drills you may notice the timing may be off with unfamiliar receivers. However I pay more attention to how much zip a quarterback has on the ball and how he is able to shuffle his feet.
The Elite:
Two quarterbacks shined above the rest in my opinion. They were Carson Wentz and Paxton Lynch. Wentz reins from small school North Dakota State and has been on my radar even prior to last season. To me it is a little difficult to evaluate Wentz because of his small school status. Nevertheless one thing that stood out to me was his polished footwork. He also has a very clean delivery and powerful initial load on his back foot. Lets not forget this guy has a cannon and looked effortless for him all day long. Wentz was also sneaky athletic, something that showed on his game tape as well. I think he may of had the best day of any player thus far.
Paxton Lynch to me had the strongest arm of any quarterback. This guy is Joe Flacco all over again at a massive 6'7". The good news for Lynch is his numbers in the 40 yard dash and jumping events were even better than Flacco's. The biggest game tape to note for Lynch was his dominating performance in a win over Ole Miss; A team that handed Alabama its lone loss on the season. Lynch's over the shoulder throws during the drills were just down right beautiful. By no means is Lynch a finished product but in a few years I am convinced this guy is going to make it. Lynch played out of the shotgun his whole career so there is an expected adjustment period here.
The Wildcards: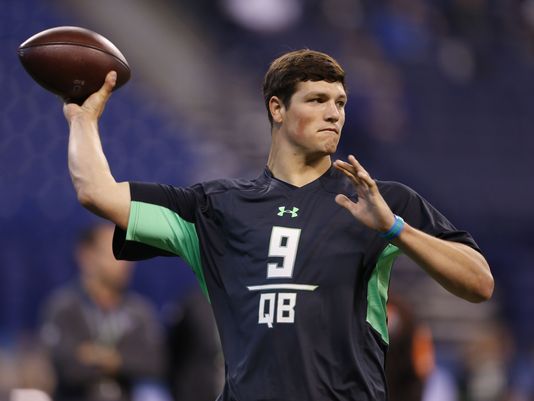 Two wildcard quarterbacks really peaked my interest. Those guys are Penn State's Christian Hackenberg and Ohio State's Cardale Jones. Both players have some down right ugly tape but also have about 2-3 throws a game that take your breath away. Hackenberg in my opinion threw the prettiest ball of any quarterback during the day. The arc on his ball just simply wasn't present on any of the other quarterbacks I saw compete. The difficult part for evaluators is his inconstant play from his freshman season compared to his sophomore and junior years. At the time of his freshman year Hackenberg looked like a potential number one overall pick under Bill O'Brien. Once O'Brien left for the NFL, Hackenberg looked very pedestrian at best under James Franklin. When you think about it there was a very good reason for this as no one was sacked more than Hackenberg in the country. A great deal of blame should be given to Franklin, as the program hasn't progressed the way it was under O'Brien. The coaches should love this guy as he has a real chance to be a steal on draft day. In the right system Hackenberg has the chance to be the best quarterback in the entire draft. There is a reason this guy was the number one high school quarterback recruit in the country.
Cardale Jones on the other hand may actually be a bit trickier. Jones is a national championship winning quarterback in 2014 that oddly enough was benched midway of this season in favor of another talented guy J.T. Barrett. Jones has a thicker Ben Roethlisberger type body with a huge arm. The disappointing part of the day for him was he was unable to participate in any of the drills after blowing out a tire injuring his hamstring in the 40 yard dash. Ohio State's pro day is March 17th as I will be eager to see him throw.
The False Hype Machines: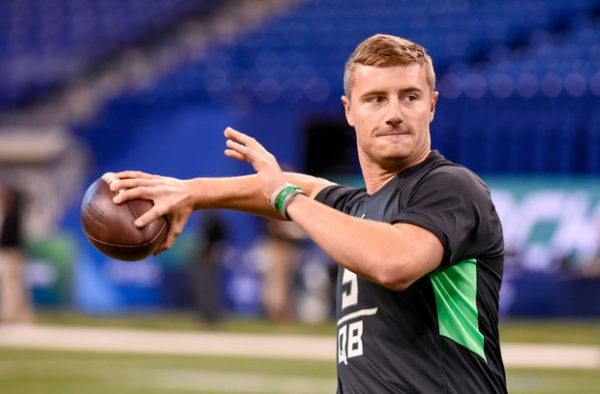 The other two top consensus guys are Connor Cook and Jared Goff. Starting with Goff, he is projected to be selected by many as high as number two overall by Cleveland. In my opinion I would be scared to death the take Goff. His ceiling for his potential reminds me of a young Matt Ryan. His arm strength is very average but he is a polished passer with a quick release. The downside is he might be the next coming of Kyle Boller. His 5-interception game against Utah is just down right ugly and anticipates the throw to much instead of progressing through routes. He remains a much better fit for a warm weather team as I think he is simply not a fit for a cold weather team where more arm strength is needed. There is a chance Goff can be a productive pro but I don't see any Super Bowls in his future. If you're going to take a guy that high you better ask yourself that question.
Cook on the other hand has scouts baffled. Cook oddly enough wasn't even a captain for his football team at the quarterback position. Does that mean he is not a good leader? That's the kind of guy I would love to interview on that subject. Cook resembles to prototypical Michigan State quarterback like Kirk Cousins and Brian Hoyer. I question how talented the guy really is as the team was able to beat Ohio State with a backup quarterback. Cook is more of a 5th round prospect to me as I don't see much superior talent in my estimation.
Who's The Next Kirk Cousins?
Everyone is looking for the next Kirk Cousins. Who is the middle round quarterback I can develop and eventually lead me to the playoffs in a few years? That group includes Kevin Hogan, Jeff Driskel, Jacoby Brissett, Vernon Adams, Cody Kessler, and Dak Prescott. Hogan is very intelligent, very aware of line checks, and his overall skill set but his ugly release would wary. Just think of an uglier throwing motion than Philip Rivers. Driskel caught some eyes during his play at Louisiana Tech. Driskel is a former transfer from Florida who was flat out awful with the Gators. For the reason ill pass. Brisset, another Florida transfer, reminds me of a poor mans Jameis Winston. He is very tentative in the pocket making him susceptible to taking sacks but there is some talent in his arm. Adams was the MVP of the East-West Game and resembles Russell Wilson as the best of any prospect who can emulate his game. Cody Kessler reminds me of a below average Andy Dalton. The reason for that being he is terrified to take any shots down the field afraid of making a mistake. Finally there is Prescott who reminds me of Tim Tebow coming out of the draft.
Quarterback Rankings:
Carson Wentz (North Dakota State)
Paxton Lynch (Memphis)
Christian Hackenberg (Penn State)
Jared Goff (California)
Cardale Jones (Ohio State)