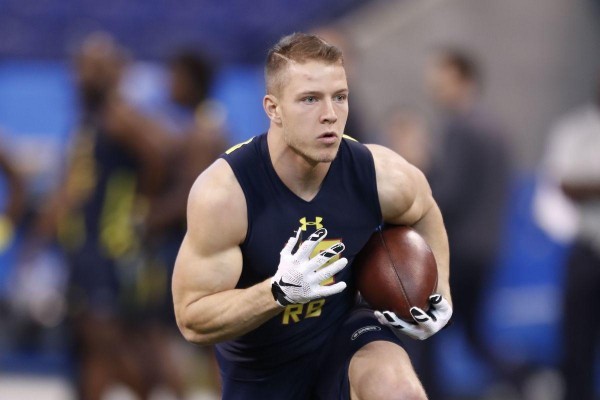 The first day of the combine is in the books. The offensive lineman, specialists, and running backs set the tone for the 2017 combine. A ton of attention has gone to Joe Mixon who has talent but was not invited because of off the field issues. Let's focus on the players that were actually invited. This year's running back class is viewed as extremely deep showing off viable options into the 5th and 6th rounds. Which running backs caught my eye for better or worse at the 2017 NFL Scouting Combine.
General Overview:
A lot of the verbiage in this section may be difficult to understand but I will simplify it as best I can. When watching the offensive lineman during the on the field drills I take a different approach than more draft experts would. For backs, I trust the college game tape a lot more than the on the field drills. By that, I am not as concerned with production. I watch for whether or not a player dances too much around the scrimmage and how quick are his instincts in and out of breaks.
2017 NFL Scouting Combine Running Backs: The Cream Of The Crop:
Let's start with Christian McCaffrey who was the real winner in this group. Two days ago I didn't think that would be the case after he had a poor showing at the bench press. The Stanford product was only able to get 10 reps which were only better than 170 pound Donnel Pumphrey. It's not very surprising to see him put on a show with his mother being a track star and father being a former receiver for the Broncos.
His on the field drills were the real story. McCaffrey showed elite speed with a 4.48 – 40 time. At 5'11", 202, McCaffrey's speed has never really been a question. His lower body explosion didn't stop with his 40 either after he posted a 37.5-inch vertical jump and 121-inch broad jump.
He also averaged 30 touches a game the past two years at Stanford. He has shown he can be a durable weapon out of the backfield. I'm not sure there was back who was quicker in and out of his breaks than him. It was really something to marvel at. His vision is very comparable to what we saw from Ezekiel Elliot a year ago.
His pass catching is what really set him apart from the rest of the class. Realistically, McCaffrey can be lined up all over the field creating matchup problems in the secondary. In today's NFL, I'm not sure there is anything more valuable to possess on offense. The multi-faceted running back is also expected to be a top return man too. I don't think a ball touched the ground all day he is just such a natural pass catcher.
Leonard Fournette was an interesting one, to say the least. Fournette came in at 240 which was a lot more than the expected 225 or 230. He also jumped only 28.5 inches in the vertical jump which is well below average falling below a number of offensive lineman in that category. He then declined to do the broad jump. It wasn't all bad for him because he did show out in the 40-yard dash posting a ridiculous 4.51 time at 240. I compared LSU's Fournette to Adrian Peterson coming out of school because I really haven't seen a player run with such power and force since the days of Peterson's prime.
In today's NFL, Fournette could prove to be less valuable to other teams. He is not a natural pass catcher dropping a ton of passes at the combine. The LSU tailback also wasn't asked to do it much so there is a chance he could improve in that department.
Dalvin Cook from Florida State is a complete back. He doesn't have the short-area quickness that McCaffrey has but he is still superb in and out of his cuts. Cook also showed a lot of power benching 22 reps. I predicted that Cook would run in the 4.5 range doing just that with his 4.49. At 5'10", 210, the Florida State product is probably a pretty safe bet in drafting a running back. You saw often in college that he does have the break away speed to hit the home run. Dalvin was also one of the better pass catchers in the group as well. That does have some issues on the other hand that can be seen here.
Late Round Guys With Potential:
I'm a huge fan of James Connor. He obviously wasn't 100 percent this past year as he recovers from Cancer but he is an awesome story. He isn't going to blow you away with his blinding speed (4.63) but he will bulldoze defenders. As a sophomore at Pitt, he rushed for 1,765 yards. Tarik Cohen of North Carolina A&T also really upped his stock coming from a tiny school. At 5'6″, 179, he posted a 4.42 – 40 time and could be a really nice change of pace back in the NFL. This guy is nicknamed the human joystick for a reason and was probably one of the fastest players getting in and out of breaks and works wonders in the passing game. National champion Clemson back Wayne Gallman was smooth in the drills and showed he is a natural pass catcher. South Florida's Marlon Mack, Temple's Jahad Thomas, and Kentucky's Stanley Williams also posted nice days. Kareem Hunt from Toledo was a top performer at the Senior Bowl and Semaje Perine from Oklahoma had a nice day too resembling a Maurice Jones-Drew type of guy.
No Thanks:
The Alvin Kamara story is one I simply can't understand. Originally committed to Alabama, Kamara was forced to transfer because he couldn't even make their team. When I say that I mean he was literally the 5th running back on their depth chart. In the end, he wound up at Tennessee and couldn't start over Jalen Hurd originally. For those who don't know, he only gained the starting position because Hurd self-proclaimed himself to be a tight end mid-season. That's not a joke either. His nose ring isn't a great look either (sick face emoji). Kamara has very little college production but did play well when he saw the field. He posted very impressive numbers in the vertical and broad jumps too (39.5 & 131 inches). He was a former top collegiate recruit but any team that takes him high is taking a huge risk. I thought he looked very average in the on-field drills and showed off average speed at 4.56.
Others who I would stay away from also include Brian Hill of Wyoming, Rushel Shell of West Virginia, De'Veon Smith of Michigan, Donnel Pumphrey of San Diego State, Jamaal Williams of BYU, and Joe Williams of Utah. Backs are a dime a dozen and these guys probably won't have an impact in the NFL.
*Texas product D'Onta Foreman and UNC alum Elijah Hood did not compete in the on-field drills due to injury. I'm extremely high on both players with Foreman resembling a LeGarrette Blount type and Hood replicating Gio Bernard.
*I also don't want to forget there are some really nice fullbacks in this draft class. Florida State's Freddie Stevenson was more athletic than I originally thought running a 4.75 and Sam Rogers was sort of the jack of all trades at Virginia Tech. More notes on them can be seen in my 2017 Reese's Senior Bowl archives.
Top 5 Running Backs:
Christian McCaffrey (Stanford)
Leonard Fournette (LSU)
Dalvin Cook (Florida State)
D'Onta Foreman (Texas)
Kareem Hunt (Toledo)