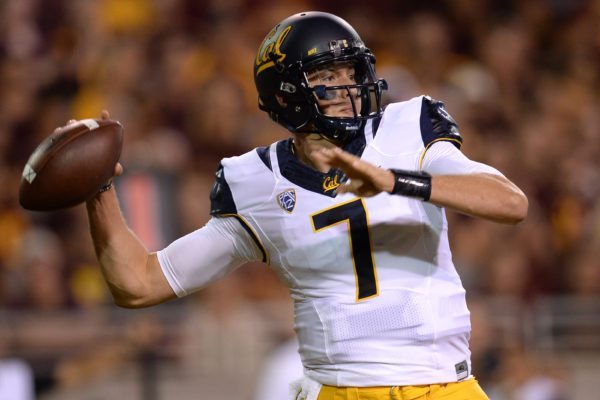 The 2017 NFL Draft is the next major event in the NFL calendar year. As we head into the draft, it's time to rank each position's best prospects. In regards to the quarterback position, a common theme for this year is the lack of a premium franchise quarterback. All of the top rated players will likely need time to develop in order to possibly become a franchise guy in the future. The biggest trick I have used in the past to grade quarterbacks is to watch their feet. It's amazing what the feet will tell you about a player. Footwork is probably the most important trait heading into the NFL as it translates into accuracy at the next level. The rest can be developed with coaching. With that in mind, what does this year's 2017 NFL Draft quarterback big board look like?
1: Davis Webb (California)
Prior to the 2016 season, I made the exclamation that Davis Webb would have a better NFL career than number one overall pick Jared Goff. That outlandish idea no longer seems so far-fetched. California quarterback Davis Webb is my number one rated quarterback. Yes, I'm very aware that's not the popular opinion but it may end up being the correct one. Webb first caught my eye as a freshman sensation at Texas Tech where he kind of got lost in the shuffle ending up at Cal. Webb is a prodigy of quarterback guru Kliff Kingsberry who also coached Johnny Manziel, Patrick Mahomes, and other electrifying collegiate quarterbacks. In terms of pure tools, Webb might have the highest one of any of the quarterbacks. At 6'5″, 229, Webb has elite size and a rocket arm. The difference that sets Webb apart from the rest of the class is his flawless footwork. During the draft process, all he has done is help himself after winning MVP of the Senior Bowl (something Dak Prescott did a year ago) and lighting up the combine. Not only did Webb catch eyes at the Senior Bowl, he also showed up 2 days earlier than everyone else. That's the kind of guy you want in a quarterback room. This guy frankly puts up video game numbers in the air raid offense but continues to be overlooked. The Cal quarterback led the NCAA in passing attempts (620) which are the most all-time. He also is the only quarterback that truly drives the ball off his back foot from a mechanical standpoint. Webb carried a Cal team that frankly wasn't any good throwing for 37 touchdowns and 12 interceptions in 2016. Webb is really raw and ideally needs time to sit and learn but make no mistake about it, Davis Webb is the only quarterback that warrants a first round grade. The Arizona Cardinals seem to be a perfect fit with their ariel passing attack where he can sit and learn behind Carson Palmer.
Best Case: Better Version of Joe Flacco
Worst Case: Worse Version of Joe Flacco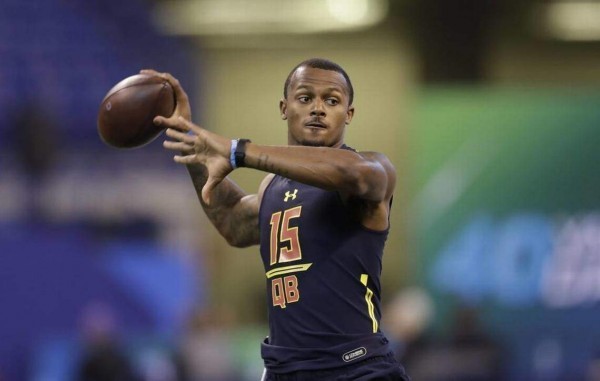 2: Deshaun Watson (Clemson)
The NFL usually gives us two quarterbacks a year that end up making it in the NFL. Watson is my other pick as I can see a bright career in his future. Some guys are just winners. When the lights shine the brightest, there might not be a quarterback you would rather have. Watson led his Clemson Tigers to a national championship this past season putting together a dominating performance against an Alabama team that will feature numerous future NFL stars. Coaching may be the most important thing no one is talking about with Watson. He needs to be in a system where his athletism is utilized. Kyle Shanahan's zone-read play style with heavy bootleg and play action sets are an ideal fit. Watson, 6'2″, 221, is a terrific athlete posting a 4.66 – 40 yard dash time. The Clemson product was also the top performer in my eyes at the combine. The only concerns with Watson is he doesn't have the biggest arm and he has been prone to throwing a lot of interceptions. I tend to believe those high interception numbers is just a product of the college offense throwing up a lot of 50-50 balls deep to Mike Williams. Did I mention Watson is smart and graduated in only 3 years. There is no reason to believe Watson can't replicate the success Dak Prescott had right away as a rookie.
Best Case: Russell Wilson
Worst Case: Dak Prescott
3: Patrick Mahomes (Texas Tech)
Something really good or really bad is going to happen on every single play. That's the only way to describe Patrick Mahomes. In terms of pure arm talent, Mahomes probably has the best one in the entire draft and recorded the highest velocity at the combine (Davis Webb came in 2nd). This isn't surprising of course since Mahomes was drafted by the Tigers to become a baseball pitcher. For Mahomes to succeed in the NFL, he needs a coach that will reign in some of that gunslinger mentality. Andy Reid and the Chiefs could be the perfect fit that can teach him to take what the defense gives him and pick his deep ball spots better. The good news is the Texas Tech signal caller has a ton of college production (41 Td's 10 INT's in 2016). Mahomes needs time to sit and learn but truly is the definition of a boom or bust prospect. I have a 2nd-3rd round grade on him.
Best Case: More Athletic Version of Brett Favre
Worst Case: Colin Kaepernick
4: Brad Kaaya (Miami)
Kaaya should have probably gone back to school but he does have a decent amount of college starts under his belt since he has been Miami's quarterback for the past 3 seasons. Kaaya throws a really pretty ball but is highly inconsistent with his accuracy. Kaaya does have ideal size (6'4″, 210) but I'm not sure his accuracy will ever be good enough to become a franchise guy. Truthfully I don't think anyone has a clear idea of what Kaaya will become. The only sure thing is he needs 2-3 years to develop. I was impressed with what I saw from his combine performance. I would start to consider Kaaya starting in the 4th round.
NFL Comparision: Matt Cassel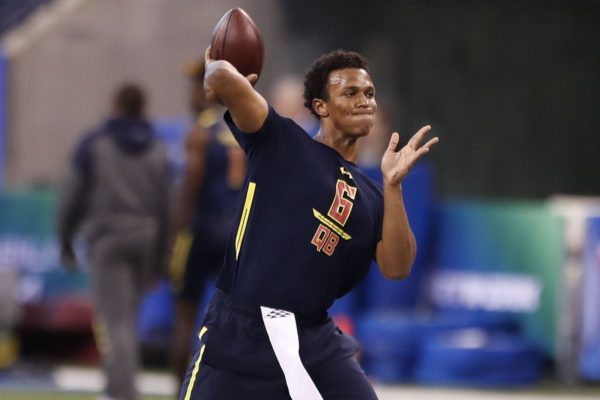 5: DeShone Kizer (Notre Dame)
Kizer is another boom or bust prospect. The idea of Kizer going in the first round, in my opinion, is really outlandish. The reason being is because of his extremely low completion percentage in college (58.7 percent). That mark alone makes it almost certain that Kizer has no chance of making it in the NFL. Scouts fell in love with Kizer's size (6'4″, 230) and arm strength but he just isn't very good. He was even benched in against Stanford and USC during the midst of a game. It's not a ringing endorsement when your own college coach (Brian Kelly) thinks Kizer should have stayed in school another year. He's not wrong either…… Kizer's mechanics are not very pretty which lead to his poor accuracy that can be further explained in my combine notes. Maybe Kizer can turn those raw tools into something one day but I highly doubt it. His ceiling alone puts him 5th on the list with a 4th round developmental grade in my eyes.
NFL Comparision: Byron Leftwich
6: Josh Dobbs (Tennessee)
Dobbs has kind of gotten a bad rep for no reason. He doesn't use his lower half at all in his delivery which leads to very inconsistent play. When Dobbs is accurate the ball does come out pretty as he has some spin on his throws. Because of the arm, he often times makes bad decisions with the ball thinking he can fit it into windows that just aren't there. The biggest positive to Dobbs is he is an extremely bright quarterback majoring in biochemical engineering. Dobbs is also a very mobile quarterback who can be used outside the pocket. The 5th round seems to be a logical location for him.
NFL Comparision: Less athletic version of RG3
7: Chad Kelly (Ole Miss)
Kelly might be the most talented quarterback in the entire draft. That's not a joke either. The nephew of hall of fame Bills quarterback Jim Kelly plays the game with an intense fire and passion but is a knucklehead to put it lightly. Kelly has numerous off the field issues that are too lengthy to even get into. When you watch him play he's got the Brett Favre gunslinger mentality and can invigorate his teammates with his energy. The off the field issues, especially at the quarterback position drop him into the 6th or 7th round.
NFL Comparision (IF he stays out of trouble) Andy Dalton
8: Mitchell Trubisky (North Carolina)
I'm not sure where to start with Trubisky considering he is the darling at the quarterback position according to many draft experts. The fact is I probably wouldn't draft him until the 6th round. Trubisky doesn't have the elite arm strength that is required for cold weather playoff games. UNC's offense relied on the short passing game which is why his completion percentage was inflated, not to mention that he has multiple weapons heading to the NFL as well. Poor arm strength for a bigger bodied quarterback isn't a good sign and was a similar knock I had against Jared Goff a year ago. Mechanically, Trubisky doesn't measure up either. Trubisky is a locked legged thrower that doesn't generate much zip from his lower body. That likely is the reason why his arm strength isn't apparent because he is pretty built for the position. You will notice in my combine notes that mechanics just aren't there. (watch his back foot in the video portion of the article). Going into the NFL as a one-year starter also screams red flag. Four quarterbacks have been picked in the first round (where Trubisky is mistakenly projected to be selected) have been one-year starters. Those 4 are Akili Smith, Mark Sanchez, Ryan Tannehill, and Cam Newton. Let's be honest how refined of a passer is Cam Newton? Coaches aren't going to take the 2-3 years to sit a first round quarterbacks where the goal in taking one in the first round is to eventually win a Super Bowl out of the gate. Here's the real question; If Trubisky is so good why couldn't he beat out Marquise Williams for the starting job in 2015? Williams went undrafted in 2016 by the way and is out of the NFL entirely.
NFL Comparision: Jake Locker
9: Nate Peterman (Pittsburgh)
The hype on Peterman has largely been unwarranted. About Twenty percent of Peterman's completions in college came via the shovel pass. Peterman played in a gimmick offense at Pittsburgh to clear. After a poor showing at the Senior Bowl, I'm not sure what to like. Peterman started off his college career at Tennessee but lost his job to Joshua Dobbs forcing Peterman to transfer. Therefore, he ranks below Dobbs for good reason. The arm strength simply isn't there for teams to spend a valuable draft pick on to develop. I would take Peterman in the 7th round.
NFL Comparision: Jimmy Clausen
10: Jerod Evans (Virginia Tech)
Let's not waste much time on this one. Jerod Evans probably won't get drafted and chose to enter the NFL Draft as a Junior. Evans has sluggish footwork and is the definition of raw. He does have some tools to work with but may struggle to make a roster. Let's hope he turns out better than the last Virginia Tech project quarterback Logan Thomas.
NFL Comparision: Logan Thomas