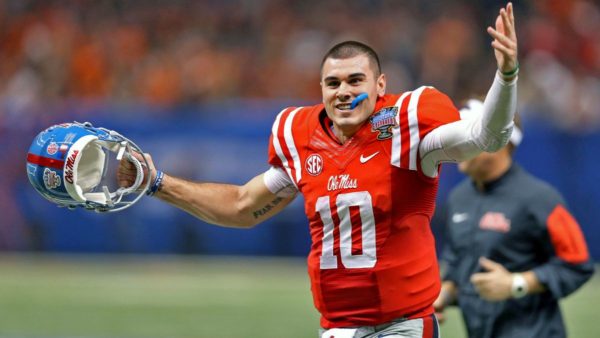 The NFL implemented a policy this past year that would not allow players to compete in the Combine that had prior off the field issues. Ole Miss quarterback Chad Kelly falls victim to the new policy as he has not been invited to compete in the combine. Bleacher Report's Matt Miller was first on the news.
It's hard to pinpoint what the exact reason was that Kelly wasn't invited because he has had so many issues. It could be pleading guilty to disorderly conduct when he threatened to shoot up a bar with an AK-47. It could be Kelly Snap Chat picture of him holding some 'grass'. Maybe it dates back to Kelly getting kicked out of Clemson. It could even be Kelly's poor choice to get into a brawl in the middle of the field of his brother's football game. I'm probably forgetting a few but it's probably a combination of all of those instances.
Regardless the Ole Miss product probably couldn't have competed at the Combine anyway as he recovers from a torn ACL and meniscus. Kelly is the nephew of Hall of Fame Bills quarterback legend Jim Kelly.