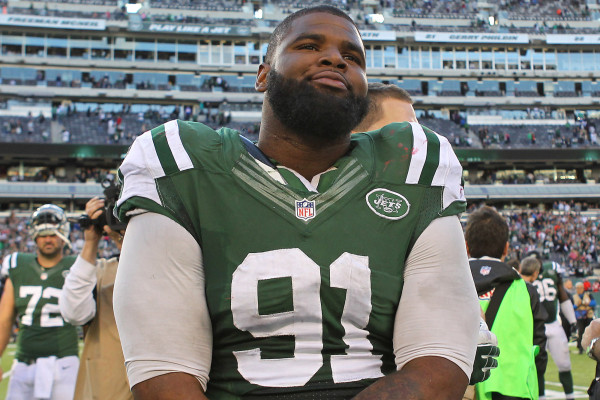 New York Jets defensive tackle Sheldon Richardson has been suspended without pay for the first four games of the 2015 regular season for violating the NFL Policy on Substances of Abuse. There has been no word on what substance Richardson has taken as of yet. The 2013 defensive rookie of the year issued a statement following the suspension.
"I apologize for letting down my family, teammates, this organization and the fans," Richardson said in a statement released by the team. "However, words aren't enough. This is something that can only be addressed by how I handle myself from this point on. I don't want this to take away from what the team is trying to accomplish. While I won't be there at the start of the regular season, I will do whatever I can to support my teammates until I'm able to return to the field."
Richardson also apologized via twitter:
I apologize for my mistake and for disappointing the people who mean everything to me.

— Sheldon Richardson (@Godforshort) July 2, 2015
I vow to you, this will not happen again. My team will continue to push forward without me to start the season.

— Sheldon Richardson (@Godforshort) July 2, 2015
I promise I will be there for them in everyway that I can until I am able to return.

— Sheldon Richardson (@Godforshort) July 2, 2015
Richardson's suspension will likely hurt a lot less after the Jets drafted Leonard Williams 6th overall in this past draft. Big Sheldon will miss games against the Browns, Colts, Eagles, and Dolphins, but will be able to participate in offseason activities and preseason games.