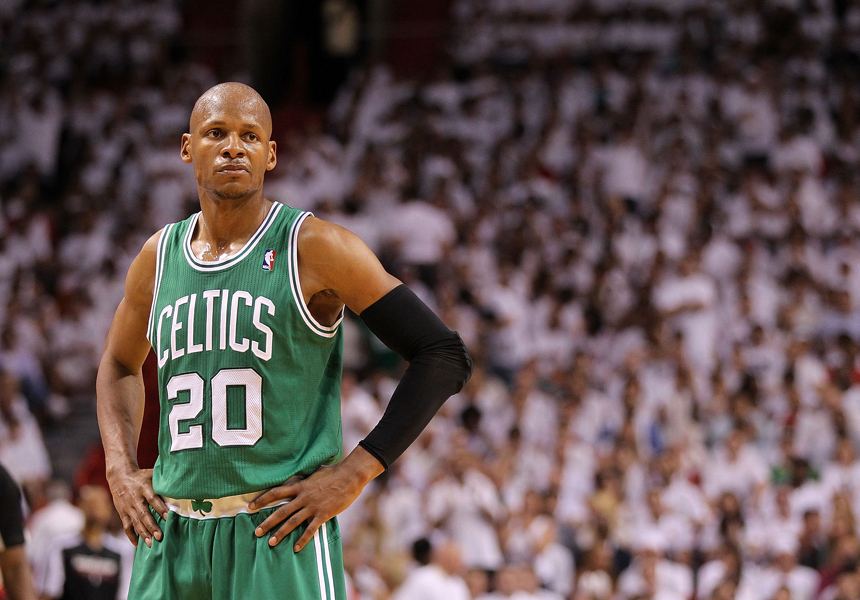 Since he decided to walk away from the game following the 2014 NBA Finals, Ray Allen has been that one veteran just about every main playoff contender has been considering. From a possible reunion with LeBron James on the Cleveland Cavaliers to a return to the Boston Celtics, to potentially forming the greatest three-point shooting team on the Golden State Warriors and even making a full circle return to the Milwaukee Bucks, Ray has been connected to just about everyone. Seriously, the San Antonio Spurs, Los Angeles Clippers, New York Knicks and even the Miami Heat were reportedly interested in him over the last two year.
But nothing was right for Allen. He recently spoke about not being able to find that one good location for him at this point of his career. He was seriously considering the Celtics and Bucks but nothing ever happened. It might be for a good reason too, his heart was not in it. Ray Allen has officially retired from the NBA.
Ray Allen penned a letter to his 13-year-old self in a new series from the 'Player's Tribune', 'Letter to my Younger Self'.
I write this to you today as a 41-year-old man who is retiring from the game. I write to you as a man who is completely at peace with himself.

The hell you experience when you get off that bus will be temporary. Basketball will take you far away from that school yard. You will become far more than just a basketball player. You'll get to act in movies. You'll travel the world. You will become a husband and the father of five amazing children.

Now, the most important question in your life isn't, "Who am I supposed to be?" or even, "What do I have to do to win another championship?"

It's, "Daddy, guess what happened in math class today?"

That's the reward that awaits you at the end of your journey.

Go to the court. Stay at the court.

Get your work in, young fella.

Most people will never really get to know the real you. But they'll know your work.
Ray Allen retires as quite possibly the greatest three-point shooter in NBA history with the most makes all-time. He also racked up 10 selections to the NBA All-Star Game, two NBA championships and also was a two-time member of an All-NBA team.
Beyond the accolades, Allen will go down in history as a guy who lived the definition of the first to arrive and last to leave the gym. He would famously arrive at arenas hours before shootaround and could sometimes be seen putting up shots after games. From his days on the Connecticut Huskies to his time with the Bucks and Seattle SuperSonics, Celtics and Heat, Ray always was a standup player. He arrived early to every stadium, before the team, just to get shots up. He was beloved by every teammate and some were hurt when he chose to leave their team. Ray Allen will go down as one of the greatest of All-Time and he should be a sure-fire Hall of Famer.