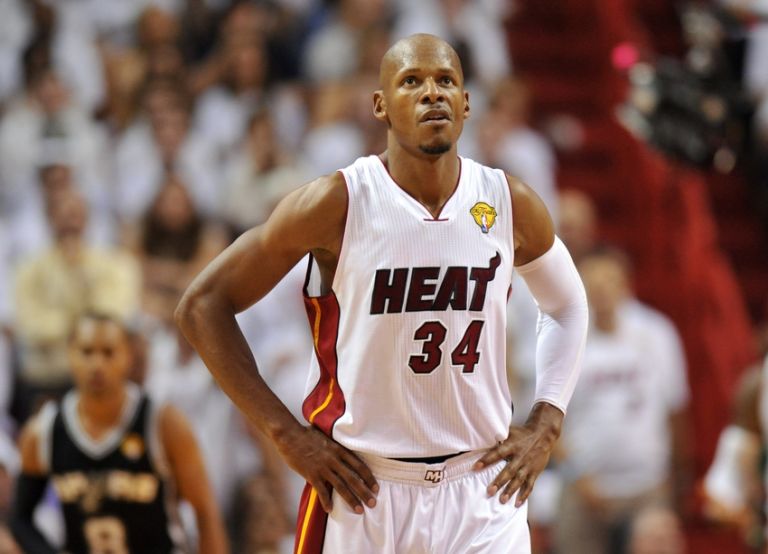 Ray Allen has not officially retired yet from the NBA. The legendary shooter never signed those retirement papers after he left the Miami Heat in 2014. Allen was recently rumored to garner some attention from the Golden State Warriors, a team that recently received the services of Kevin Durant.
As the Warriors, and others, fill out their roster with this new booming NBA salary cap, teams are looking to add some good veterans on cheap contracts. The Dubs have already managed to get David West and Zaza Pachulia to join them on cheap contracts and the Spurs did some maneuvering to free up space for their recent acquisition in Pau Gasol. Now it appears Ray Allen might be next to join a team in title contention.
Following from Chris Broussard of ESPN.
Ray Allen, one of the greatest shooters in NBA history, is considering making a comeback, according to league sources.

Allen's representatives reached out to the Golden State Warriors recently about the possibility of Allen joining the Western Conference champions.

The Warriors are unsure whether they want to pursue the future Hall of Famer, sources said.

Allen, who will turn 41 on July 20, is also not absolutely sure he wants to return after sitting out the past two seasons. But he is intrigued by the possibility of playing for another championship, and in addition to the Warriors, he would consider joining the Cleveland Cavaliers, San Antonio Spurs and Los Angeles Clippers, sources said.
The Dubs were reportedly also interested in Allen but there's no official word on his return. It seems like every summer there's a new team or new motive to try and make Ray Allen return. It's time for him to start deciding one way or another.
Is there any doubt he can play? He might be older but Allen always prides himself on staying in top shape. He can come off the bench and provide a spark. The only question is, for who and how much?