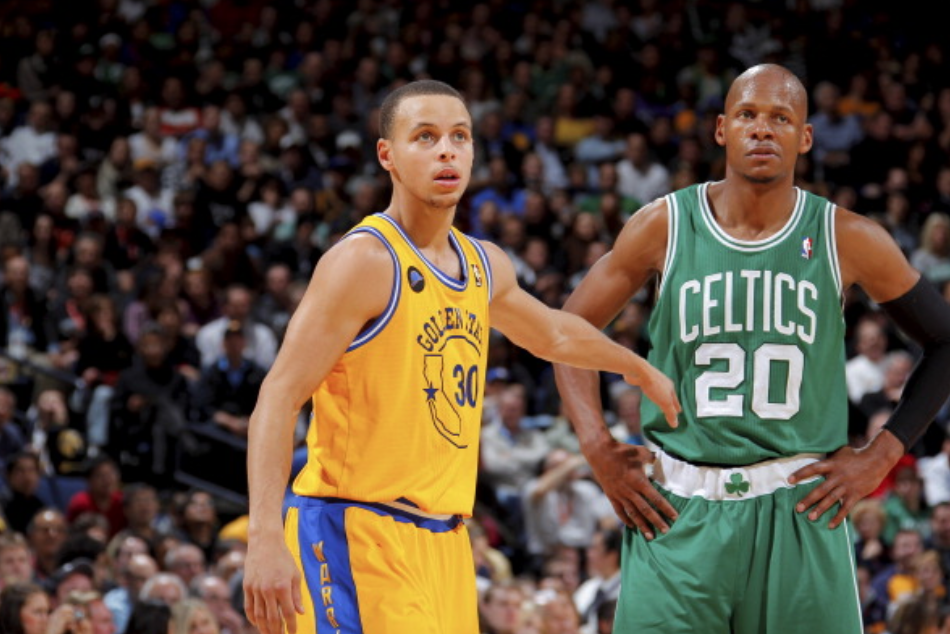 Ray Allen is ready to make an NBA comeback? The Golden State Warriors hope so, the rest of the NBA might not be as excited. The legendary sharpshooter has been out of the league since he left the Miami Heat in the summer of 2014 but he could be poised for a return. It seems like every summer there's rumors of Ray's comeback but at the right price and with the right team, he could be back in the league.
Allen is just one of a couple names including Mario Chalmers, Kendrick Perkins who the Warriors reportedly have an interest in. Former Warriors David Lee and Jermaine O'Neal have recently thrown their name in consideration for re-joining the franchise. Why? It's simple. When the team that went 73-9 adds a free agent like former NBA MVP, scoring champion and NBA All-Star Kevin Durant, everyone wants to join.
Zaza Pachulia was the first to join after KD's signing and earlier today, David West agreed to terms with the Dubs. Now, a list of former LeBron James teammates could be heading to the Bay Area.
Following from Rusty Simmons of the San Fransisco Chronicle.
Considering all goes as planned with Durant and center Zaza Pachulia, who agreed to a one-year, $2.9 million deal, when the NBA moratorium ends Thursday, the Warriors will have 11 players locked up and will have to fill out the final three or four roster spots with minimum contracts.

Those is the running may be conveniently separated into three categories: veterans, returners and summer-league players.

The list of experienced players who might be willing to play for comparatively peanuts in exchange for a chance to chase a championship is headlined by Ray Allen. The Warriors have also taken the temperatures on point guard Mario Chalmers and center Kendrick Perkins.

The Warriors have spent a portion of each of the past two years trying to land Allen. The 10-time All-Star is one of the most accurate three-point and free-throw shooters in NBA history, and the 40-year-old has stayed in shape despite sitting out since the 2013-14 season.
Ray Allen has handed out praise to Curry before but if he joins along with Klay Thompson on the roster, they might be the best shooting team of All-Time. He is 40 years old, turning 41 in a couple of weeks but playing 10-15 minutes coming off the bench for the Warriors might not be too much to ask.
Kendrick Perkins spent last season with the New Orleans Pelicans and after a frustrating year, he could be headed out of NOLA and going west to Oakland as a veteran reserve. Mario Chalmers might be the trickiest player to get a read on. He's coming off a torn achilles and he's nowhere close to being back in playing shape.
Who knows what the Warriors do but they have roster spots to fill and a promise of the ring could be payment enough for some guys.