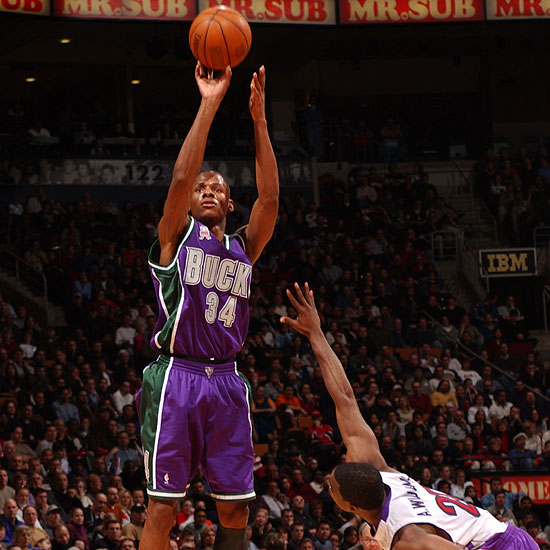 The rumours have not died yet! There is still a chance the 41-year old sharp shooter Ray Allen could return to the NBA. The NBA champion and long time Buck and Celtic has supposedly made it apparent that he is interested in returning to the game of basketball. According to Woelfel's Press Box, Allen is interesting in both Milwaukee and Boston as possible destinations. Per Press Box (Via Hartford Courant):
Ray Allen recently told the Hartford Courant he would like to resume his playing career after a two-year hiatus.

Allen, who is 41, said he'd prefer playing for either the Bucks or Boston Celtics. The Bucks appear to be more than a tad interested in Allen, the Hall of Fame in-waiting shooting guard who played his first 6½ seasons in the NBA with the Bucks.
The Celtics may be an interesting destination for the player who won his first NBA championship with them. With a chance to be a contender in the Eastern Conference, Allen could be an important veteran presence to a team that will need it. Then again, if Allen wants to have a more integral part in the organization, and potentially find himself in a management roll with Milwaukee. Bucks President Peter Feign says he wouldn't mind that. Per Press Box:
In an interview with WSSP (105.7 FM), Bucks president Peter Feigin acknowledged the Bucks wouldn't mind having Allen's services.

Feigin said, "Ray Allen lights everybody up,'' and that "He (Allen) has been talking to (Bucks GM) John Hammond.''

Feigin also added, "Ray Allen is someone who gives this entire organization a great shot in the arm.''
You can check out the full interview with Bucks President here. If Ray Allen does end up coming back to the NBA, it will be in joining the Celtics or the Bucks. Maybe we will see Ray Allen in a green jersey once again.