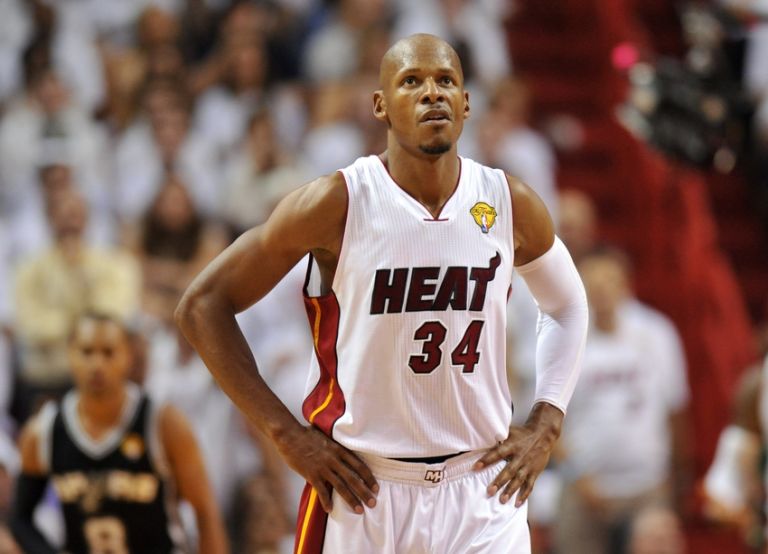 Ray Allen is not ready to hang it up yet. The former NBA All-Star and two-time NBA champion guard has been out of the league since he retired in 2014. Despite not being on an NBA team in over two seasons, he's quite possibly the hottest commodity among seasoned veterans.
Allen holds the record as the NBA's best three-point shooter of all-time and even at his advanced age for an NBA player, the legendary marksman could still play a role on some teams looking for some bench scoring. Maybe even join a team with Stephen Curry, a player that Allen says could be on his way to being the best shooter of all-time.
Ray has been getting recruited recently by teams like the Golden State Warriors, San Antonio Spurs, Los Angeles Clippers and Cleveland Cavaliers. Recently Allen talked to the media and revealed that he has also contacted the Boston Celtics and Milwaukee Bucks about coming back. A potential wild card could be the New York Knicks because of legendary director and Knicks superfan Spike Lee's efforts in recruiting him to the big apple. Ray Allen and Spike Lee worked closely together on the 90's movie 'He Got Game'.
Following from Dom Amore of the Hartford Courant.
"I worked out the other day in New York with a friend of mine," Allen said Saturday, during a break from his annual instructional camp at East Granby High. "I was shooting, I was going through my routine just like I'd always done. Yeah, I was a little winded, but I was able to go through my routine like I'd always gone though my routine and I didn't feel like I'd missed any time in doing what I was doing. For me, it's not 'Can I do it anymore?' It's how I feel after I do it. And yesterday, I felt great.

"I could not have learned all that I've learned in 20 years of my life, dealing with coach [Jim] Calhoun, and how to sleep right, eat right, and then go to the NBA and do what I've done there and then afterwards just drop the ball and let everything go. I still weigh the same I weighed in college."

While he is not certain he will suit up again, he made it clear that this is not just idle chatter.

"My decision is predicated on what is available," he said. "I said that I was interested because I never retired for a reason. I've been watching, seeing what teams have been doing and I've been waiting to see if the opportunity presented itself where I think I could fit."

The Spurs and Clippers have been mentioned, also, but Allen said he has spoken with the Celtics, with whom he won a championship in 2008, and the Bucks, his first NBA stop.

"I would love going back to those places if it worked out," Allen said, "because both teams are good, too. It doesn't necessarily have to be championship-or-bust for me to go back to the NBA.

"I want to be in a situation where I thought I could help, play a little bit and help where they have good young talent."

Allen, who lives much of the time in Miami, has opened a restaurant called Grown, said he is not yet sure what direction the Heat are taking. How about the Knicks? "Spike Lee has been trying to recruit me," Allen said. "We've been texting."

A young rebuilding team is unlikely, because, Allen said, "then I might as well coach." He expects to make a decision by the start of training camp, rather than look to join a team in midseason.

"At the start of the year, if nothing pans out, then basically I'll retire," he said.