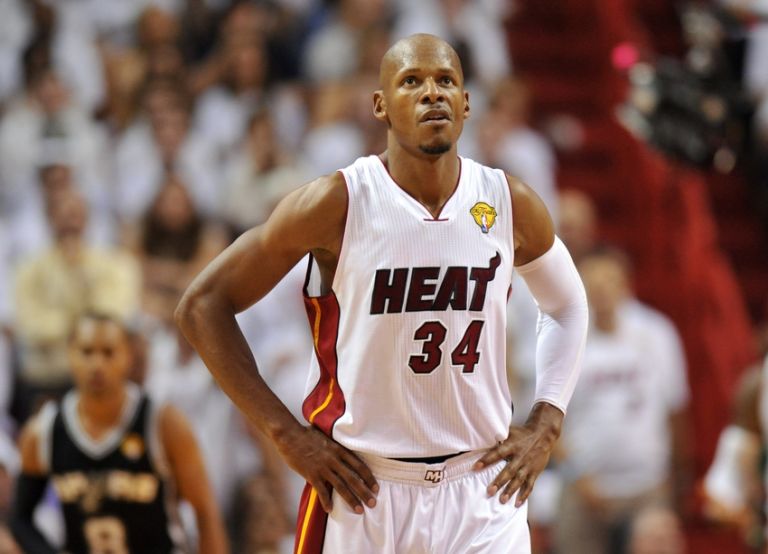 Legendary sharpshooter Ray Allen is currently an unrestricted free agent who has not yet officially declared his retirement. While we still don't know if he'll return to the league, Allen has indeed spoken with more than one team about a possible comeback.
He spoke to Dan Le Batard this past week to discuss what happened over the summer:
"I was not close to going to the Warriors whatsoever," said Allen. "You know, it was just all false reports."
Allen had never played for the Warriors during his career, but two teams that did pique his interest over the summer were clubs he made stops with before: The Boston Celtics and Milwaukee Bucks.
"This fall I spoke with a couple of people from the Bucks organization about potentially going back to Milwaukee," Allen continued. "I spoke to Danny Ainge about going back to Boston. Those were the two situations that I actually did some research on, where there was a possibility that I could actually end up in one of those places."
Allen insisted he was never close to signing with any other team this summer, or at any point during the last two seasons. Many speculated he would follow LeBron James to Cleveland in 2014, but Allen shut down that he seriously considered that as well.
He insists the talks with Boston and Milwaukee were the closest he's gotten to returning from his two-year hiatus.
"That was probably the closest possible scenario of me going back, was this fall when I did speak to people in management that I thought it was a possibility I could end up back there," Allen said.
Allen, who last played for the Miami Heat during the 2013-'14 campaign, has played 18 seasons in the NBA with four different teams: Milwaukee, Boston, Miami, and the Seattle SuperSonics.
At 41 years old, this would likely be his final season in the league if he were to return, joining fellow legends Kevin Garnett, Kobe Bryant, Tim Duncan and Paul Pierce in retirement.
Expect competitive teams to express interest in potentially adding him as the Playoffs near: A shorter regular season would likely appeal to Allen, who again, hasn't been on the hardwood in two full years.