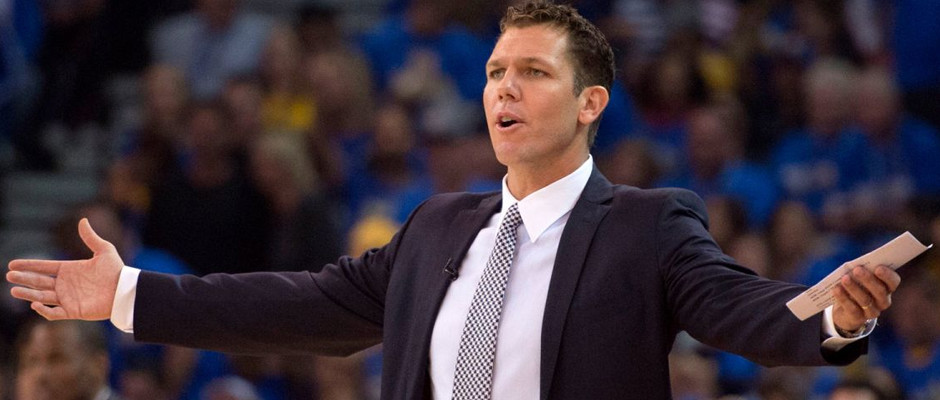 Lakers fans everyone in the world rejoice. The days of Byron Scott running your plays and not giving more playing time to D'Angelo Russell and Jordan Clarkson are now over. After firing Byron Scott within the first week the NBA season was over, the Los Angeles Lakers are back on the hunt for their head coaching position and they're hungry. Many names have been mentioned over the past couple of months in speculation and in rumour about the Lakers coaching job, but a shortlist of ex-coaches has been created.
According to USA Today's AJ Neuharth-Keusch:
According to a person with knowledge of the situation, the Lakers have received permission from the San Antonio Spurs to interview their lead assistant coach, Ettore Messina, as a possible replacement for the recently departed Byron Scott.

While many names have been mentioned, Messina and Golden State Warriors assistant Luke Walton are believed to be on the Lakers' unofficial short list. Messina, who is also being considered for the Sacramento Kings' head coaching vacancy, joined Gregg Popovich and his San Antonio staff in July of 2014.

Connecticut coach Kevin Ollie and former Houston Rockets and New York Knicks coach Jeff Van Gundy, who is now an ESPN analyst, are also expected to receive consideration. According to a person with knowledge of Van Gundy's situation, he has also been contacted by the Lakers and does have an interest in the position.
With the shortlist of coaches to be Walton, Messina, Van Gundy and Kevin Ollie, the Lakers are likely moving in the right direction. Despite not being able to snag Tom Thibodeau from the Timberwolves, stealing a top assistant coach like Luke Walton or Ettore Messina is only something a Lakers organization would be able to do. With Luke Walton and Kevin Ollie you see the potential for young and talented coaches to make their mark in the NBA (even though Luke Walton technically already did this year). With Ettore Messina, you are getting a veteran european coach, who has gotten 2 years of NBA experience under his belt, under a championship organization in the San Antonio Spurs. Personally, I would like to see Luke Walton take control of this team. As a former Laker and a guy who seems to have the ability to work with a younger team, Walton is the prime person for the job. With rumors that Phil Jackson wants to leave New York and go back to Los Angeles (now that Kobe Bryant is gone), maybe Phil and Walton will join in LA to make a championship run of their own? Either way, I am excited for the future of the Lakers.