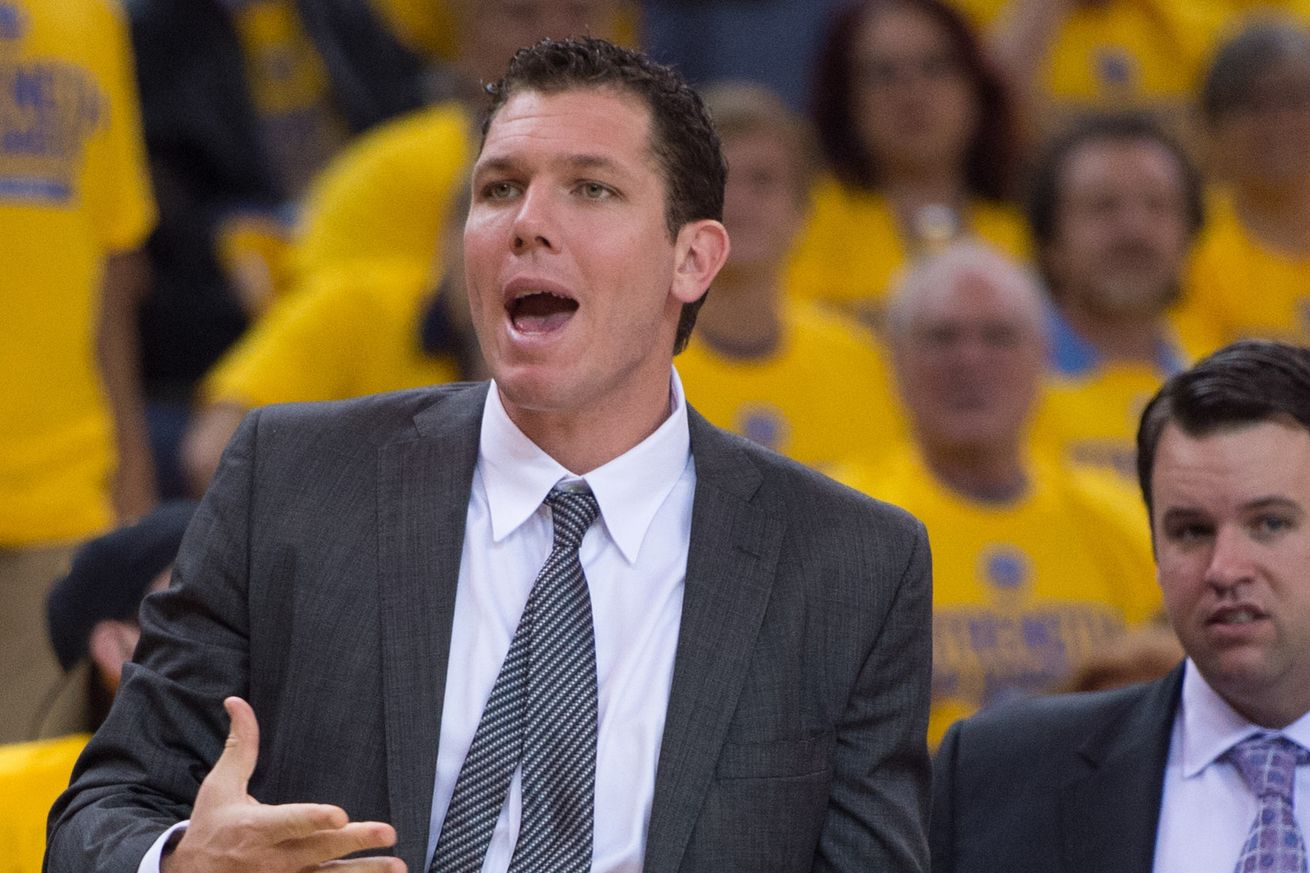 The New York Knicks and the Los Angeles Lakers are both in need of a head coach, but for different reasons. Earlier today, the Knicks fired their head coach, Derek Fisher. At the moment, Kurt Rambis is the interim head coach while Phil Jackson and the front office search for a new coach. Their top candidates? Golden State assistant Luke Walton and former Nuggets head coach Brian Shaw.
Kurt Rambis is Knicks interim coach but league sources believe Brian Shaw and Luke Walton are top long-term replacement candidates

— Brian Windhorst (@WindhorstESPN) February 8, 2016
Both Walton and Shaw both played for Phil Jackson during their careers, just like Derek Fisher did and the Knicks other candidate in 2014, Steve Kerr. Phil clearly likes to hire his old players as his head coaches. Before hiring Fisher, Jackson preferred Shaw, but he was under contract with the Nuggets at the time. Since then, Shaw has been fired by the Nuggets because he did a horrific job connecting with his players. Hopefully, for the Knicks' sake, he has improved in this area.
Walton seems to be the top candidate for the job. When Steve Kerr wasn't on the sidelines for the first part of the season, Walton took the reigns in Golden State and did a phenomenal job. He led the Dubs to a 39-4 record before Kerr returned, marking the second best start in league history. He was also named the Western Conference Coach of the Month in both October and November. Due to his success with Golden State, Walton is a prime candidate for the New York job. His connection with Jackson is another reason that he is a prime candidate. The only problem? Another big market team that he has connections to as a player also wants to hire him as their head coach.
Reportedly, the rest of this season is already a tryout for Lakers head coach Byron Scott, but if Walton wants the job, then the Lakers will fire Scott for Walton. Stephen A. Smith spoke about this on ESPN LA radio. He said:
"I'm hearing he's gone if Luke Walton wants to come in and take the job next season, that if he wants to do that, that obviously they would move beyond the Byron Scott era and bring in Luke Walton, that Luke Walton, however, as much as he loves the Lakers and California, may not find that to be an attractive job unless they position themselves to acquire somebody like a Ben Simmons. That is what I have heard.

I have also heard that it's very, very possible that Jeanie Buss is going to keep her word and fire her brother Jim Buss – thank the good lord – and that Mitch Kupchak may very well not be safe as well.

How definitive that is remains to be seen. But that is the chatter in NBA circles."
Walton, who was drafted by the Lakers in the second round of the 2003 draft and played there for 10 years, is highly respected by Kobe Bryant. Even with Bryant retiring after this season, his opinion still carries a ton of weight throughout the organization.
If the Lakers are able to keep their first round pick, they will have a solid roster including D'Angelo Russell, Julius Randell, Jordan Clarkson, and a top ranked rookie for Walton to come in and coach right away. He would also be able to coach for the franchise that he played for for so many years, and he will be at the helm of one of the NBA's premier teams. Even without the pick, the Lakers have a ton of cap space, and they likely won't be out of playoff contention for much longer.
The Knicks organization is also very appealing. Walton would be coaching another big market team with tons of cap space, and he will be able to coach Carmelo Anthony, one of the NBA's top players, along with young talents Langston Galloway and Kristaps Porzingis. He will also be with his former head coach, Phil Jackson, and he will potentially know exactly what Jackson wants from him.
Wherever Luke Walton ends up this off-season, he will be the NBA's most sought-after candidate for a head coaching position, and he will probably see a nice pay day. So far, Walton is showing interest from the Suns, Lakers, and Knicks.