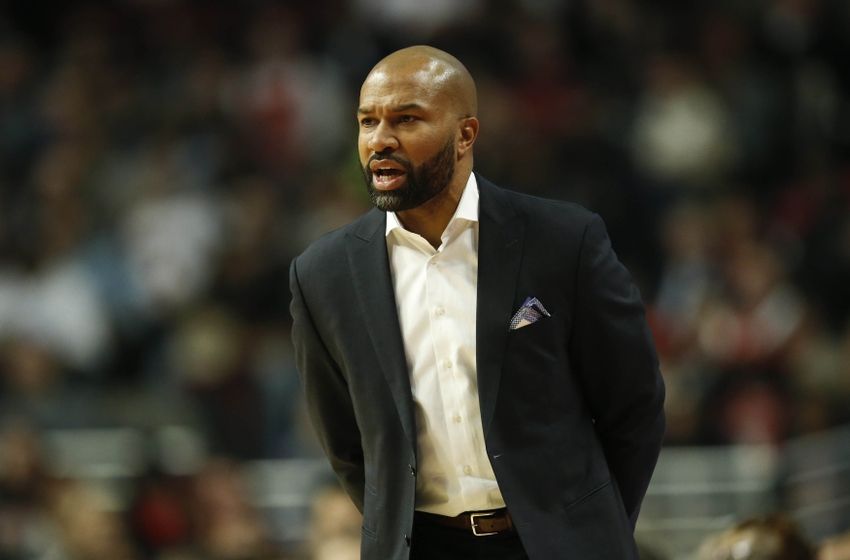 Free agent coach Derek Fisher has expressed interest in joining the Los Angeles Lakers, league sources tell Ramona Shelburne of ESPN:
"Sources indicate Derek Fisher has interest in the Lakers job. Obviously Laker front office still compiling their list and gauging interest from potential candidates after Byron Scott wasn't retained Sunday night."
The Lakers unexpectedly fired coach Byron Scott last night after a brief two-year stint with the team. Throughout Scott's duration, the Lakers went 38-126 (.301).
With the Lakers head coaching position officially vacant, several possible candidates have been named over the last 12 hours.
Following from Adrian Wojnarowki of The Vertical:
"Possible candidates to replace Scott could include Golden State Warriors assistant Luke Walton, former Houston Rockets and New York Knicks coach Jeff Van Gundy, Connecticut coach Kevin Ollie and San Antonio Spurs assistant Ettore Messina, league sources said."
Along with this mix, ESPN's Ramona Shelburne noted David Blatt and John Calipari should be monitored, as well.
Derek Fisher, as many know, was also unexpectedly fired by his team back in February. Fisher had been hired in 2014, but unlike Scott, wasn't allowed to finish out the season as head coach.
Derek Fisher was selected #24 overall by the Los Angeles Lakers in the 1996 Draft. Fisher spent eight seasons with L.A. after being drafted, later joining the Golden State Warriors and Utah Jazz for brief stints. Fisher later re-joined the Lakers in 2007, spending five more seasons with the team before leaving once more for the Western Conference contender Oklahoma City Thunder. Throughout 14 total seasons with the Lakers, Fisher ultimately won five championships with the club (2000, 2001, 2002, 2009, and 2010).
Under Derek Fisher's guidance, the Knicks went 40-94 in nearly two seasons (.294).
The Lakers are expected to conduct a full-scale search, led by GM Mitch Kupchak and ownership, according to Adrian Wojnarowski of The Vertical.