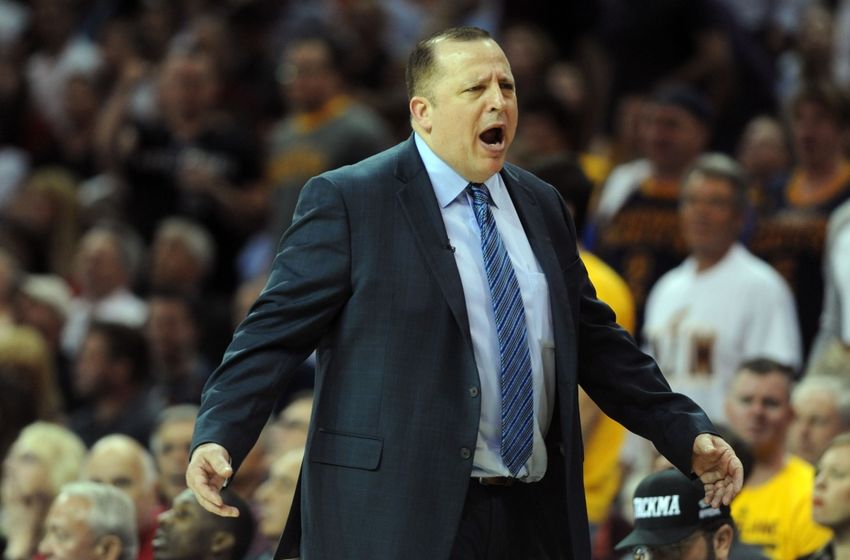 Recently hired Minnesota Timberwolves head coach Tom Thibodeau was reportedly interested in finding his way to Los Angeles, according to the Vertical's Adrian Wojnarowski. The Lakers have not fired head coach Byron Scott, despite popular consensus being that he should be gone. As a result, they did not even have a chance at interview with Thibodeau before he accepted a deal with Minnesota.
The following from Wojnarowski:
Thibodeau does have a big ego, and yes, the bright lights of the Staples Center, the Lakers' prestige, intrigued him. To win a title is most important, yes, but to win with the Lakers would've been historic, and Thibodeau cares about his place in history. Nevertheless, the Buss family is too fractured to turn power over to one person – never mind an outsider – and maybe Thibodeau and the Lakers were never made to work.
This is certainly not a good look for the Lakers. Thibodeau was arguably the best coach on the open market and it seems that he badly wanted to coach these Lakers. As Woj states earlier in his piece, it would have still been a difficult decision given the nature of the Wolves as one of the most promising, young rosters in the league. Additionally, Thibodeau seems to have wanted personnel decision-making powers, something he got in Minnesota, and the Lakers with both team owner and president Jim Buss and GM Mitch Kupchak leading the show in that department were very likely not willing to cede that sort of power.
But the Lakers could have at least given him a decision to make. Los Angeles has not been in the playoffs since 2013 and the massive market and legacy of the team demands that they start contending soon. Thibodeau leading a young but talented roster could at least sew the seeds for a return to that status.
For now, it seems that the Lakers sat idly by and missed out on the best coach they could have hired.