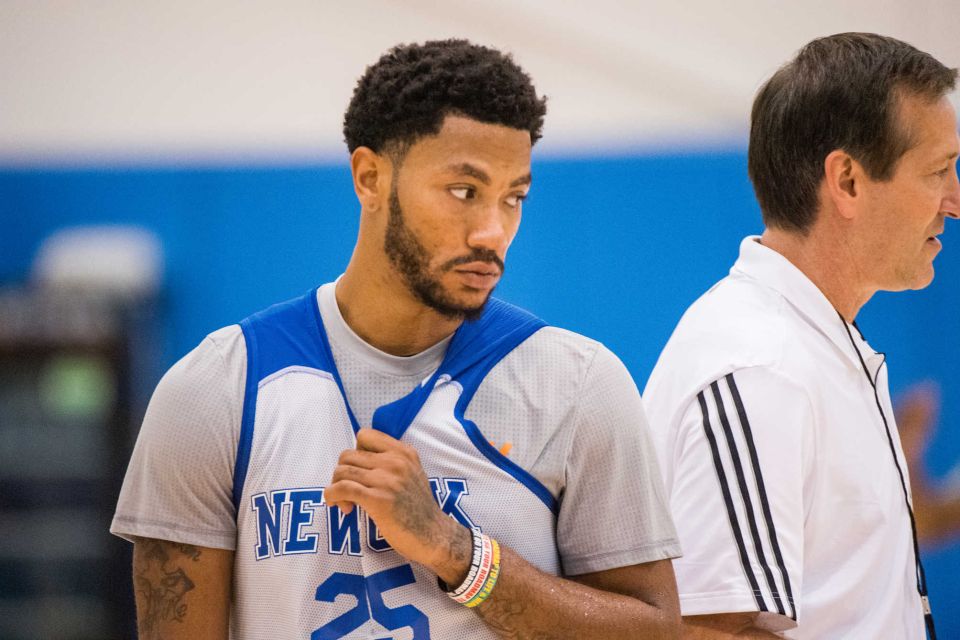 The New York Knicks might be a 'super team', according to Derrick Rose, but before they can take the floor together, they need to learn what offense they're going to run. The Knicks have added a handful of new guys and as expected, Phil Jackson's famed Triangle Offense is giving some players a little trouble. In particular, Rose.
Jackson has been on record stating that the offense behind his 11 NBA championships as a coach in the NBA is tough for the younger generation to understand. Players have also had trouble with it in the past, so Rose isn't alone. The difference is, that this time — only a couple of days into the Knicks training camp — Jackson had to jump in and give some pointers.
Following from Ian Begley of ESPN.
Here's how Derrick Rose described the triangle offense after running it for two practices with the New York Knicks:

"It's complicated a little bit right now because it's new to us. It's foreign. But I think the more we work on it and the way the coaches are putting it into the offense, it's [going to get] a little bit easier," Rose said after Thursday's practice.

"[There's] like 40 to 50 options on one side of the floor. It's like giving you your space for creativity. It's like if you're doing it the right way, you could do everything you want, you could freelance but you just got to know where you're going."

"We've been running a lot of pick-and-roll," he said. "I feel that's my game, pick-and-roll. Having two people on me, it creates and opens up space for everyone. We're just trying to make things simple and make the easy offense."

Rose, though, saw a different side of Jackson on Thursday, when the team president didn't like something he saw from the Knicks' offense.

"He got mad at us one time because we were [was] running the offense and we didn't throw the ball into the post," Rose said. "He came over, kind of grumpy a little bit. That was my first time ever seeing him like that."

Rose also said Jackson has addressed the team a few times, but the team president hasn't yet talked to Rose about the triangle offense.

"I don't want to bug him about it. I don't want to rush to have that conversation. I feel like it's going to happen whenever it does," Rose said.
Jackson being a little more hands-on could be very beneficial to this new group learning this scheme. It could also mean he's a little more anxious to have them learn it. This season will be a big step towards either future success or failure for the franchise and Jackson might not want his name, or his offense, attached to any underwhelming results.
Beyond that, if the Knicks want to survive and go anywhere worth importance, they need to learn this offense or parts of it. In particular Derrick Rose. He's the starting point of the offense and if he struggles to get it started, things could turn ugly. If Derrick Rose doesn't get the scheme, the rest of the team could also struggle to play alongside him and no way a man making $20 million in the last year of his deal wants to marinate on the bench.