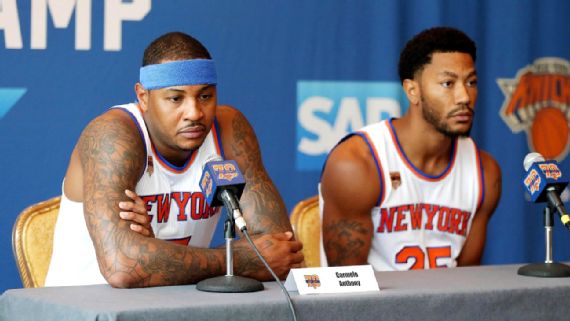 Carmelo Anthony and the New York Knicks are going to have some big expectations this season. Some might be placing the 'super team' tag on the squad but the fact of the matter is, no one knows what to expect.
With a range of expectations from the 'experts' being as little as 30 wins to as high as 55 wins, the Knicks have a varied level of anticipation. Many are excited, Knicks fans most notably, but others aren't sold on this team which had four of its top six players battle a recent major injury.
Carmelo Anthony had knee issues two seasons ago, Derrick Rose injury history is astounding at this point, Joakim Noah's season ended early last year due to a shoulder injury and Brandon Jennings suffered a torn achilles two years ago.
Still, despite the tempered expectations, Anthony likes the group they have. He said the following during the Knicks media day on Monday while talking to the press.
"The type of character guys that we have on this team, the work ethic that we have on this team, the focus level that everybody has, it's at an all-time high," he said.
He also noted that he's in great shape after playing in his final Olympics and winning the gold with Team USA. Anthony started his love fest for the new Knicks at the point guard position. He noted that Derrick Rose is a rare talent, when healthy.
"I've never played alongside a guy like Derrick," Anthony said. "I've played alongside other point guards, different style, different type of point guards. To play alongside an explosive guy like Derrick, someone who can pick the pace up, who can push the pace throughout the course of the game, someone who's a threat at that position — I think for me, the only thing that I can do is go out there and play basketball and enjoy playing basketball again and having fun with the game.

"I'm excited. I haven't felt like this in a long time."
When asked about Rose's mindset, as the former NBA MVP battles a civil suit alleging sexual assault, as well as a criminal investigation, Melo said Rose has a clear mind.
"He's extremely focused right now, he's healthy, he has a different mindset, he has a clear mind and he's ready to go and try to help us with our goals," Anthony said of Rose.
While Rose was the obvious player everyone wanted to get Carmelo's opinion on, the three other new Knick acquisitions — Lee, Noah and Jennings – also received some high praise from Melo.
"Joakim, he's a character. He's very intense, very emotional, and you can see that with his workouts, you can see that in the gym, you can see that playing pickup, just him in the weight room working. You can see the focus that these guys have. A guy who nobody really speaks about is Courtney Lee. I think he's going to be a great addition to this team, a guy who comes in and does little things, does multiple things on the basketball court that a lot of people don't talk about. And then we have another guy, Brandon Jennings; his focus right now is to win, is to play good basketball and to help us lead this team. He's focused and everybody's focused. The focus level is an all-time high."
Still, despite the new members joining the team and also the expectations around them, Melo simply knows all eyes will be on him. It is his team and the Knicks will only go as far as Melo takes them.
"Let's just be quite frank, at the end of the day, it's going to take me being the best that I can be out there on the basketball court to make this successful alongside everybody doing their job and playing their role and being the best that they can be," Anthony said. "… As far as taking the burden off of me, yeah, we put guys around on this team to go out there to perform at a very high level, so some of the pressure is off of me. But at the end of the day, [the media knows] as well as I do that the pressure is definitely on me. So, I accept that. I think that's the beauty in this. I embrace it. I love those challenges. I love having my back against the wall. I love being in a situation where we can create something and be successful. I'm looking forward to all those pressures and all those challenges, and I'll take it head-on."