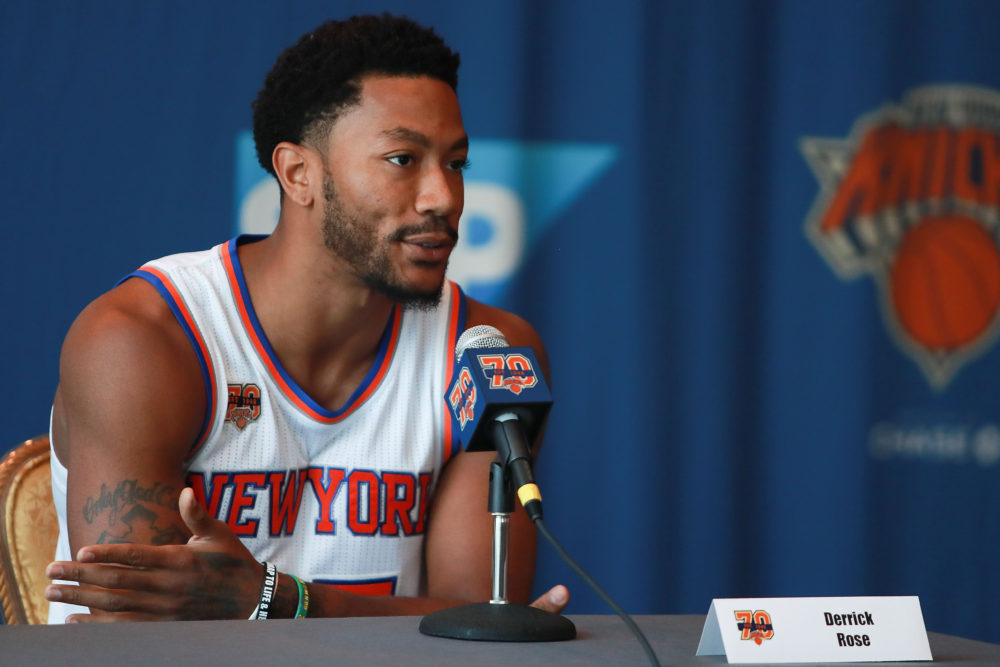 The New York Knicks opened up training camp this week. Carmelo Anthony and Kristaps Porzingis are leading the charge for a new look squad at Madison Square Garden. Joakim Noah, Courtney Lee and most notably Derrick Rose have joined the squad and talks of a 'Super Team' forming have started. There is an underlying drama that the team will soon have to face. Derrick Rose is about to go to trial in a civil sexual assault lawsuit.
Rose and his team have claimed his innocence in the events but the accuser and her team continue to push Rose's guilt. The Los Angeles Police Department officially declared they would be investigating this case against Rose as a crime. It just so happened the same day that news came out, Rose was scheduled to speak to the press during the New York Knicks media day.
On Monday, Rose spoke with the media and talked about his upcoming case. The trial is set to begin on October 4th in Los Angeles, which also happens to be Rose's birthday and the Knicks preseason opener in Houston against the Rockets. Obviously something drastic would have to happen between now and then for Rose to fully participate in the preseason opener.
"I'm not worried about it, but if I do have to miss time it's a part of it," Rose said. "Of course, I don't want to be in this position, but it is what it is. I'm going to let my lawyers handle that, let my team handle it."
Rose once again reiterated that he feels he is innocent of the lawsuit's allegations.
"I feel like I didn't do anything wrong. I can't let that distract me with the year that I have ahead of me," Rose said.
Rose went on to add that recent media coverage of the civil case hasn't been a distraction. Team President Phil Jackson also had the same sentiments last week during a press conference. He stated the trial isn't 'keeping Derrick up at night'.
"I really haven't been thinking about it. I'm thinking about the team more than anything, like how to jell with the team, getting used to the players, just getting used to the organization, the GM, president, Phil [Jackson], Steve [Mills] and all, just getting used to them," Rose said. "As far as the trial, that's something I can't think about because it's not true, I will be proven innocent."
As of now, we will indeed have to wait to see what happens. Both with the trial and the repercussions stemming from it.