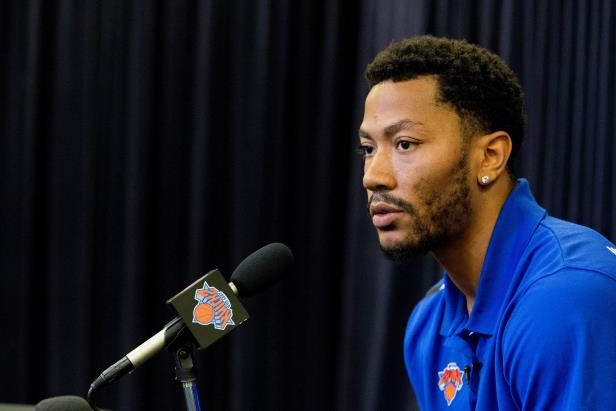 Derrick Rose's lawyers are claiming that the woman accusing Derrick Rose and two others of gang-raping her is lying, according to Dareh Gregorian of The New York Daily News.
Rose was accused of rape before the beginning of last season. There has been very little movement in the case so far. Rose has routinely denied the allegations, as expected.
According to the NYDN article, however, Rose's lawyers have evidence that the accuser is lying. They claim that in a string of text messages between the plaintiff and Rose, it is evident that the two were partaking in consensual sex:
"Plaintiff is a 30-year old adult who was in a consensual relationship with Mr. Rose; she was the sexual aggressor that night; she brought another woman with her, she claimed she bought (and did bring) the sex toys, she drank before arriving, and asked Mr. Rose for drugs (which he declined) and alcohol."

"(The woman's) own text messages – wrongfully withheld until the day after her deposition – contradict the allegations in the complaint. The texts show (Doe) being adventurous, claiming to buy and bringing a sex belt to have fun with Mr. Rose, and then asking Mr. Rose to drive over to her house at 1 a.m. for more consensual sexual interaction.

"Plaintiff also withheld texts showing that when she woke up the next morning, she asked Mr. Rose for reimbursement for her cab fare and the sex toys she claimed to purchase, and mentioned only that she had a hangover and had to get to work," the filing says.

"Rather than allow a calculating 30-year old adult to misuse the 'Jane Doe' statute for her own financial gain by trying to threaten Mr. Rose with irreparable reputational damage as the basis for an extortionate settlement payment, the only fair way for this case to be tried to a jury is for (her) to recognize that she cannot continue to hide behind the pseudonym when her credibility is a key issue and the evidence shows a clear consensual sexual encounter."
Rose's camp is seemingly looking to expose the accuser's name; she currently goes under the pseudonym Jane Doe. Her lawyers have called the claim misogynistic in nature.
Clearly, this is a very sensitive issue. It is a bad look for Derrick Rose who will now be playing and interviewing in the largest market in the league. However, he and his camp seem to be confident that they can emerge from this process unscathed.
The first trial for this case is scheduled for October 4th.