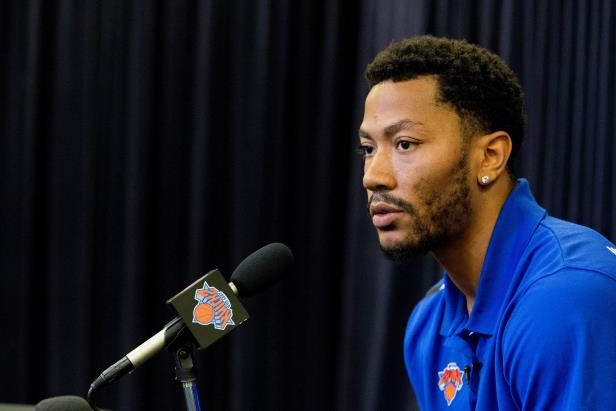 There's a civil trial coming up against New York Knicks point guard Derrick Rose. The trail begins October 4th, which also happens to be Rose's birthday and the first Knicks preseason game. As the Knicks are set to bring their entire new roster in front of the world for media day, Rose is going to be the one player who might get the most interesting line of questions.
A new wrinkle added to the situation Rose is currently facing is the fact that the Los Angeles Police Department is indeed going to follow through with criminal charges against the former MVP. It was reported, by the accused's lawyers, that there was a possible criminal investigation coming. Now, it's official.
Following from Judd Legum of Think Process.
The civil trial against NBA star Derrick Rose and two friends for gang rape is scheduled to begin on October 4.

But that's not the only legal trouble Rose is facing. In a letter to the alleged victim's attorney, Brandan Anand, a detective from the LAPD confirmed there is an active criminal investigation against Rose and the two other defendants in the civil trial.

Notably, the detective, Nadine Hernandez, argues that maintaining the victim's anonymity "is an invaluable investigative aid to investigators." The department plans to maintain her anonymity "throughout the criminal investigation being handled by the Los Angeles Police Department."

The media, to this point, has used the absence of a criminal investigation to justify the relatively scant coverage of rape allegations against the former MVP of the NBA.

The letter is particularly significant because the judge presiding over the case recently ruled that the alleged victim will not be able to maintain her anonymity during the trial.

Anand is now asking the judge to reconsider his ruling in light of the LAPD's letter. In a filing, Anand also notes that soon after the judge's ruling, the alleged victim's name began to appear on social media.

Previously, Rose's attorney Mark Baute had alleged that Anand was lying about an active criminal investigation in order to extort a settlement from Rose. Baute argued that the claim of an active criminal investigation was false and represented a violation of rules of professional conduct for attorneys.