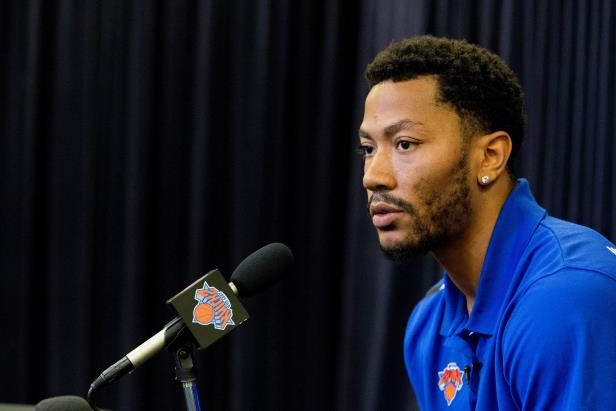 Derrick Rose is in the middle of a very trying case right now. A woman has accused Derrick Rose of raping her and the case is being brought to civil court.
The details of the trail are messy and hard to comprehend at times. Recently, the woman who has accused Derrick Rose and his friends of gang raping her has been talking to the media, trying to get her side of the story out there.
The details of the case are very graphic and horrifying but Lindsay Gibbs of 'ThinkProgress' shed some light on what has been going on in the courts. There's insane allegations of Rose's remarks about what to expect from men late at night, Rose stating he doesn't know what consent is and even a dispute over the purchase of a sex belt.
October 4th, which is also Rose's birthday, is the next day all parties are slated to be in court. But until that time, both parties involved will get their time with the media. Rose has an upcoming media day slated for September 26th with the New York Knicks and if nothing is resolved, he might be fielding some uncomfortable questions.
The 'Jane Doe' in the case and her lawyer talked to the media about the different aspects of the case. One interesting part is Knicks team president Phil Jackson knowing about the allegations, going along with the summer trade involving the acquisition of Rose and still not investigating anything to do with the accuser.
Following from Stefan Bondy of the New York Daily News.
Brandon Anand, who is representing the 30-year-old "Jane Doe," said he suspects the Chicago Bulls dealt Rose because of the pending lawsuit.

"My first reaction was maybe they're hiding this from the Knicks and passed him off without giving full disclosures, but it seems to me like the Knicks should've done their own investigation," Anand told the Daily News.

Jackson admitted he never felt compelled to investigate the allegations into Rose — saying after acquiring the 27-year-old in June, "We are aware of it. Investigation is a big word."

"I think (the Knicks) should've conducted that big word (and called me)," Anand said Wednesday. "I think I would've shown them the documents that were public, that were fair game, and I think it all speaks for itself. (Rose's) testimony certainly revealed a lot. Just showing them the evidence that's already out, they would've gotten a very clear idea about what actually happened."
Rose's representation has previously stated they have text messages to prove his innocence but the accussed party brings the legitimacy of that into question. To go a step further, when speaking to the media today, the accuser and her representatives spoke more about the case. Dan Werly of 'The White Bronco' shared some of those quotes, including one that says Rose may face criminal charges.
Doe's lawyer: "I have been in communication with pk-callout detective of the criminal case. She has expressed that she thinks a crime occurred."

— Dan Werly (@WerlySportsLaw) September 15, 2016
Doe's lawyer: "While they haven't filed [criminal charges] they may do it yet"

— Dan Werly (@WerlySportsLaw) September 15, 2016
Doe's lawyer cuts off his client from answering @WALLACHLEGAL's question on if she wants the PD to bring criminal charges.

— Dan Werly (@WerlySportsLaw) September 15, 2016
I just listened to a 1.5 hour conference call w/ D-Rose's sexual assault accuser.

The 2 most important takeaways: pic.twitter.com/bfU8GW1wMn

— Dan Werly (@WerlySportsLaw) September 15, 2016
While bringing criminal charges might be a big step, it appears that's not what the accused is looking to do. Her lawyers have stated they're willing to compromise a settlement but Rose's reps have not contacted them back.
This case appears to be getting uglier before it get resolved.