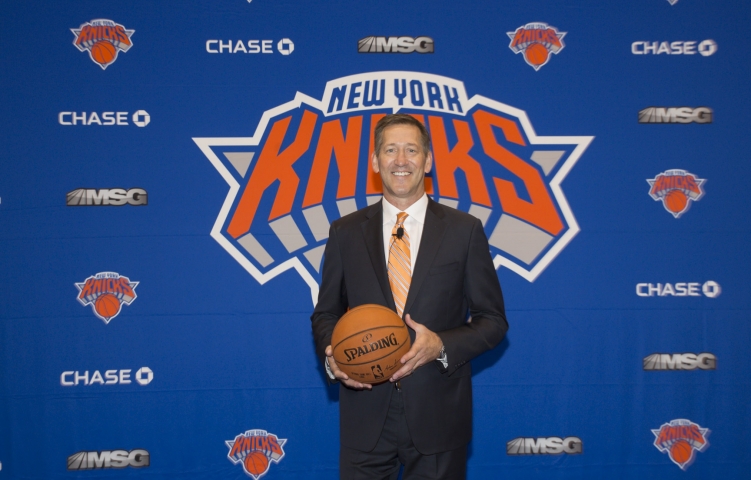 Jeff Hornacek was formally introduced as the 28th head coach of the New York Knicks on a dark, rainy afternoon at the Knicks practice facility in Tarrytown, New York right outside of White Plains. Knicks team president Phil Jackson and general manager Steve Mills sat on opposite sides of Hornacek as the trio fielded questions from a full house of media.
A main issue that recently came up after Hornacek was announced as the next coach for the Knicks was whether or not he would have to run the 'triangle offense', a staple of Phil Jackson's teams. It was initially reported that Jackson wanted a coach to come into New York that had previously worked under or alongside him at some point, so the Hornacek hiring raised some eyebrows immediately.
As the news of Hornacek's hiring crossed the news wire, so did reports of what he would be expected to do with this team. It was reported that Hornacek wouldn't be required to run Jackson's famed offense but when he spoke to the media, he noted that it would be a part of his team and their gameplan.
"It will be a part of our offense. It's something that has worked; it has won championships," Hornacek said at his introductory news conference Friday afternoon at the Knicks' training facility. "You can space the court [with the triangle] and run a lot of the different things that I did in Phoenix. So there will be aspects of the triangle."
Over the last two seasons, the Knicks ranked in the bottom five in pace while running the triangle, which team president Phil Jackson used to win 11 total titles in the 90's and 2000's as coach of the Chicago Bulls and Los Angeles Lakers. The club's pace is likely to rise under Hornacek, whose Suns teams ranked in the top 10 in pace over the past two seasons. It will be interesting to see how guys like Carmelo Anthony and Kristaps Porzingis will produce under the guidance of Hornacek.
Jeff Hornacek made it clear that the Knicks wouldn't be overly reliant on the pick-and-roll, mixing in some of the sets that are tenets of the triangle. He went on to say running a "bigger dose" of pick-and-rolls can be helpful in the "right situations." The Knicks in the past two seasons ranked in the bottom third of the NBA in pick-and-roll plays.
"They have been at a slower pace," Hornacek said. "We're going to have put some things out there that speed them up. We'll probably speed them up past where we want them to go and then we'll slow them down a little bit just so they get that in their habits. We'll speed them up. It won't be a difficult adjustment."
Hornacek coming into New York as an established coach was a good hire by the Knicks but it was a hire that a few in the organization didn't see coming. Yet despite some involved with the team not expecting Hornacek being named the new coach, Mills said that he was at the top of Jackson's list for candidates.
"The basketball knowledge that he has and the familiarity he has with playing are things that attracted us to Jeff," Jackson said.
No matter what does or doesn't happen with the Knicks offense this season appears to not be a big focus for Jeff Hornacek. He seems ready to go, ready to lead this organization and run his offense, whether or not it is a triangle.
"There must be something about the word triangle," he said. "Maybe we'll call it the circle offense."