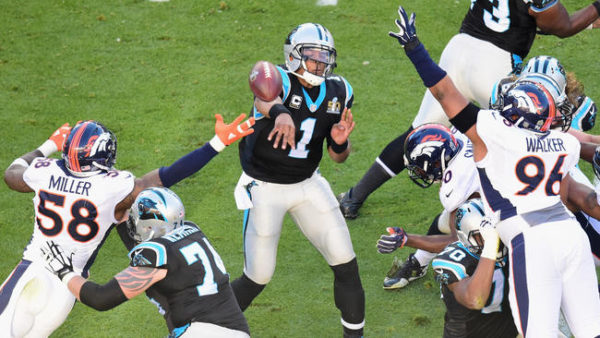 The NFL Season is finally here! After waiting for what seemed forever, the first NFL game kicks off this Thursday night as the first ever Super Bowl rematch season opener. It is a brand new season folks. I will now attempt to pick the winners of each game based off of the spreads. If you agree of disagree tweet at me @treydaubert to let me know where I'm wrong for my NFL week one predictions. *All spread are courtesy of oddsshark.com
Thursday Night: Panthers at Broncos (DEN +3)
I will be the first to say I do not think the Broncos will be very competitive for as long as Trevor Siemian remains the quarterback. I have the Broncos pegged for 3rd this year in the AFC West. While I don't think the Panthers will repeat on a 15-1 season, I do think they will bring an extra fire to this game. Denver's defense will keep them in the game but I expect Carolina to win by a comfortable margin. I just don't see Denver scoring enough points to keep them competitive this year.
Panthers defeat Broncos 27-7
Sunday at 1 P.M. ET: Bills at Ravens (BUF +3)
Both teams will be missing key defensive players as Elvis Dumervil for Baltimore and Marcel Dareus is out for Buffalo. This game is interesting because it marks the return of Tyrod Taylor after he spend his first 4 seasons as the Ravens back up quarterback. I'll take the Ravens to cover in this one. Buffalo seems like a bit of a mess at this point with the Rex Ryan coaching antics. The Ravens offer a bit more stability.
Ravens defeat Bills 21-14
Sunday at 1 P.M. ET: Bears at Texans (CHI +6)
The Texans under went a lot of changes during the offseason. They have a new quarterback in Brock Osweiler, and new tailback in Lamar Miller. The problem is the team could be missing a bunch of key players as J.J. Watt, Duane Brown, and Will Fuller are all questionable. On the flip side the Bears looked like a mess the entire preseason and have their own set of important injuries. I'll take the Texans in this one but I am awfully skeptical on their season in 2016. The good news for them is they open with Chicago.
Texans defeat Bears 17-10
Sunday at 1 P.M. ET: Buccaneers at Falcons (TB +3)
It is a classic NFC South division race between the Falcons and Bucs. Both teams are arguably fringe NFC playoff contenders so every game counts. Jameis Winston looks to build off of a pretty solid rookie season but doesn't have the best supporting cast around him. New head coach Dirk Koetter has his work cut out for him. Atlanta started out 5-0 last season and are pretty tough to beat in the Georgia dome. I'll take them to edge out Tampa in this one as the Falcons look to be improved after a busy offseason.
Falcons defeat Bucs 31-21
Sunday at 1 P.M. ET: Raiders at Saints (OAK + 1.5)
I am all in on the Raiders this year. So much so that I have them pegged to win the AFC West this year. The tough part about this game is heading to the Mercedes Benz dome in New Orleans which may have the best home field advantage in football. The problem it is hasn't been much of an advantage in recent years because the Saints haven't been very good. New Orleans finished with the 32nd ranked defense in 2015 and I expect the Raiders to put on a show.
Raiders defeat Saints 35-14
Sunday at 1 P.M. ET: Packers at Jaguars (JAC + 4.5)
It is time for a major upset alert! No team improved more than Jacksonville did this offseason. Whether it was additions via free agency such as Malik Jackson or additions in the draft such as Jalen Ramsey, the Jags are poised for a playoff birth this year. I just have this feeling that the Packers could be sleep walking a bit in this one after they will be heavy favorites to win the NFC North this year. Take the Jags plus +4.5, you won't regret it.
Jaguars defeat Packers 38-35
Sunday at 1 P.M. ET: Vikings at Titans (TEN +2.5)
This line seems a bit fishy to me doesn't it? The Vikings made the playoffs a year ago. The Titans were the league's worst team. How does that translate into a line of just 2.5? That is when you know to trust Vegas and take the upset. At this point Sam Bradford probably doesn't have much or any of the playbook down after coming over in the trade. I expect the Titans to do just enough to win the game while burning the clock with there monster rushing attack of Derrick Henry and DeMarco Murray.
Titans defeat Vikings 24-20
Sunday at 1 P.M. ET: Bengals at Jets (NYJ + 2.5)
Both teams have stellar defenses that will probably keep the game close the entire way. However I trust Andy Dalton at this point to get the job done. Ryan Fitzpatrick has looked a bit rusty during this preseason after a long layoff of basically no training camp. Expect rookie Tyler Boyd to step up in the passing game while the team leans on the running game a bit more in Tyler Eifert's absence.
Bengals defeat Jets 21-18
Sunday at 1 P.M. ET: Browns at Eagles (CLE + 3.5)
I'm sorry I don't care how bad the Browns are you have to take the points in this instance. Philadelphia will be starting Carson Wentz in this one who played just a quarter in the preseason. The rookie from North Dakota State is also making the transition from an FCS school. The jump is bound to take some time. Hue Jackson has had an entire offseason to groom new quarterback RG3 into a system that seems to be perfect for his skill set. I like Cleveland in this one.
Browns defeat Eagles 34-31
Sunday at 1 P.M. ET: Chargers at Chiefs (SD + 6.5)
This is one of those scenarios where you hate to give up that many points in any game. I think the Chiefs will win but not by that large margin. The Chiefs are unlikely to have Jamaal Charles back as he is still recovering from the torn ACL from the season prior. Let's not forget the Chargers still have Philip Rivers who will keep them in the game. I like the points.
Chiefs defeat Chargers 26-20
Sunday at 4:05 P.M. ET: Dolphins at Seahawks (MIA +10)
This game is really hard for me to take. No one likes to give up 10 points in any setting. It helps that Seattle is home but this is still the NFL, 10 points is too high for me. Miami will likely lean on the ground game for as long as they can with Arian Foster and Jay Ajayi. Ryan Tannehill has also looked pretty confident with the new coaching change thus far under Adam Gase. Expect Seattle to win regardless. The Seahawks appear to have that edge going to them this season with the reigns being passed onto Russell Wilson getting most of the responsibility.
Seahawks defeat Dolphins 27-18
Sunday at 4:25 P.M. ET: Giants at Cowboys (NYG +1)
These games between the Giants and Cowboys always end up being a toss up most of the time. There are some changes heading into this match up however. The Giants brought some new defensive additions in with Janoris Jenkins and Oliver Vernon while also making a head coaching change with Ben McAdoo. Dallas will seemingly have a completely new offense. Dak Prescott and Ezekiel Elliot will look to lead the way for the Cowboys in this one. For the first game I think Prescott will put on a show as so far it doesn't look like NFL defenses have found a way to stop him yet.
Cowboys defeat Giants 41-30
Sunday at 4:25 P.M. ET: Lions at Colts (DET +3.5)
Andrew Luck is back and he will put on a show at home against the Lions. Detroit comes into this game a mess. Their offensive line looked terrible in the preseason, the running game continues to go nowhere, and Calvin Johnson isn't here to save the offense anymore. The Colts are not the most superior team either but I expect them to come out with a spark against the Lions with Luck's return.
Colts defeat Lions 44-14
Sunday Night: Patriots at Cardinals (NE +6)
Boy is this one interesting. Chandler Jones will suit up for the Cardinals after New England shipped him to Arizona this offseason. Furthermore Tom Brady will also miss the game as he is suspended for 4 games. Then again this is a Patriots. When are they ever 6 point dogs. I think Jimmy Garopolo will do enough to win the game on its own. Giving me 6 points should just be considered gravy.
Patriots defeat Cardinals 28-24
Monday Night 7:10 ET: Steelers at Redskins (WAS +3)
I like the points here. Washington for some reason is still being over looked despite winning the division a year ago. Pittsburgh could come out of the gates rusty as Martavis Bryant, Le'Veon Bell, and Ladarius Green will be missing from their offense. This Steeler defense isn't what it once was. Look for Kirk Cousins to move the ball methodically down the field while these young Pitt corners try to get accumulated to pro football.
Redskins defeat Steelers 20-17
Monday Night 10:20 ET: Rams at 49ers
It is Chip Kelly time in San Fran. It appears he is the best thing for the franchise but I am still taking the Rams here. There is just too much noise coming from San Fran right now. This team may be distracted. On the other side quarterback Case Keenum looks rejuvenated after holding off rookie Jared Goff for the starting job. LA has a much better roster and should get the job done here.
Rams defeat 49ers 27-17