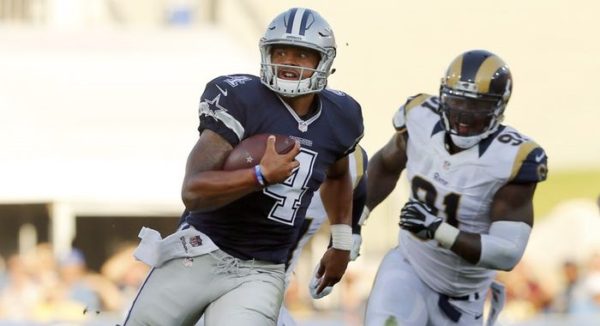 Week one of the 2016 NFL Preseason has wrapped up. The preseason is of course designed to get the kinks out and find out who is going to make your roster. While the preseason obviously doesn't mean anything, sometimes it is fun to panic or get excited about a player's future. Who struck my eye for better or worse in week 1?
Rookie Quarterbacks:
Watching the rookie signal callers in the preseason has to be the most fun for me after doing extensive coverage of the combine. The best of the bunch this week was Dallas 4th round pick Dak Prescott. Two years ago, Prescott was a Heisman finalist and potential first round pick in the making. The Dak attack opened the game as the starter going 10 of 12 for 139 yards in the first half of action Saturday night. Prescott was always a guy who showed potential, I just don't know if he will throw the ball well enough consistently in the future.
On the flip side first overall pick Jared Goff took the field for the first time in that Dallas game. The former Cal prospect looked absolutely dreadful in his first action. Goff went 4 of 9 for 38 yards and one interception. After only playing two drives, head coach Jeff Fisher pulled him from the game after he claimed Goff 'looked stiff' at halftime. I hate to take credit for this one and it is obviously to early to say but Goff looks to be a far ways away from contributing. Case Keenam will likely start a bunch of games for Los Angeles this year. After week one he looks like the Kyle Boller comparison I placed on him. Then again it's week one let's not panic, yet.
The 2nd overall pick Carson Wentz had a better showing and did some really nice things. Wentz's stat line wasn't great (12 of 24 passes for 89 yards) but he was mired by drops and horrific offensive line play. To me Wentz showed the tools of a future franchise quarterback. Unfortunately we may have to wait awhile after he suffered a hairline fracture in his ribs.
Tennessee's Runningbacks:
The powerful duo of DeMarco Murray and Derrick Henry is expected to do big things in 2016. The two got off the hot starts in week one to say the least. Murray went for 93 yards on just 6 carries. Henry went for 74 yards on 10 carries. Even third and 4th stringers Bishop Sankey and Antonio Andrews had big weeks. The Titans invested heavily into the offensive line and so far it appears to be paying off.
Two other runningbacks that stood out were Mike Davis and Jonathan Williams. Davis is battling for that spot behind Carlos Hyde and delivered on a nice game. I have talked in the past how Davis and the rookie Kelvin Taylor are actually better fits for the Chip Kelly offense. Williams is an important guy based on the fact that Karlos Williams is suspended for the first four games. Jonathan Williams was a part of Arkansas one-two punch ground attack with Alex Collins. I would expect Williams to be a productive back up in the first few games.
The Rams Wide Outs:
The Rams invested heavily with wide receivers and tight ends taking them with 4 of their final 5 picks. Tavon Austin and Kenny Britt are expected to be starters but the other spots are up for grabs. Undrafted wide out from Colorado Nelson Spruce was a guy I liked as a possession receiver. He stood out among the rest with 6 catches, 51 yards, and 1 touchdown. Rookie tight end Tyler Higbee also played well as someone will have to fill that void Jared Cook left behind.