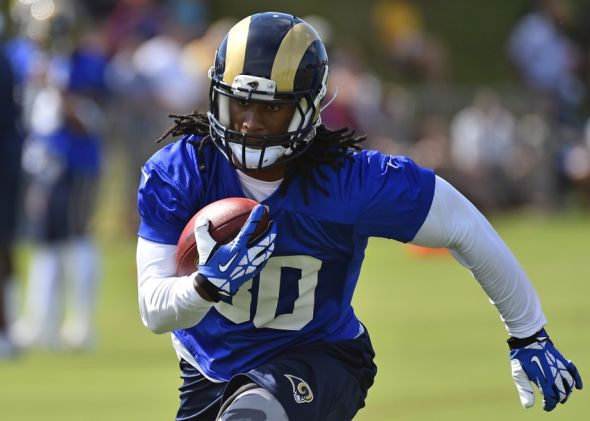 The Los Angeles Rams will now be playing their games in the LA coliseum as they get antiquated to their new city. LA will be subject to multiple television programs this year making them an interesting team to talk about as camp opens. Are the Rams contenders or pretenders in 2016?
3 Position Battles To Watch:
Safety: Cody Davis vs. Maurice Alexander
The Rodney McLeod departure puts the safety spot at unease. T.J. McDonald will man one spot leaving the other wide open. Davis has played in limited action in 3 NFL seasons while Alexander played well at times recording 39 tackles a year ago.
2. Tight End: Tyler Higbee vs. Lance Kendricks
Jared Cook is gone making this battle intriguing. LA traded a ton of picks to move up for Jared Goff and still made it a priority to select Higbee in the draft. Kendricks is entering his 6th season and only caught 25 passes in 2015.
3. Wide Receiver: Pharoh Cooper vs. Marquez North vs. Nelson Spruce
The Rams added 3 interesting rookies to the wide receiver fold. Kenny Britt, Brian Quick, and Tavon Austin are already in house making this competition fascinating. North is a favorite of mine despite going undrafted. Cooper figures to play a role in the slot and occasional running plays.
Ready To Breakout: Alec Ogletree
James Laurinaitis is gone and now this defense belongs to Alec Ogletree. The 4th year pro from Georgia is coming off an injury plagued season but recorded over 100 tackles during his first two years. Expect Ogletree to return to form having a breakout campaign.
Fantasy Sleeper: N/A
Todd Gurley is to easy and the rest of the roster doesn't fit the description. The Rams will likely hand the ball off to often for Jared Goff to be a factor even if he doesn't stink as I suggest he is Matt Ryan at best case. Maybe it's one of the rookie wide receivers but those are waiver wire guys at best.
Rookie To Watch: Aaron Green
Again this is a tough one to call since the Rams donated their entire draft to Tennessee to move up for Jared Goff. Green is a change of pace back that could make a contribution on third down.
The Rams figure to be one of the inferior teams in the NFC, especially in one of the tougher divisions in the NFC West.