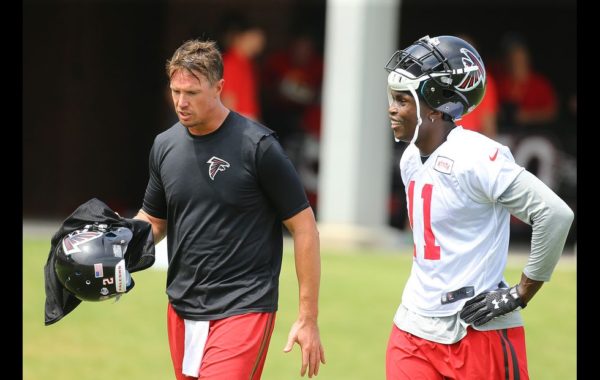 The Atlanta Falcons finished the 2015 season at a pedestrian 8-8. Atlanta got off to a hot 5-0 start before faltering down the stretch. What can we expect from Atlanta this season as they look to make the playoffs for the first time since 2012?
3 Position Battles To Watch:
Inside Linebacker: Deone Jones vs. DeVondra Campbell vs. Paul Worrilow vs Phillip Wheeler
The Falcons have a ton of linebacker depth having odd scheme fits across the board. Vic Beasley is probably better suited for defensive end but will start at outside linebacker in the 4-3. The same can be said for Courtney Upshaw and Brooks Reed. That leaves the middle linebacker spot up for a huge battle. It remains to be seen what Dan Quinn will do with his defense as he has a lot of moveable parts to work with.
2. Tailback: Devonta Freeman vs. Tevin Coleman
On the surface this doesn't really make sense but maybe it should. Atlanta is already on record for wanting to limit Freeman's touches this season as he has always figured to be more of a complimentary back anyway. Tevin Coleman on the other hand was pegged as the starter last season before suffering injuries. With any Shanahan back we should always keep in mind they are always replaceable and more often than not in for big seasons.
3. Ra'Shede Hageman vs. Grady Jarrett vs. Jonathan Babinuex
One of the reasons the Falcons fell off the radar last season was due to their lack of interior line pressure. Grady Jarrett showed some steps in his rookie year but needs to continue to improve. Hageman, 25, is entering his 3rd season and have been a bust since being selected in the 2nd round in 2014. If the young guys falter Atlanta has some elder statesman in Babinuex, Tyson Jackson, and others who are ready for playing time.
Ready For A Breakout Season: Jake Mathews
Atlanta graded out as the 4th best offensive line in 2015. One reason is Kyle Shanahan's offensive scheme but the other is Jake Mathews. Entering his third year I expect Mathews to take the next step and become one of the best left tackles in the NFL.
Fantasy Sleeper: Justin Hardy
All of the attention goes to Julio Jones but another receiver is bound to get some looks as well. It may come as a surprise but I'll go with Justin Hardy here. Mohammad Sanu got vastly overpaid this offseason and probably won't make the impact most fans are expecting. Atlanta's best hope may be the continued development of Justin Hardy who is a dynamic route runner out of the slot. Entering year two look for Hardy to have a bigger impact than many people are expecting.
Rookie To Watch: Deone Jones
I'll be the first to admit I hated Atlanta's draft as it is filled with bust potential across the board. Jones is the guy who stands out here who is an undersized linebacker who has elite speed. Maybe he turns into Telvin Smith or maybe he was just a flash in the pan.
Atlanta is going to have their hands full if they hope to make the playoffs. Carolina likely wins the division again as the Atlanta Falcons will have to battle for one of those two wildcard spots. The Matt Ryan, Julio Jones combination may very well be enough to get the job done but it will be up to the defense to improve in order for that to happen.