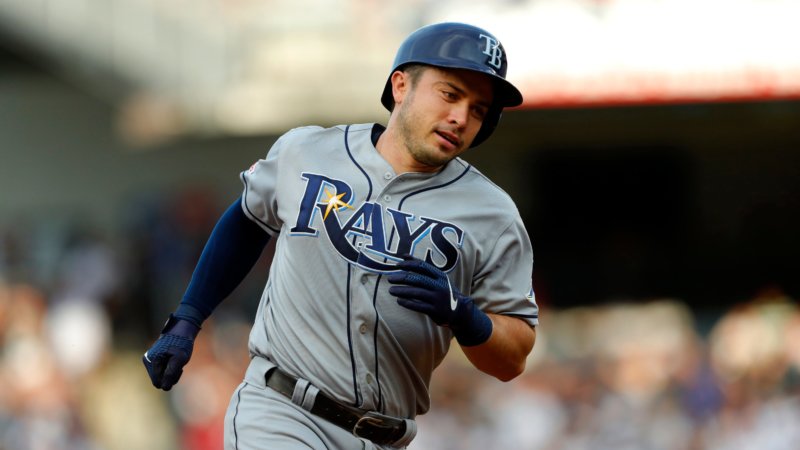 The Atlanta Braves continue to make their free agency signings as they have agreed to terms with another catcher. With most of the main signings coming from the Braves organization including one of the biggest signings so far with closer Will Smith signing with the team. Travis d'Arnaud agreed to the two-year, $16 million contract with the Braves after spending last May unemployed.
#Braves Sign C Travis d'Arnaud: pic.twitter.com/E2eCrKVobF

— Atlanta Braves (@Braves) November 24, 2019
In 2019, d'Arnaud spent his time with three different teams, the New York Mets, the Los Angeles Dodgers, and Tampa Bay Rays. Playing in 103 games in 2019, his total stat line was .251/.312/.433 with 16 home runs and 69 RBI's with a majority of those games (92) coming in a Rays uniform. Since joining the Rays, d'Arnaud was able to turn things around and become a better offensive threat as well as provide some versatility as a first baseman as well.
With the Braves already re-signing catcher Tyler Flowers to a one-year deal, the organization has been steadily building its 40-man roster, which now sits at an even 40 players. The offseason is far from over, trades happen, more players will sign, and the Rule-5 Draft will be completed, but the Braves seemingly have an idea of what names they want suiting up for the Braves next season. This signing of d'Arnaud is a "gamble," hoping that his production with the Rays continues for the Braves in the 2020 and 2021 seasons. Even after re-signing Flowers, they lost a catcher/designated hitter in Brian McCann to retirement after the Braves defeat in the 2019 National League Divisional Series.