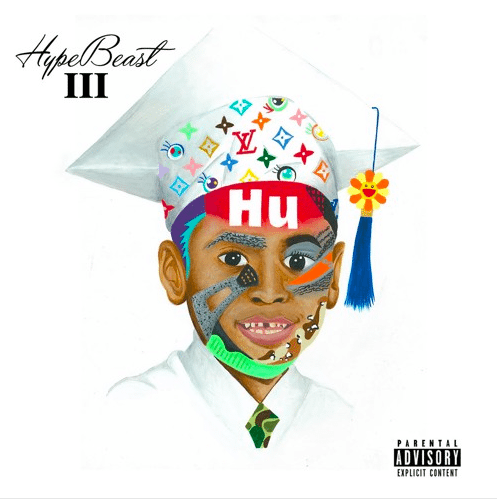 Forever on some Fly Shit. I wish I could just end this post here with just that BUT, that would be disrespectful to the hard work Jae Tips put into this project. Welcome to HypeBeast 3 ladies and gentlemen. The Savior from Bronx, NY is back with a third installment to his HypeBeast mixtape series.
The first thing to take notice of is the artwork which embodies the HypeBeast theme. Featuring the LV monogram, Yeezy Boost 350 V2, Grape 5, Nike Air Yeezy, Supreme Camo and Cement 4 detailing. That's just naming a few of course but let's not forget the BAPE detailing in the tie. This was seen on the first two HypeBeast tapes as well.
HypeBeast 3 delivers 13 original tracks which are highlighted by the tracks that Tips released prior to the project's release; "Insecure" and "Christmas Cancelled". Providing two tracks that helped build the anticipation for the project, Jae Tips has the track record for releasing a solid body of work so yeah, I was intrigued.
Featuring the likes of Tina Yao, Pyro Traxx, and Phil Walker, immediately my favorites are those; 'Proceed', 'Let it Fly' and 'Old Chick'. Being a sneakerhead I immediately gravitated towards Sneaker Money. Can't have a Jae Tips project without many sneaker-related references. He is one of the well-known enthusiasts in the sneaker community, and also the plug.
Ending off 'HypeBeast 3' with 'Gotta go now' is evidence of Jae Tips' continue growth, as the sequencing of the project was on point. I enjoyed it and I am sure you will too, check out the project below.