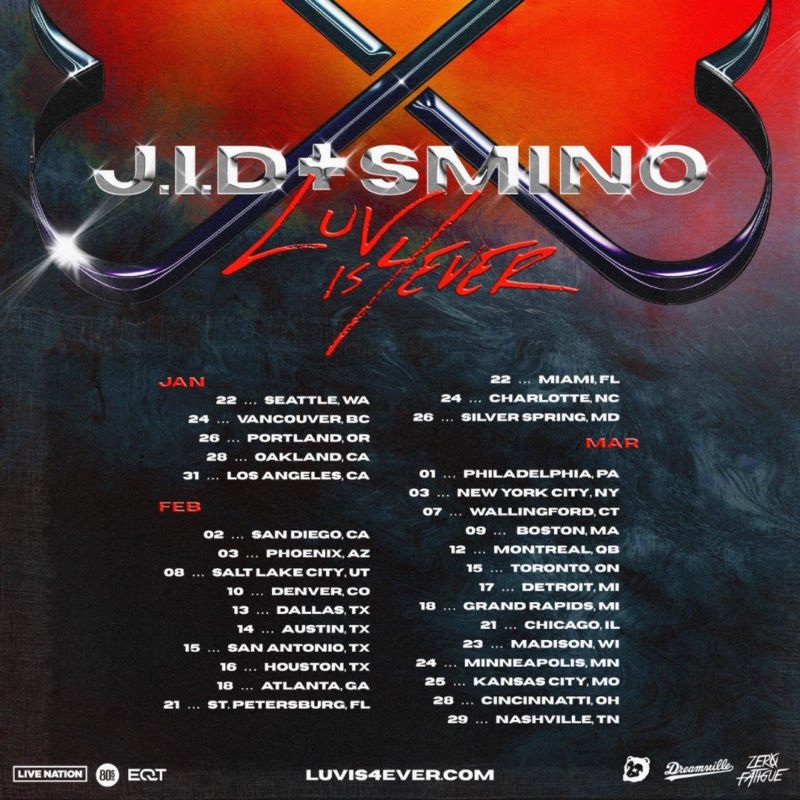 J.I.D is riding high following the release of The Forever Story and Smino is preparing for the highly-anticipated release of his latest LP, Luv 4 Rent. However, neither act is simply content with putting out new music. Both Smino and J.I.D are preparing to hit the road this winter for their three-month "Luv Is 4Ever" tour. While the dates and venues are set, one piece of the puzzle remains missing.
"Who u guys think we bring as openers/direct support?" J.I.D asked.
As J.I.D, Dreamville, Smino, Live Nation and company finalize a list of artists they'd like to bring on tour, here are a few acts that they may want to consider.
Brian Brown
Hometown: Nashville, TN
Manager: Causey
Social(s): Twitter | Instagram | YouTube
Interviews: RNGLDR | Passion of the Weiss | Nashville Scene
Songs To Check Out: "Showstopper" | "Flava" | "OnlyFans"
There's a reason that Nashville is known as the Music City and it has very little to do with country music or Broadway Street. In fact, it has a lot more to do with the fact that the Fisk University Jubilee Singers set the tone way back in the day and allowed for something like the National Museum of African-American Music to come along years later. Few artists carry on the legacy of Black music in Music City quite like Brian Brown. Whether it's his creative wordplay, energetic performances or his day-to-day charisma, it's quite clear that the Nashville native is a star. Not to be forgotten, he's opened up for the likes of Scarface and Freddie Gibbs. His soulful sound and unique stage presence would make him a great fit for this tour.
Nezi Momodu
Hometown: Dallas, TX
Manager: Max Gousse, Monica Payne
Social(s): Twitter | Instagram | TikTok
Interview(s): OkayAfrica | Inside The Rift |
Song(s) To Check Out: "Jugg Everything" | "The Pound" featuring D-Truce | "On Gawd"
If you have been following Def Pen, you know that Nezi Momodu has been on our radar for a long time now. Whether she's freestyling at Texas Tech University or dropping her own visuals, everything that the Dallas, Texas native associates herself with turns to gold. After years of putting in work, she was able to breakthrough in a major way. Not only was she featured on Logic's latest project, but she also opened up for him and Wiz Khalifa when they made their way through Dallas. Now, she's the newest face at Def Jam and the world is waiting to see what she does next.
Christopher Patrick
Hometown: East Orange, NJ
Manager: Noah
Social(s): Twitter | Instagram | TikTok
Interview(s): On The Radar | The Lemonade Stand | Mega Atlanta Radio
Song(s) To Check Out: "3 AM" | "Lead Me On" featuring Erykah Officer | "Dreams"
New Jersey's own Chris Patrick put it pretty plainly when he tweeted, "If you like dreadheads, n*ggas who be rapping rapping or Black people in general, then you'll love Chris Patrick." All of the artist's aforementioned statements are true. He also delivered one of the most slept-on projects of the year, X-Files, just a few months ago. The project showcased his storytelling ability and highlighted the work he's put into becoming a singer. Sound like any other artist you may know? Maybe, one from Atlanta who's going on tour with Smino soon?
Zyah Belle
Hometown: Vallejo, CA
Manager: Jazzmyne Kierra
Social(s): Twitter | Instagram | TikTok
Interview(s): Uproxx | Rated R&B | Okayplayer
Song(s) To Check Out: "DND" | "Say My Name" | "Jamaica"
It's not often that a vocalist primarily known for her R&B work is brought on tour with two rappers, but Zyah Belle is not your average vocalist. More importantly, J.I.D and Smino's sounds are heavily influenced by Soul and R&B. Zyah Belle has been making her way around the country with India Shawn and she's already got a setlist put together. She has an incredible stage presence, a unique sound and she'll add a different dynamic to the show. Bring Yam Grier on the road this fall.
Reaux Marquez
Hometown: Nashville, TN
Manager: Causey
Social(s): Twitter | Instagram | TikTok
Interview(s): OkayPlayer | RNGLDR
Song(s) To Check Out: "Jugular" featuring Brian Brown | "Diminished" featuring Yours Truly Jai
Reaux Marquez is not just one of the most overlooked rappers in the South. He's often overlooked on the national scene as well. Diving into discussions of police brutality, economic inequality and much more by using images of fire and chaos, Reaux Marquez's latest album, No Roads, is one of the most thoughtful albums of the last few years. Not to mention, it showcases his ability to collaborate and work alongside other artists in the area like Yours Truly, Jai and the aforementioned Brian Brown. Adding Reaux Marquez to the tour would not only provide the Tennesse native with a platform to showcase his skill, but it would also add another layer of conversation around the show.
Brittney Carter
Hometown: Chicago, IL
Manager: Email
Social(s): Twitter | Instagram | TikTok
Interview(s): The Miseducation of Music | The Lemonade Stand | Talkin' Truth
Song(s) To Check Out: "Cold As Us" | "Same War" | "New Vi$ion"
Having worked with the likes of Noname and Saba, J.I.D and Smino are very familiar with the talent that comes out of Chicago, Illinois. Adding to the city's rich musical history, Brittney Carter is a wordsmith whose pen is immaculate. Whether its switching flows, adding metaphors or straight barring n*ggas up, Brittney Carter does not disappoint. Not to mention, she's prolific. From releasing songs on YouTube to dropping freestyles on Twitter, Brittney Carter is always working hard. That's a quality that is valuable to have when you're making your name on tour with two established acts.
Bonus: ENNY
Hometown: London, UK
Manager: Summer Marshall
Social(s): Twitter | Instagram | TikTok
Interview(s): The Guardian | NME | Clash Magazine
Song(s) To Check Out: "Peng Black Girls" | "I Want" | "Same Old"
Enny is a budding star in London and across the U.K. who is deserving of her own North American tour. However, it is often difficult for acts within the Hip-Hop space to make their way across the Atlantic Ocean and into U.S. venues. Whether it's funding or Visa issues, something always seems to get in the way. Oftentimes, it takes an artist reaching the status of a Dave or Central Cee before they can even get a label to financially support them coming to the U.S. for a tour. The standard is even set higher for women in Hip-Hop, particularly Black women. There's no doubt that Enny will get to the point where she's too big to deny her a North American or a world tour, but why wait? Enny's sound and skillset are perfect for this tour and just think about the music she may be able to make with Smino and J.I.D.