There's a new trend when it comes to sneakers and it's none other than the "dad shoe." A chunky, uncool silhouette has somehow become "cool." Now you could say it's thanks to the likes of Balenciaga and its Triple S, Yeezy's Wave Runner 700 or Adidas x Raf Simmons Ozweego but the most dad-ass shoe is none other than one of Nike's best-selling, the Air Monarch IV. Yes, that one sneaker your dad probably owns in all 3 colorways. The Monarch is the equivalent of Jordan's, to your dad. It's a bulky, extra wide simple cross trainer that's described as having lightweight cushioning, durable support and claims it's the ultimate in comfort. Three elements most sneakerheads care nothing about if it isn't going to get them clout points.
I'll admit, I'm not a fan of the dad shoe trend per say but I am a fan of comfort and that's one of the reasons why I decided to give the Monarch's a try. Also, I refuse to pay $800 or even $300 for a pair of dad shoes so a pair from those other brands was not an option. There must be a reason why Nike moves so many units of the Monarch's year after year. Clearly, it's not because of how they look although I believe any sneaker can look cool just like any sneaker can look trash and it's all about how it's styled.  I'm certain you've seen someone with a pair of sneakers you own and you've asked yourself  "is that what they look like on me?" I wanted to see if it was possible to have both comfort and style while wearing the Monarchs and challenge the norm of what's cool. Most reading this feel there's no way it could ever look, let alone be cool and you may be right but there was only one way to find out.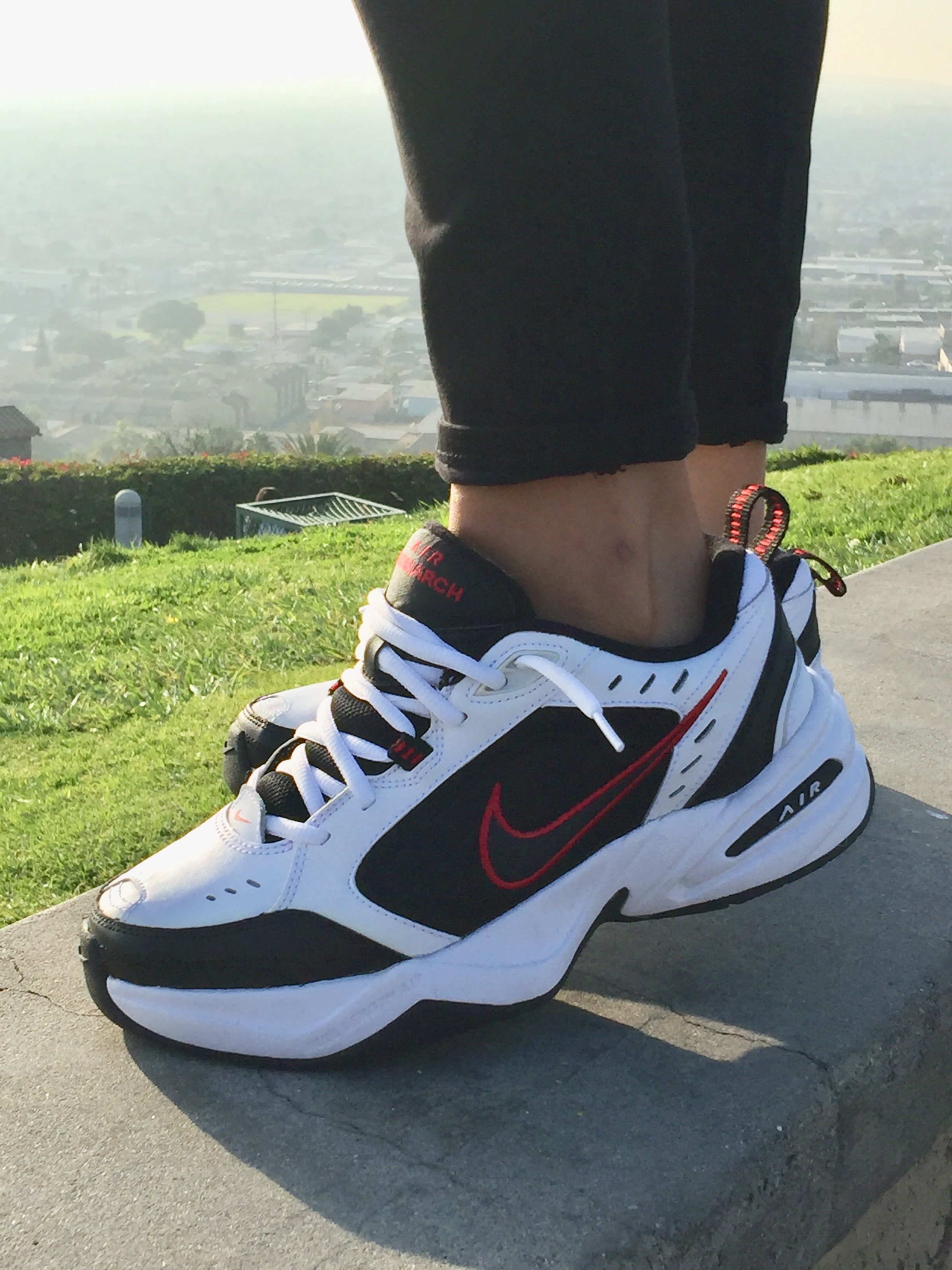 It's been two months since UPS delivered my Monarch's. I guess this is the part where I tell you that they're awful and I'm embarrassed to wear them. Sorry to disappoint, I actually like them. Yes, they are big and chunky but in all honesty, I like how they look and more importantly how they feel. They are extremely comfortable and supportive. Nike did not lie when they said it's the ultimate in comfort. Seriously, these shoes are just as comfortable as my Boost's. Suddenly I understand why it's so popular with dads. The older I get the more I care about comfort and that seems to be what dad's care about. They aren't worried about the latest sneaker trend or drop but there's been a shift in the culture and suddenly dad's are influencers.
I've worn my Monarch's to work a few times since I'm on my feet most of the day. I've also worn them to brunch, to run errands and while out shopping. My feet have felt amazing every time and not once did someone look at my sneakers and asks "what are those?" Actually, I've gotten a few compliments on them. The first time I wore them out, I was a little hesitant and was certain I'd get a few looks and not the kind I'd want. The hesitation went away as soon as my girl saw me in them and said "you know what, I kind of like your shoes. I can't see myself wearing them but they look good." Now, this is coming from a fellow sneaker aficionado. I did post a picture on my Instagram of my Monarchs and the responses I got were what I expected. Some of my followers are not fans of the sneaker and could not believe I actually spent money on a pair. I get it, for so many years we've made fun of anyone who wasn't old and in khakis wearing them.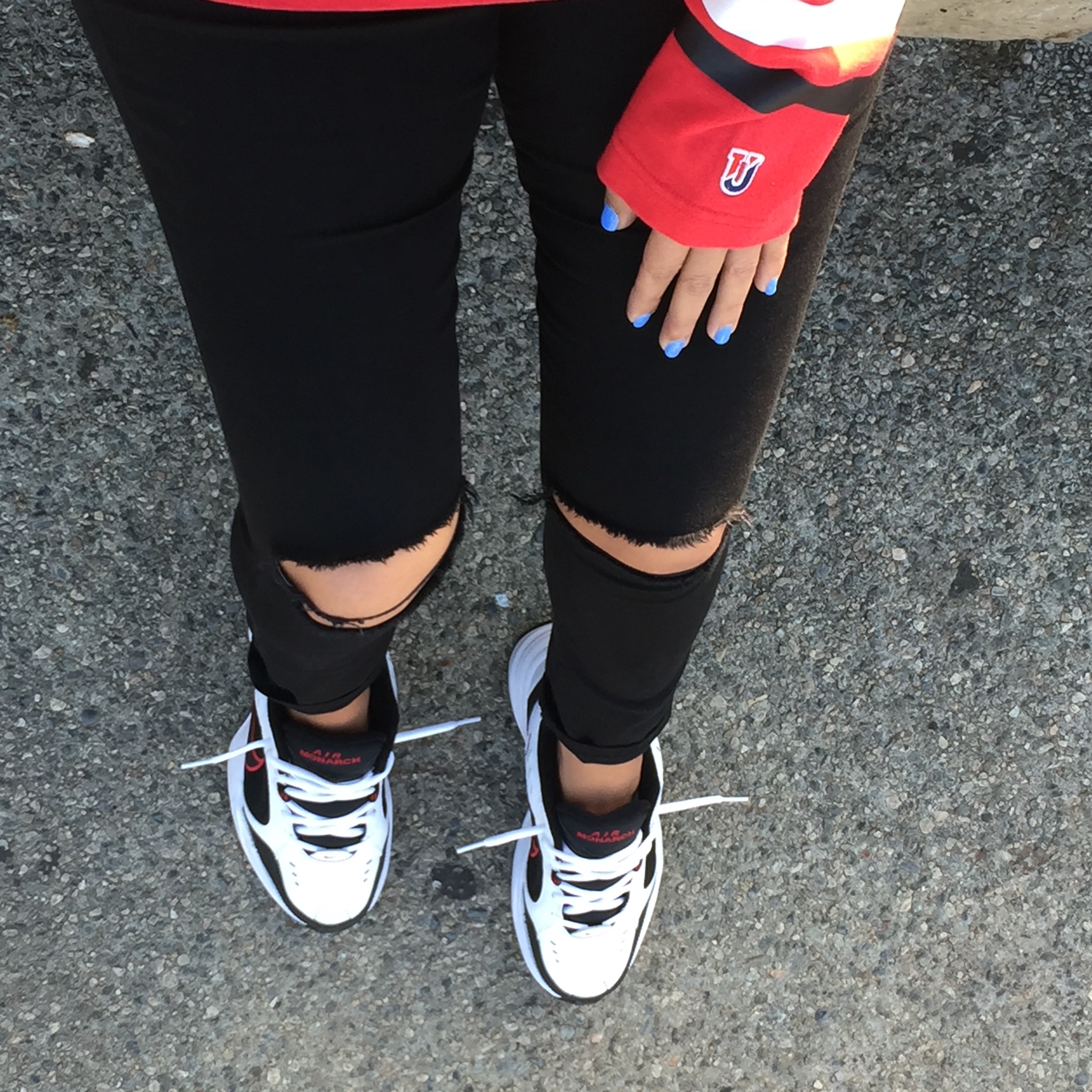 Initially, this whole Monarch's thing started off as a joke among conversations with friends but I am a fan of the sneaker in the sense that it's crazy comfortable and despite what most think, It looks good. Styling this shoe hasn't been difficult for me since I typically tend to be in streetwear and I feel like this sneaker is perfect for that. I've paired them with tear-away pants, vintage 501 Levis and wide leg trousers.
The dad shoe may be a trend but dads aren't going anywhere and neither are the Monarchs. Why not get an early start and get you a pair even if you're not in your 50's or a dad. Your feet will thank you for it and you may just realize that a sneaker isn't necessarily what makes you cool, it's you who makes the sneaker cool.