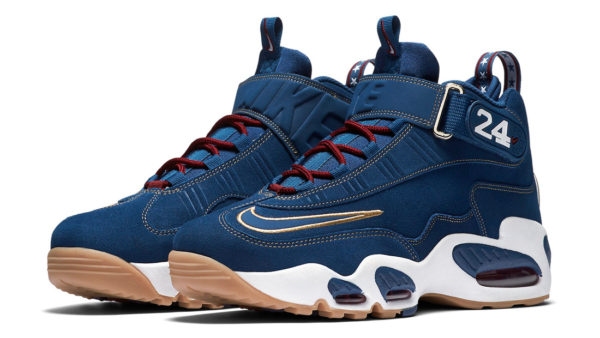 Celebrating its 20th anniversary the folks at Nike have issued the re-release or return of some of our favorite colorways of the Nike Air Griffey Max 1. So far we have seen the "Fresh Water" colorway and of course the fan favorite "Varsity Royal". Moving forward we can probably expect the 'Cincinnati Red' colorway to eventually make its way back but that isn't for certain. One thing that is a fact is the upcoming Nike Air Griffey Max 1 which is said to be an Olympic colorway is releasing. Well after doing some homework and piecing together somethings with the 20th anniversary being 2016, it looks like Nike dug deep for this new colorways inspiration. Remember back in 1996, a then 25 year old Ken Griffey Jr. and Nike ran a Presidential advertising campaign, "Griffey In '96"? Well if you look at the banner from said campaign it sports similar a similar colorway as the banner, which you can see below. As you can see the navy, dark red and gold are incorporated nicely but it is the stars on the pull tab and "16" Presidential Pin on the back with the Griffey logo which give us a better indication on what inspired this new colorway.
When a release date is known which it isn't right now we will keep you guys updated and when confirmation on the sneakers inspiration is made known we will update you guys on that as well.
UPDATE: The Nike Air Griffey Max 1 'Griffey for President' has officially been provided pictures by Nike. The official colorway description is Midnight Navy/Team Red-Gum Light Brown and the release date has been set for June 28, 2016.