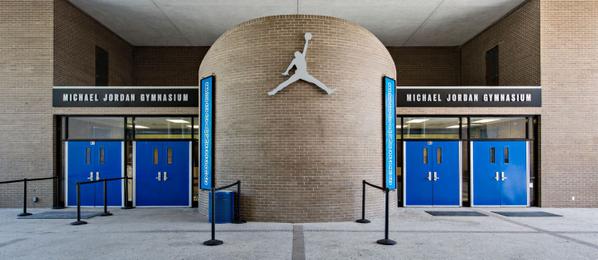 We all know the story, Michael Jordan as a short sophomore was cut from making the Varsity team which as we can see was a big mistake. Well we forgive, forget and move on. That is what MJ has done but he has never forgotten Laney High School as the schools colors resonated throughout some of his signature sneakers.
Michael Jordan comes home to Laney along with his Jordan Brand imprint to transform the schools gym to Michael Jordan Gymnasium. On top of that, a mini-museum was installed outside the gymnasium which is like a Hall of Greatness showcasing a load of artifacts in reference to MJ.
Also Jordan Brand sponsored the annual Fred Lynch Invitational Basketball tourney where the kids were treated with sneakers and gear.
Check out all the pictures showing off the Gym, the mini-museum and kids from the tournament. Also down below is a video from coaches and teachers reflecting on Michael Jordan with his time at Laney High.
It's the 30th anniversary of the Air Jordan and to mark the special occasion, ThePostGame was invited to Laney High School in Wilmington, NC. What's so special about Laney? Well, its the place where Michael Jordan started his basketball career. This year Jordan decided to refurbish the basketball gym at Laney High School and we went back and learned about the origins of Michael Jordan.

We were invited to the opening ceremony of the gym and took a deeper look into the story of Jordan. Not the Michael Jordan we all know that won titles and gold medals, but the "Jordan" before that Jordan. The Jordan that had math class and was known to crack a few jokes. The Jordan that eventually became the greatest player of all time
via: Kustoo/The Post Game/SC