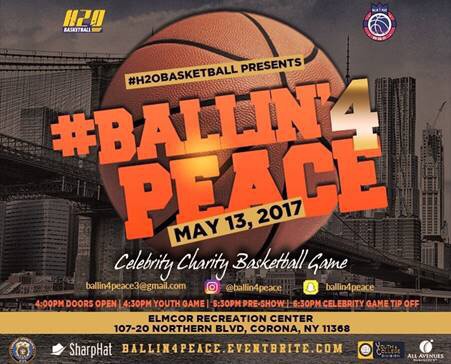 Giving back to the community is what many preach but don't practice. Queens native Haron 'H20' Hargrave has the answers for this. Here's his 3rd annual Ballin 4 Peace Celebrity Charity Basketball Game. Reigning from Queens, New York, "H20" takes his passion for basketball and giving back to the community to the gym of Elmcor Recreation Center in Corona, NY.
The event is was orchestrated to help the continued attempt at bringing forth awareness to senseless and unnecessary gun violence. Haron put together this event with the murder of his close friend. In doing so, he comes forth to bring the youth and many of our favorite celebrities from many different facets in a non-violent environment. The objective this year is to raise 10K for the H20 Sports Foundation. Speaking of celebrities, in the official press release you will see just who will be involved this year and prior. Make sure if you are in the NYC area to come through to have some fun, support a great cause for the youth and more importantly donate!
Ballin 4 Peace (B4P) Celebrity Charity Basketball Game is back with a vengeance for its 3rd annual game on Saturday, May 13th at Elmcor Rec Centers in Corona, NY! Every year founder, Haron 'H2O' Hargrave puts together this charity game to bring awareness of the violence that occurs within the community and strives to show the youth and the community there are other alternatives to have a safe, fun and non-violent environment. The youth, celebrities, political leaders and more come together for this charity game to play for this cause and help raise funds for H2O Sports Foundation that provides basketball clinics for the youth. The goal for 2017 is to raise $10K.

Some of the past celebrity participants were actor of tv series Shots Fired, Tristan Mack Wilds; rapper & reality star of Chrissy & Mr. Jones, Jim Jones, actor of tv series After Hours, Julito McCullum; singer, rapper & actress, Lil Mama, and actor of tv series Power, Marc John Jeffries, just to name a few. Here's what they had to say about Ballin 4 Peace:

 

"It feels good to have something that's established that allows us to realize what we need the most, which is peace."  –Mack Wilds

 

"If we can achieve a little bit of peace in our communities, it would be that much of a better place."   –Jim Jones

 

"We need more stuff like this to happen, to give the people some hope, to give the kids something else to do."   – Julito McCullum

This year's Ballin 4 Peace Celebrity charity basketball game will be coached by NBA's NY Knicks player Maurice Ndour. Some of this year's participants are Tristan Mack Wilds, Marc John Jefferies, VH1's Love & Hip-Hop's NY Tara Wallace and Bianca, Mysonne, Grafh, Jaquae, DJ Webstar, Fred Da Godson, DJ Superstar Jay, Ron Browz, Smoke DZA, Arnstar, Du Dolla, Julito McCullum, Loaded Lux, Cortez, Lou Got Cash, Lola Brooke, and Murda Mook.

Join the community, celebrities and youth to enjoy a day full of fun for the Ballin 4 Peace 3rd Year Annual Charity Basketball Game on Saturday, May 13th at Elmcor Rec Centers, 107-20 Northern Blvd, Corona, NY, from 4pm to 9pm. Youth basketball game begins at 4:30pm. Youth half time is sponsored by Prototype Music. Pre-show begins at 5:30pm. Celebrity basketball game begins at 6:30pm. This game is open to all ages. There will be live performances and giveaways! Tickets or donations are available at ballin4peace.eventbrite.com. Let's help Ballin 4 Peace reach its $10K goal this year!