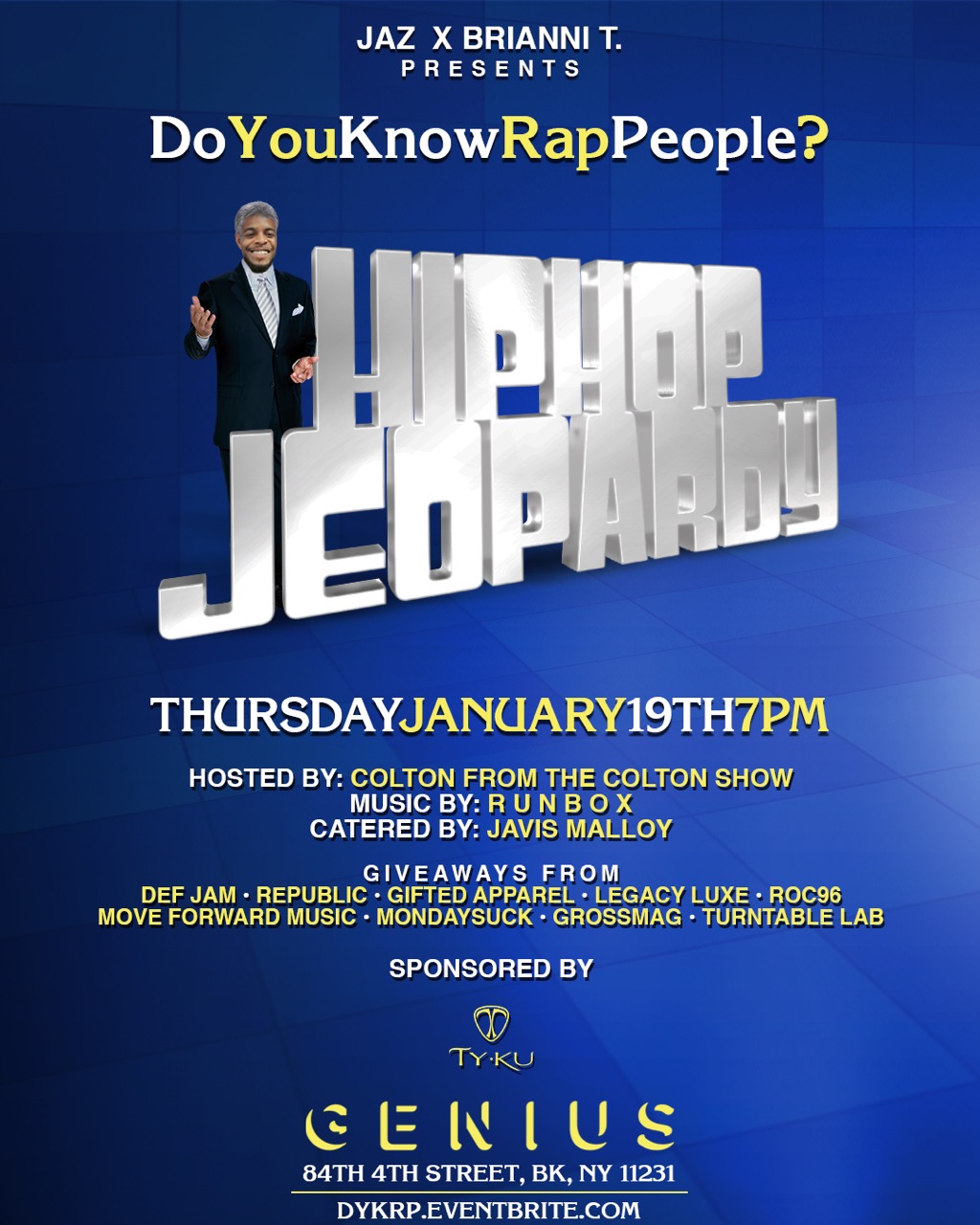 Everyone claims to be a Hip-Hop enthusiast well here is the chance to prove yourself. Respect Mag's own Jaz and the infamous Brianni T Presents: 'Do You Know Rap People?' Hip-Hop Jeopardy. Yes, that is right a Hip-Hop Jeopardy event is happening in New York City, Brooklyn to be more precise. If you have ever watched Jeopardy this event is certainly for you especially when you factor in Hip-Hop related questions.
Now you know this event isn't just going to be any kind of event, there will be prizes, there will be drinks and food while it lasts.
Look for 'Do You Know Rap People?' to be held in Brooklyn at the Genius HQ's and will be hosted by none other than Colton of 'The Colton Show'. For more information regarding this dope event, check out the details below and I expect for you all to come out and support.
DoYouKnowRapPeople? will be taking place on Thursday, January 19th at 7 pm! Colton from The Colton Show will be hosting this Hip Hop Jeopardy themed event at the Genius HQ at 84 4th Street Brooklyn, NY 11231. There will be an open bar sponsored by Jose Cuervo + Ty Ku along with food catered and served by Javis Malloy while supplies last.

Every winning contestant will receive prizes from Republic, Def Jam, Gifted Apparel, Legacy Luxe, MondaySuck, Gross Mag, University of Dope + hip-hop inspired art by artist Mini Hip Hop. Guests will receive a chance to win giveaways from Turntable Lab & Move Forward Music. Come and get a chance to network with different people in the music industry while drinking and having a great time.
To get tickets go DYKRP.eventbrite.com