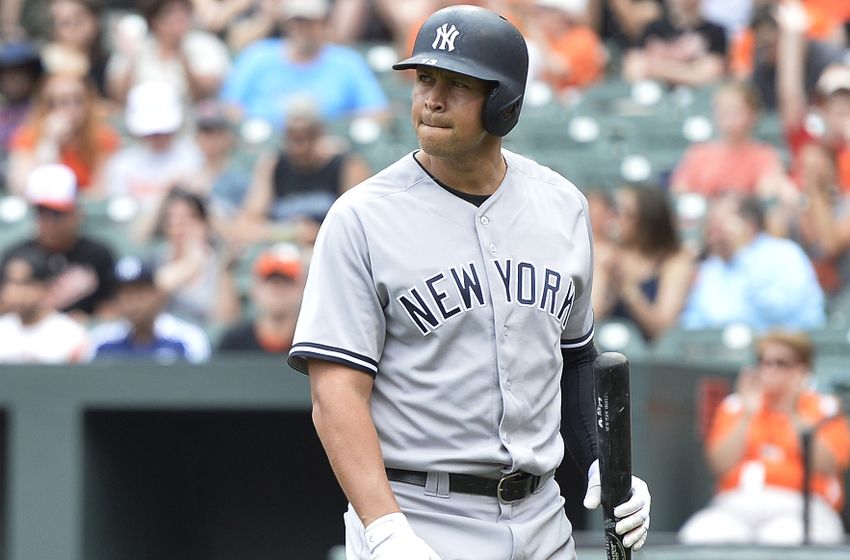 Alex Rodriguez time in the MLB has come to an end. The man has played over 20 years in the MLB and he will hang up his jersey later this week.
A-Rod announcing his retirement means the final stages in the Yankees rebuild has begun. In the last week, the Yankees traded pieces like Aroldis Chapman, Andrew Miller and Carlos Beltran and fellow 2009 World Series Champion Mark Teixeira also announced his retirement.
Currently as it stands, Alex Rodriguez career will end this week. The Yankees agreed to pay the full amount in his contract, about $27 million remaining, which was slated to end on December 31, 2017. Rodriguez has been guaranteed he will play his final game on Friday but it is unclear if he will play this week leading up to his final game.
The following was announced by the New York Yankees.
The Yankees today announced that Alex Rodriguez will play in his final Major League game on Friday, August 12 vs. Tampa Bay at Yankee Stadium. Following the game, he will be unconditionally released by the club from his player contract in order to sign a contract to serve as a special advisor and instructor with the Yankees through December 31, 2017.

"After spending several days discussing this plan with Alex, I am pleased that he will remain a part of our organization moving forward and transition into a role in which I know he can flourish," said Yankees Managing General Partner Hal Steinbrenner. "We have an exciting group of talented young players at every level of our system. Our job as an organization is to utilize every resource possible to allow them to reach their potential, and I expect Alex to directly contribute to their growth and success. Baseball runs through his blood. He's a tireless worker and an astute student of the game. Alex has already proven to be a willing and effective mentor to many players who have come through our clubhouse, and I am confident that this next phase of his baseball life will bring out the best in Alex and the next generation of Yankees."
Rodriguez told Ken Rosenthal of Fox Sports the following.
This wasn't his decision. Alex Rodriguez said that the Yankees informed him a few days ago that they wanted to release him. The news surprised him. The terms of his departure will stun the baseball world.

Rodriguez, in an exclusive interview with Fox Sports, said that the Yankees agreed to play him at designated hitter on Friday after the team returns from a three-game series in Boston. He then will be released, collecting the balance of his guaranteed $20 million salary this season and his entire guaranteed $20 million salary next season.

Rodriguez, 41, did not rule out playing again for another club, but said, "Honestly, my horizon is pinstripes and Friday. It's been such an emotional couple of days that I can't really think beyond that right now."

"This is what the organization wants right now," Rodriguez said. "Obviously, there's a shift. There's a youth movement."

"I'm sure it was hard for them. It was hard for me," Rodriguez said. "I've played almost 22 years in the major leagues and I've never sat on the bench. It was new territory, that's for sure."

"I've always said I'm a teacher at heart. It's something I've done my entire career, but more specifically since 2004 when I got here to New York. It's a role I think I'm going to enjoy, and the goal never changes for us. We want to bring a world championship back to the fans of New York."

Would he coach or manage?

"You're like the fifth person that has asked me that," Rodriguez said, chuckling. "I have not thought about anyone else besides pinstripes. It is quite emotional for me. I came into the big leagues at 18. I'm 41. It's pretty much all I've known."

"The sad part is, it ended too quick, as it usually ends for most athletes who feel they can play forever," Rodriguez said. "The great news is, I'm going to be in a role I think I'm going to enjoy. I'm also going to learn a lot. The fact that Hal asked me to do this is something that I'll treasure."
Rodriguez 2016 season has been far from his glory days of his MVP years in the mid-2000's. Rodriguez has started only one of the Yankees' last 14 games and currently stands four home runs shy of 700. Despite his career highs, he's hit an extreme low, only recording nine home runs this season and one since June 18. Overall, he is batting .204 with a .609 OPS, career lows by a lot.
Rodriguez's career totals include 3,114 hits, 696 homers, 2,084 RBIs, 2,021 runs, 329 stolen bases. He also won the AL MVP award three times, named to 14 MLB All-Star games, a 10-time Silver Slugger award winner and a 2-time Gold Glove award winner. Without a doubt, Rodriguez's career numbers can not be matched by many, if anyone but his mistakes might hold him back. Rodriguez admittedly using steroids from 2001-03 will most likely damage his Hall of Fame chances much like they have for Barry Bonds, Mark McGwire, Sammy Sosa, Roger Clemens and so many others from that 'steroid era'. Rodriguez future for now is clear, his career will end on Friday and it is the end of a Yankees era.