The 2018 NBA Draft Lottery has come and gone and we now know the official draft order. This calls for an updated 2018 NBA mock draft. The Phoenix Suns were awarded the first pick as expected, though the Sacramento Kings jumped up big-time to grab the second overall pick. Lottery luck can bolster a franchise and expedite a rebuild.
The positional groupings are similar to each of the previous Def Pen 2018 NBA mock drafts. 5 categories as follows: Lead guard, combo guard, wing, combo forward, and big. In the age of positionless basketball, player classifications are becoming based more upon roles within a lineup rather than strict position.
2018 NBA Mock Draft
1. Phoenix Suns
Luka Doncic: Wing- Real Madrid
The versatile Slovenian is the most complete prospect in this draft class. Doncic can do it all on offense, and while his on-ball defense has been questioned, he often shows the presence of mind to be a helpful team defender. You do not draft for need with the top pick, as Doncic is the closest thing to the franchise centerpiece we have in this class. Also, with the hiring of Igor Kokoskov, the franchise seems all in on bringing in more European flavor.
2. Sacramento Kings
DeAndre Ayton: Big- Arizona
The Kings were last in scoring in the NBA last season. DeAndre Ayton can be a dominant scorer at the next level with his physique and post skills. Ayton averaged 20 and 12 last season and showed a wide array of scoring ability. Apart from the obvious ability in the post, Ayton has a solid jumpshot that looks like it can improve with reps. The Kings have drafted a plethora of big men over the years, but Ayton may finally be the one to build around.
3. Atlanta Hawks
Jaren Jackson Jr: Big- Michigan State
The Hawks need another reliable big to put next to John Collins, and Jackson may be the best big man in the draft. Jackson has shown elite defensive ability with his 7-foot-5 wingspan and quick reactions. He wasn't a focal point of Michigan State's offense last season, but he did show potential to be a center who can space the floor. Jackson shot 40% from deep while averaging 3 blocks, proving to be one of the best two-way prospects in this class.
4. Memphis Grizzlies
Mo Bamba: Big- Texas
With the frontcourt in Memphis looking weak and unreliable, the Grizzlies opt for a defensive anchor to keep opposing teams out of the paint. The 7-foot-10 wingspan of Mo Bamba paired with his quick feet allow him to serve as a true rim protecting center with immediate NBA impact. Bamba's offensive game is still very much a work in progress, but late in the season and in some offseason workout videos, there is a reason to be optimistic. The Memphis Grizzlies previously built around great defenses, so a pick like Bamba could help them get back to doing just that.
5. Dallas Mavericks
Wendell Carter Jr: Big- Duke
The lure of Marvin Bagley will be hard to pass, but the Mavericks need a safer option with this pick. Wendell Carter could add immediate value to a team that had one of the worst interior defenses in the NBA. Carter's 7-foot-4 wingspan drives players out of the paint and can disrupt shots. Not to mention, Carter is a terrific rebounder (13.5 RPG per 40 minutes) and shot 41% from three. Carter's versatility is too valuable to pass up for a team that could use help on multiple fronts. A team that finished 27th in rebounding, 25th in steals, and 29th in blocks in the league cannot pass up an all-around player such as Wendell Carter.
6. Orlando Magic
Michael Porter Jr: Wing- Missouri
The Magic need more 3-point shooting as well as overall scoring. With the options on the wings looking uninspiring, the Magic should choose for a player who could eventually become their go-to scorer. Porter is 6-foot-10 with elite mobility and high-level athleticism. He can score at all three level in a wide variety of ways, though he may not excel in any one aspect. He offers more promise than an immediate impact on defense, but the promise is worth betting on given his size and potential versatility on that end. Porter still has some polishing to do for his game, but with the right development could be a scorer that can have a team built around him.
7. Chicago Bulls
Marvin Bagley: Big- Duke
At number 7, the raw talent of Marvin Bagley will be too much to pass up on. The Bulls will probably prefer to add scoring to their wings, but Bagley is not a bad consolation. Bagley is an uber-active big man who uses his combination of size and athleticism to overwhelm opponents. At Duke he was a walking double-double, averaging 21 and 11 on the season. Defensively are where his biggest concerns lie, as he often looked confused and disinterested on that end of the floor. Bagley's athleticism and motor will allow him to grab rebounds and put up points, though he will need to refine his basketball skills if he wants to be an even more impactful player.
8. Cleveland Cavaliers
Mikal Bridges: Wing- Villanova
The Cavaliers will be faced with a tough choice between Bridges and Trae Young at this pick, but the defensive ability of Bridges is too much for Cleveland to pass on. Cleveland desperately needs help on the wings on both sides of the ball. The elite 3-and-D ability that Bridges possesses would be immediately valuable, regardless of LeBron's decision. We have seen the Cavaliers look utterly dreadful on defense, so adding the best perimeter defender in the draft class seems like a smart choice.
9. New York Knicks
Trae Young: Lead Guard- Oklahoma
The Knicks were 27th in the NBA in 3-point shooting, so Trae Young seems like the straight-forward option here. While they did draft Ntilikina last year, the duo of Young and Ntilikina could work perfectly as both players can play both guard positions and Ntilikina can guard the point of attack to mask Trae Young's defensive shortcomings. Trae Young is an elite playmaker who can famously rain triples from anywhere on the court. Look for Young to get immediate high-volume usage in New York.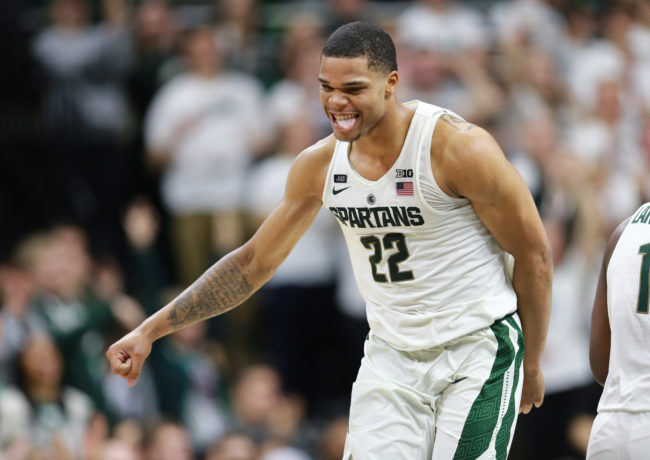 10. Philadelphia 76ers
Miles Bridges: Combo Forward- Michigan State
The 76ers have no glaring needs on the team, so they go for more depth and scoring. Bridges is a well-tooled scorer that should be able to provide a surge off the bench. He can handle the ball and create some offense for himself while still having the ability to work off the ball on the wing or as a stretch-four. Versatility seems to be the theme in Philadelphia, so Miles Bridges should fit right in.
11. Charlotte Hornets
Collin Sexton: Lead Guard- Alabama
The Hornets should head towards full rebuild mode. With rumors of Kemba Walker being on the trade market, Charlotte can get its next franchise point guard in this draft. Collin Sexton is still rather raw, but has the potential to be a major steal at 11. Sexton possesses elite physical gifts and knack for getting to the rim. He was in the 87th percentile for PnR scoring as the ball handler last season via Synergy, pair that with a dangerous off-the-dribble shooting stroke and you have a downhill force to be reckoned with. Defensively, Sexton is a pest and sets the tone for the team. Sexton should be an ideal type of point guard to build around, even if he still has some polishing to do on his game.
12. Los Angeles Clippers
Shai Gilgeous-Alexander: Lead Guard- Kentucky
21 players saw minutes for the Clippers last season, yet there is nobody on the roster that looks like a longterm piece to build around. They take their point guard of the future here in Shai Gilgeous-Alexander as the first of back-to-back picks. Gilgeous-Alexander is a lanky 6-foot-5 point guard with a 6-foot-11 wingspan. The defensive upside is worth salivating for due to said wingspan. Offensively, he has shown high-level playmaking ability, displaying great visions on drives. He can score at all 3 levels, as he shot a low-volume 40% from deep. He will need to get stronger and finish through contact at the rim to become a more complete player at the next level, and he lacks elite athleticism. These concerns may limit some of his upside, but Gilgeous-Alexander has a valuable NBA skill-set to pair with elite size at the point guard position.
13. Los Angeles Clippers
Rob Williams: Big- Texas A&M
After taking their point guard of the future, the Clippers decide to select the heir to DeAndre Jordan. A similar mold as Jordan, Rob Williams projects as a rim protector on defense and a rim-diver on offense. We have seen the value of such players through Clint Capela, so Williams' skill-set will come with immediate value. Williams is uber-athletic with a 7-foot-4 wingspan, offering elite rim protecting upside.
14. Denver Nuggets
Lonnie Walker IV: Wing- Miami
The Nuggets are in need of backcourt depth as Will Barton is set to become a free agent. With Jamal Murray seemingly taking the reigns of the lead guard, Denver selects an off-guard in Lonnie Walker. Walker is an elite athlete that offers big-time two-way promise. After starting the season slowly due to injury, Walker really came along and took major strides. Walker showed the ability to create his own offense at all three levels while being a high-activity defender on the other end. Still mostly a raw prospect, Walker will provide impact as a role player off the bench while he continues to develop.
15. Washington Wizards
Mitchell Robinson: Big- N/A
Robinson is a massive 7-foot-1 center with broad shoulders and a 7-foot-4 wingspan. The Wizards desperately need more quality in their frontcourt and Robinson could help immediately. Washington placed in the bottom-10 in rebounding and blocks last season, so a player like Robinson is much needed. Right now, he currently projects as a high-level rim-diver and rim-protector, but he did show flashes of some offensive creation in high school. If he works into a Clint Capela-like role for Washington, that alone would provide major impact for the Wizards.
16. Phoenix Suns
Kevin Knox: Combo Forward- Kentucky
The Suns may prefer to not draft another wing or combo forward at this point, but Knox is the best player available and it would be somewhat of a reach to grab any other position. Knox is still quite raw but possesses some ability to score at three levels. While he lacks explosive athleticism, his near 7-foot wingspan will allow him to be versatile on defense as he can guard positions 2-4. Knox has the tools but will need a more consistent jump shot if he wants to become a high-level contributor as a wing or stretch-four.
17. Milwaukee Bucks
Zhaire Smith: Wing- Texas Tech
The Milwaukee Bucks are a team built around length, athleticism, and versatility. Zhaire Smith would fit right in. The 6-foot-5 uber-athletic wing has a 6-foot-9 wingspan and an outstanding two-way game. Smith also adds 3-point shooting ability to the team. At Texas Tech, Smith shot 45% from deep- albeit at a low volume. The freshman can guard three positions and is always willing to do the dirty work the team. Smith's natural feel for the game consistently puts him in the right spot at the right time. Also, it doesn't hurt that Smith is simply the best player available at this pick.
18. San Antonio Spurs
Troy Brown Jr: Oregon- Wing
With the immediate futures of Kawhi Leonard, Rudy Gay, and Kyle Anderson all murky, the Spurs opt for another body on the wings. Troy Brown is an extremely versatile wing player on both sides of the ball. Brown is 6-foot-7 with point guard distribution skills and also possesses the ability to score as a slasher off the wing. He is not an explosive athlete, but his 6-foot-11 wingspan gives him the defensive versatility to guard three or four positions- something the Spurs missed mightily this season. Brown is somewhat of a work in progress at the moment, but the Spurs development team could work wonders with the versatile tools he already has.
19. Atlanta Hawks
Landry Shamet: Wichita State- Lead Guard
The Hawks are in an awkward spot here at 19, but there is value nonetheless. Landry Shamet is a safer option that provides depth security in the backcourt. With Dennis Schroder's future seemingly uncertain, Shamet provides a safety net. Shamet's 44% 3-point shooting and high basketball IQ offer immediate impact to a rebuilding Hawks team. At 6-foot-4, Shamet can also play as the off-guard in certain lineups to help space the floor from the wing. He may not have the upside that better athletes have, but Shamet is as reliable as it gets in this stage of the draft.
20. Minnesota Timberwolves
Khyri Thomas: Creighton- Combo Guard
After taking Justin Patton from Creighton last season, the Timberwolves dip back into the Creighton pool for a two-way combo guard. Minnesota didn't have any guard shoot over 37% from deep last season. Enter Khyri Thomas- a 41% shooter from beyond the arc who can also guard the opposing team's best guard. Offensively, he works best as an off-guard despite only being 6-foot-3. His shot creation ability needs work, but Thomas ranked in the 89th percentile for spot-up scoring in the NCAA last season. Using him in a similar role would help Minnesota space the floor as well as add help to the team's perimeter defense.
21. Utah Jazz
Jontay Porter: Big- Missouri
Derrick Favors is a free agent this summer and the Jazz lack much depth in the frontcourt. Jontay Porter offers a potentially high upside option with a versatile skillset. Porter has the length and IQ to contribute defensively. He has shown some ability to switch onto quicker wings, which could be crucial at the next level. Porter also possesses a budding scoring skill-set. Flashes of offensive creation and a jumpshot have been seen in Porter's game, if he can harness his tools and make it a consistent output the Jazz could hit a home run in the mid/late first round.
22. Chicago Bulls
Dzanan Musa: Combo Forward- Cedevita
The Chicago Bulls aren't a great team, but they have a pretty crowded frontcourt- especially after taking Marvin Bagley earlier in this draft. With none of their impact bigs heading to free agency this summer, the Bulls will want to bolster their wing scoring with Dzanan Musa. Musa stands at 6-foot-9 and has shown the ability to be an effective scorer at all three levels. He lacks explosive athleticism which could hinder him in the NBA, but he has shown craft in getting to the basket. The questions primarily remain on his ability to guard NBA level wings. With proper defensive improvement, Musa can be a major role player for the Bulls.
23. Indiana Pacers
Keita Bates-Diop: Combo Forward- Ohio State
The Pacers need depth on the wings and versatile combo forward Keita Bates-Diop is the best option at this stage. Bates-Diop ranked in the 88th percentile in total offense in the nation last season via Synergy, proving he can be a threat at all three levels. At 6-foot-7, Bates-Diop also has the size and length to guard 3s and 4s in the NBA. The Big Ten Player of the Year could step in and add immediate value.
24. Portland Trail Blazers
Shake Milton: Lead Guard- SMU
Portland's backcourt depth looks very shaky heading into next season. With two role players on expiring deals, the Trail Blazers opt to add the versatile Shake Milton. While he is listed as a lead guard, Milton certainly has the skill-set and size to play either guard position. Milton shot 43% from deep last season and pairing that with his 6-foot-6 frame with 7-foot wingspan could be a deadly combination. There are questions about his offensive creation ability and overall athleticism, but Milton could carve a valuable 3-and-D role in Portland.
25. Los Angeles Lakers
Moritz Wagner: Big- Michigan
The Lakers need frontcourt depth and would also like to improve upon their 29th ranked 3-point shooting. German big man Mo Wagner helps both issues. Wagner, who stands at 6-foot-11, shot over 39% from three last season. Not only is Wagner a great spot-up shooter, but he can score at all three levels and create some offense form himself. Wagner ranked in the 95th percentile in the country for total offense last season via Synergy. He lacks elite defensive prowess, but Wagner is a player who can be inserted into a rotation and provide some impact immediately.
26. Philadelphia 76ers
Jalen Brunson: Lead Guard- Villanova
One thing that was clear in the playoffs this year is that the 76ers needed some more shot-makers. While they may not need another point guard, they could utilize two-point guard lineups and let shooters work off the ball. Jalen Brunson is the best shooter worth taking at this stage as he shot a very high-volume 41% from beyond the arc last season. Brunson is high-floor, low-ceiling type of player who can facilitate the offense as well as score in spot-up situations.
27. Boston Celtics
De'Anthony Melton: Lead Guard- USC
Marcus Smart is set to be a free agent this summer while Terry Rozier is also in position to get paid very nicely. Boston may opt to move on from one or both of these players and will need another versatile guard to fill in. De'Anthony Melton possesses a versatile skill-set that can serve as an ideal glue-guy on both sides of the ball. At 6-foot-3 with long arms, he has the size to defend both guard positions. Melton needs to continue to polish his game, as he did not play last season to eligibility concerns. Though, we all know that if you give Brad Stevens the tools, he can mold raw players into valuable contributors.
28. Golden State Warriors
Jacob Evans: Wing- Cincinnati
The Warriors will want to add more depth on the wings- particularly players who can shoot the three. Jacob Evans is an ideal selection here as he projects to be an impactful 3-and-D rotation player in the NBA for a long time. The fit with Evans and the Warriors is perfect, as the team will not ask him to do much more than work in a 3-and-D role- a role in which he has made his name in. A career 38% shooter from deep, Evans also established himself as one of the more consistent perimeter defenders in the college basketball.
29. Brooklyn Nets
Caleb Martin: Wing- Nevada
The Nets' backcourt looks secure through next season and there is no big man worth taking at this juncture. Luckily, Caleb Martin still provides immediate value for Brooklyn. The Nets took the second-most three-pointers last season but ranked bottom 10 in 3-point percentage. Martin shot 40% from deep who can excel as a spot-up shooter as well as a creator of his own offense. Stockpiling wing scorers to pair with an at-times dynamic guard in D'Angelo Russell is a recipe for plenty of points.
30. Atlanta Hawks
Bruce Brown Jr: Lead Guard- Miami
The Hawks have already drafted one lead guard in this 2018 NBA mock draft, but with Dennis Schroder likely leaving the team, it is not a bad idea to load up on backcourt options. The earlier pick of Shamet gives them versatility on offense while drafting Miami's Bruce Brown gives them versatility on defense. Brown should bring immediate value as a high-activity point of attack defender, or you can simply stick him on the opposing team's best guard. At 6-foot-5, he has the ability to guard multiple positions. Offensively, Brown is still very raw, showing inconsistent shooting abilities and mostly relying on elite athleticism to get to the rim.