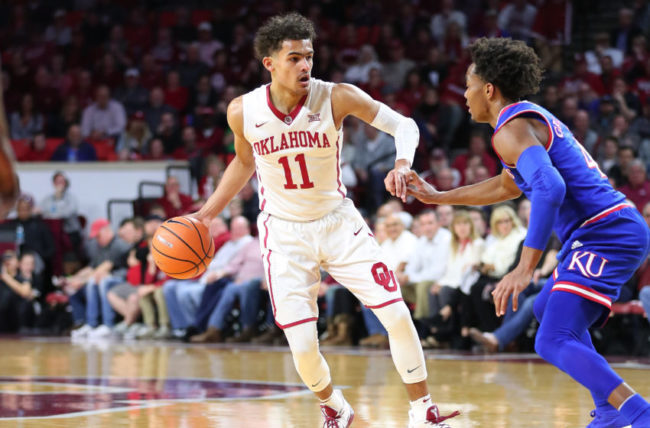 Trae Young took the college basketball world by storm when he suited up for the Oklahoma Sooners for the first time. The star guard from Norman Oklahoma soared to places that few freshmen have dared to go. Declaring for the draft and being a one and done made a lot of sense for the freshman and that is exactly what he did. Young should be a higher lottery pick when the 2018 NBA Draft is all said and done, but major questions remain. Will Trae Young become the next great NBA guard, or will he join the ranks of the great NBA busts?
Scoring
This may be the most appealing thing that Trae Young posses as a basketball player. He is a threat to score from almost anywhere in the gym. Young has an almost literal limitless range to pair with the ability to drive into the rim and finish. NBA teams would have to start getting very critical to find a flaw in the guard's shooting ability. Young is simply amazing to watch when he is shooting off the dribble or when he catches the ball. The NBA demands great shooting especially from guards, so Young should fit right in.
Young averaged a very impressive 27.4 points per game in his lone season with the Sooners. His style of play had fans and NBA scouts alike drooling over the NBA potential of the young guard. He also scored at an impressive rate of 42.2 percent from the field and 36 percent from beyond the arc. Young should be able to score with the best of the NBA when he gets his chance to.
Trae Young has 10 points on 4-4 shooting in the first half ?pic.twitter.com/dkr1tkuWwx

— Def Pen Sports (@DefPenSports) March 15, 2018
Playmaking
Trae Young is a great scorer, but this is not the only skill he posses in his arsenal on the court. Good playmakers need to be able to handle the ball well and pass well when the play demands it. Young has the court vision needed to make a great floor general at the NBA level. He is incredibly apt at not putting his teammates into positions where they aren't comfortable. Young also delivers his passes on point and has a fairly high intellect when it comes to passing the ball.
Young capped off his lone season at Oklahoma with 8.7 assists per game and simply looks phenomenal when the ball is in his hands. Young is going to make the right decision with the ball far more often than he makes a mistake. NBA scouts will be eager to get a look at the stellar playmaking and envision how Trae Young could change their team.
Defense
Trae Young thus far in his career has been a very good on-ball defender. Young is also very quick to jump passing lanes at the right moment and has really good hands that NBA teams love to see from guards. Young may not be well known for his defensive ability, but he has good instincts and has performed well on that end of the ball thus far in his basketball career. Despite his size and frame when he shows effort he does a good job on the defensive end.
Young averaged 1.7 steals per game as a Sooner fully displaying his defensive potential. He will probably never be a lockdown defender, but he could prove to be a guy that isn't a liability on the defensive side. His lack of defensive upside shouldn't keep teams from drafting him early in the lottery.
Weaknesses
Trae Young can make poor decisions and when he does it seems to often lead to a snowball effect. His shot selection can sometimes be poor and he has a problem forcing the shot sometimes when it simply isn't there. Young despite being a great passer does have a turnover problem. Young averaged 5.2 turnovers per game while he played for Oklahoma which isn't ideal. Despite a large number of turnovers he still has a solid assist to turnover ratio going for him.
Trae Young also doesn't quite have the size or the frame that would be desirable for an NBA point guard. Standing at six foot two inches and listed at 180 pounds, Young isn't quite there and this could end up being a problem for him at the next level. Taller and longer guards could end up bullying him at the NBA level and finishing at the rim could be a nonfactor for Young. Small players have and can succeed at the NBA level, but it is typically harder for them to do so.
Trae Young NBA Comparison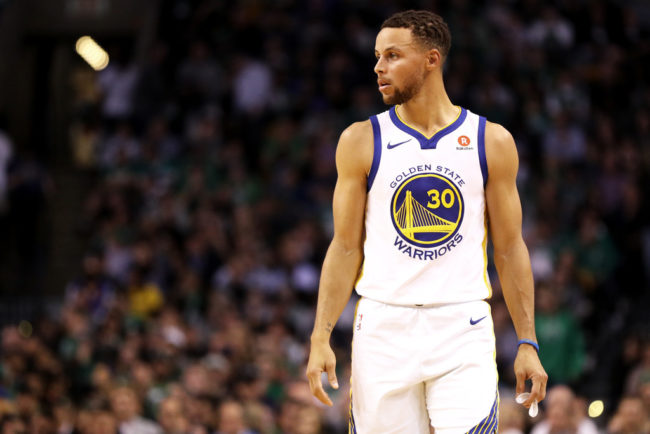 This is almost a perfect NBA comparison. Two time MVP Steph Curry may be one of the best players in the NBA, but coming out of Davidson he was labeled as an undersized guard that didn't do a lot outside of shooting at an NBA level. Curry was able to use that shooting and develop other aspects of his game to lead a modern-day dynasty. Trae Young may never reach the tall peaks of Steph Curry, but his path to success could be similar. Young and Curry have similar size and frames to go with playing a similar type of way. Young did things as a freshman that Curry took a few years to accomplish at Davidson.