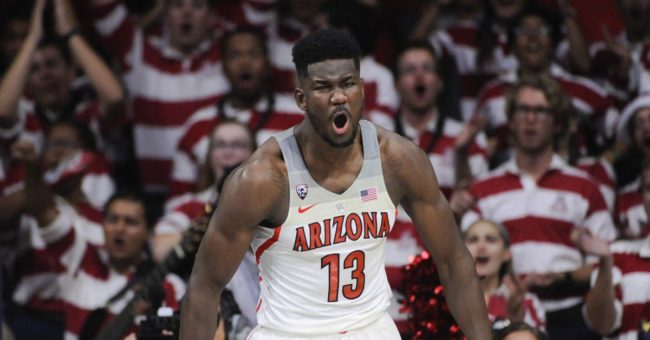 Arizona's Deandre Ayton along with international sensation Luka Doncic are considered to have the best shot to hear their name called first in the 2018 NBA Draft. In high school, Ayton was a consensus five-star recruit, McDonalds All American and the number 4 overall prospect by 247 Sports. For the Wildcats, Ayton was a man amongst boys in NCAA basketball as he averaged 20.1 points per game, 11.6 rebounds, and 1.9 blocks. He emerged as a leader on a team that was loaded with NBA talent and established upperclassmen. Under his leadership, Arizona won the PAC 12 but slipped in the first round of the NCAA tournament to 13 seed Buffalo.
Physical Build/Offensive Game
At 7'1" and a chiseled 250lbs, he is considered to be a physical freak and perfect size for a modern NBA center. He has an NBA ready body that will only develop under an NBA training regiment. Deandre Ayton moves extremely well for his size and is phenomenal in transition. In the post, he's proved he can bang down low with the best of them and demonstrated great footwork for such a young prospect. He's very active around the basket and doesn't solely rely on this athleticism but uses an array of developing post moves. Once he has an NBA big man coach, he has the potential to dominate the low block in so many ways (face up, back to the basket).
Since the NBA center position has morphed to where hitting the outside shot is necessary, Ayton has shown that he has good shooting mechanics that can be developed to make him a more than capable outside shooter. He shot a respectable 34.1% three-point clip at Arizona while averaging one three-point attempt a game. Also, he's demonstrated that he can knock down open mid-range jumpers and make free throws (73%). The latter is rare for big men of his size.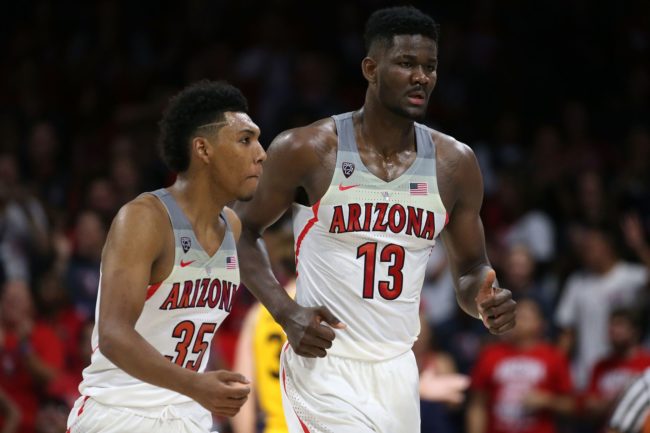 Weaknesses
Defensively, Ayton could have better overall awareness and at times wasn't the best help defender. Although he averaged 1.9 blocks per game, on the perimeter, he didn't challenge many shots, which is something he'll be doing a lot more of in the NBA. While being great at avoiding foul trouble, it often led to him not being as aggressive as he could be at the defensive end. All of these flaws are fairly typical and will improve over time if he has the right mindset, which he seems to have.
Potential
The sky is the limit for Ayton. As mentioned earlier, he was the leader for his team as a freshman and rarely had a bad game for an established Arizona squad. Many may cite the allegation that he potentially accepted impermissible funds through head coach Sean Miller as a character red flag. In my opinion, his reaction to the whole situation and the manner he handled it was a major plus for him. Ayton wasn't fazed and went on to play some of his best basketball. A player of his build athleticism and budding skill set just doesn't come along very often and if he's in the right system, he could be an NBA All-Star within his first 3 seasons.
NBA Comparison: Steven Adams/Bam Adebayo
Currently, there really isn't a player who is a dead ringer for Deandre Ayton, but Steven Adams of the Oklahoma City Thunder and rookie Bam Adebayo are the closest comparisons. Ayton is a physically imposing and an athletic freak like Adebayo but taller. Like Adams, Ayton possesses some strong post moves and is able to bang down low, but at comparable stages, Ayton is much bigger and developed than Adams.