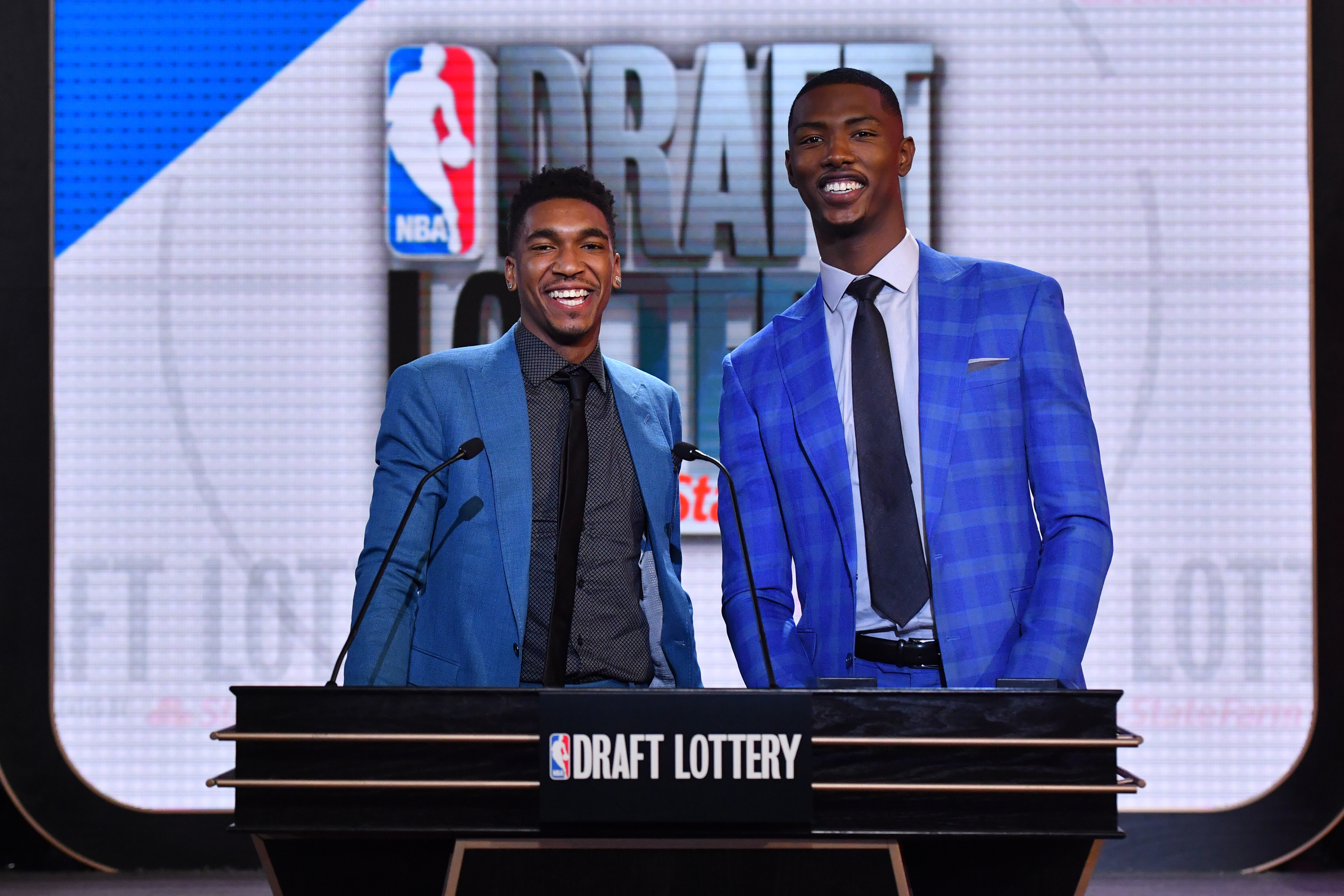 Our final mock draft of the year has officially arrived. The NBA offseason has been alive for just over a week and it has been crazy including the yet to happen draft. The Celtics traded away the number one pick to the 76ers for a draft pick haul giving them even more future first rounders. With this, the 76ers will get Markelle Fultz giving them the point guard they need to complete the rebuild Sam Hinkie once started.
With other stars being thrown around in trade talks, no telling what other top ten picks may be moved. After the first pick is where things get interesting. The Lakers have sent signals out about many different prospects. The choice at number two will truly dictate what happens throughout the rest of the top ten. At the beginning of the year we talked about the depth of this class, nothing has changed and it will be fun to watch tomorrow.
2017 NBA Mock Draft: First Round
1) Philadelphia 76ers- PG Markelle Fultz (Washington)
The 76ers moved up, swapping picks with the Celtics and they get their man in Fultz. Fultz will help make up a dangerous future core if they can stay healthy. With Embiid, Simmons, Saric, and now Fultz the 76ers will have a chance to be that team in the east to beat when Lebron begins to slow down or goes out west.
2) Los Angeles Lakers- PG Lonzo Ball (UCLA)
Lonzo Ball remains at number two especially with the Lakers shipping D'Angelo Russell to the Nets. It seems the Lakers have tipped their hand allowing them to draft their guy with no worries and giving the Celtics the guy they seem to have traded back for.
3) Boston Celtics (via Brooklyn)- SF Josh Jackson (Kansas)
Danny Ainge is reported to love Josh Jackson and if we're honest Jackson is an Ainge guy based on his competitiveness. Jackson should fit right onto a team made up of Jae Crowder, Marcus Smart and other fearless, highly competitive players. Jackson should be a nice compliment to Isaiah Thomas and can be a secondary playmaker.
4) Phoenix Suns- SF Jayson Tatum (Duke)
Tatum switches spots with Jackson this week after the trade but it works out for him. Tatum can slide right into Phoenix's weak three spot and form a solid scoring wing duo with Devin Booker. A 1-3 of Bledsoe, Booker, and Tatum could be fun to watch on offense in the coming years but iffy on defense.
5) Sacramento Kings- PG De'Aaron Fox (Kentucky)
Adding Fox at point guard next to Buddy Hield could be a solid partnership moving forward. With Fox's dynamic ability to attack the paint and kick out to Hield on the wing could be a good match.
6) Orlando Magic- SG Malik Monk (Kentucky)
The Magic need shooting and scoring and the guy left outside the top five who fits that bill the best is Malik Monk. Adding Monk to this roster won't do much but they need a guy who could possibly play next to Elfrid Payton.
7) Minnesota Timberwolves- SF/PF Jonathan Isaac (Florida State)
Isaac gets to go to the perfect team for him. Isaac can slide between Karl-Anthony Towns and Andrew Wiggins. A positive for Isaac in college was his ability to fit within the system and play a role, which is what he'd be asked to do in Minnesota. He doesn't have to be a great scorer and he can worry about filling the stat sheet similar to a Draymond Green.
8) New York Knicks- PG Frank Ntilikina (France)
It seems like everyone has Ntilikina to the Knicks but it is actually a very good fit for both sides. The Frenchman would be a great point guard fit in the triangle and his defensive ability would be welcomed on this Knicks team.
9) Dallas Mavericks- PG Dennis Smith (North Carolina State)
Dennis Smith goes to maybe his most favorable spot in this mock draft to Dallas. Allowing Smith to develop under Rick Carlisle and on a team in need of a dynamic point guard makes for a beautiful marriage.
10) Sacramento Kings (via New Orleans)- C Zach Collins (Gonzaga)
I really like this for the Kings, Collins and Cauley-Stein can form a new age twin towers look, plus Skal Labissiere still developing as a third big could be a scary young trio. Collins has the ability to step out which will compliment Cauley-Stein's inability to score besides putbacks and rim runs. Collins and Cauley-Stein could form a very nice front court for the Kings, in time.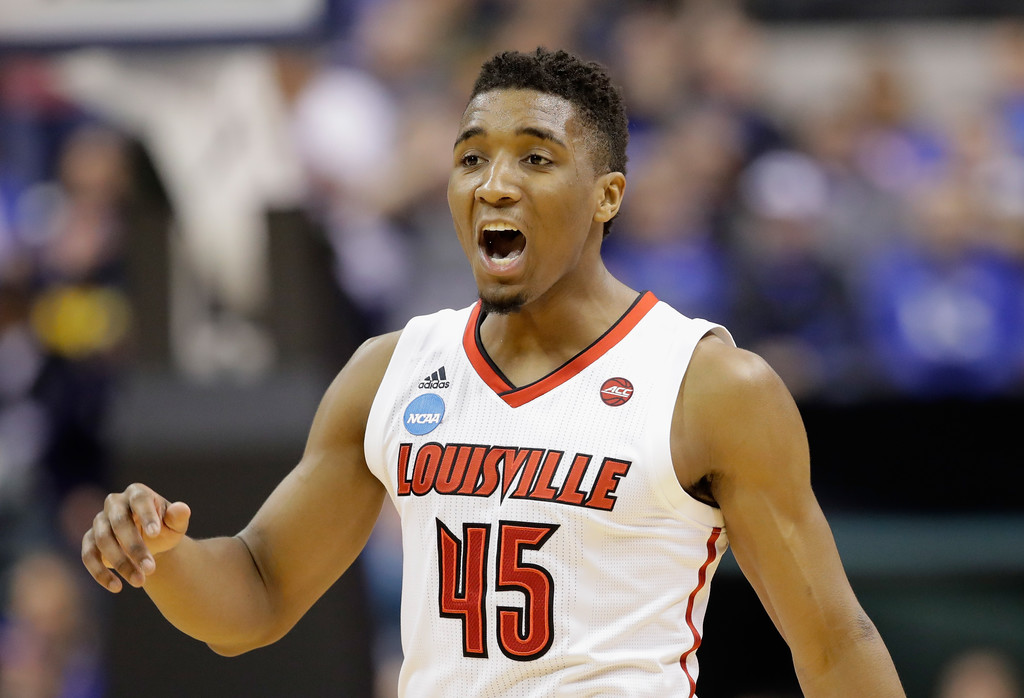 11) Charlotte Hornets- PG Donovan Mitchell (Louisville)
Mitchell has slowly moved up all draft boards including ours and now resides just outside the top ten. In Charlotte Mitchell can backup Kemba but also because of his enormous wingspan could possibly play next to him. Mitchell has the chance to be a very interesting player if developed right.
12) Detroit Pistons- PF Lauri Markkanen (Arizona)
Markkanen is outside of my top ten because of his deficiencies. Although he is a great shooter at 7′, maybe the best shooter in the draft he doesn't do much else on the court. Defensively he isn't great whether guarding or blocking shots at his height and quickness. He doesn't rebound particularly well even for a guy his size. With the Pistons Andre Drummond, he can help cover for some of Markkanen's deficiencies.
Just met Markkanen. Told him I'm hearing 7-12 range. "I hope I go higher than that." pic.twitter.com/cbl5cIHs1n

— Jonathan Wasserman (@NBADraftWass) June 20, 2017
13) Denver Nuggets- SF Justin Jackson (North Carolina)
Jackson could slide right into the Nuggets three spot which isn't a particularly strong spot for them. His offensive game is NBA ready with his smooth three-point stroke and sweet floater game.
14) Miami Heat- SG Luke Kennard (Duke)
In my opinion, the best shooter in the draft slides just inside the lottery. Kennard could form a sweet lefty shooting backcourt in Miami with Goran Dragic. With the Heat it could be interesting to see if he becomes a starter or he becomes similar to 2011 Bulls Kyle Korver off the bench. Kennard's ability to score off the dribble could help him play similar to Clippers J.J Redick.
15) Portland Trail Blazers- PF John Collins (Wake Forrest)
The Blazers don't have great options at the four spot currently. Collins had a meteoric rise this past year and with continued seasoning could be a solid player. Collins is the best player available in the first non-lottery selection. The Blazers are getting a solid rotational player for many years to come.
16) Chicago Bulls- C Jarrett Allen (Duke)
The Bulls could use a center to develop while Robin Lopez is currently under contract. Allen with a year or so of seasoning has a chance to be a very good starting center. He showed lots of potential throughout the year at Texas and because of his superb height and length could become a problem in the coming years.
17) Milwaukee Bucks- SG/SF OG Anunoby (Indiana)
The Bucks love long, athletic, defensive-minded players and Anunoby fits that description better than anybody. The ability to add a potentially elite defender at 6'8″ with a huge wingspan is something the Bucks won't pass up. Imagine the Greek Freak, Anunoby, and Thon Maker making up a future front court with Jabari Parker and Malcolm Brogdon on the wings. That is length no team will want a part of
18) Indiana Pacers- SG Terrance Ferguson (Australia)
The Pacers take a chance on a potential 3&D guy with elite athleticism. Ferguson is a little unknown after his year abroad but has shown his game on the Team USA stage over his high school career. He could immediately add shooting to this Pacers team off the bench for years to come in a young Nuggets J.R Smith role.
19) Atlanta Hawks- C Justin Patton (Creighton)
With Dwight Howard now in Charlotte the Hawks have a need at center. Patton is a guy who will need a few years and could use the time for the Hawks to shield him with a veteran while he bulks up and learns the NBA game. Patton was a guy not on the radar entering the year as a freshman and exploded onto the scene. At his skinny frame the Hawks will need to be patient but this is a good value pick for them at 19 after their recent trade.
20) Portland Trail Blazers (via Memphis)- PF T.J Leaf (UCLA)
Leaf has shown the ability to stretch the defense at 6'10" while shooting 45% from three. This is a "best player available" pick as Leaf is a similar player to Meyers Leonard. With the Blazers owning three first round picks the latter two become BPA picks.
21) Oklahoma City Thunder- PF Tyler Lydon (Syracuse)
The Thunder needs shooting and with Nick Collison at the end of his career, there might be a spot in the frontline. The Thunder could use a backup at the power forward position outside of Sabonis who could start next year. Lydon fixes both issues as someone who can stretch the floor and play the four position.
22) Brooklyn Nets (via Washington)- PF Harry Giles (Duke)
The Nets probably won't be good for awhile, so why not take a chance on a guy like Giles? At this position in the draft, Giles becomes a low risk/high reward guy. The reward could be great considering Giles was a consensus top three pick before his knee injuries. With the Nets giving Boston their top three pick, the Nets need to take a chance like this. They need to hope it nets them a star if Giles returns to his old form before his injury.
23) Toronto Raptors (via Los Angeles Clippers) SF Semi Ojeleye (SMU)
Ojeleye could be a nice depth piece on a Raptors team with not much wing depth. They are loaded at the one and down low but lack defensive depth on the wing. Ojeleye shot well from three in a small ball four roles and could be a nice player for the Raptors at this spot.
24) Utah Jazz- C Ike Anigbogu (Spain)
This could certainly be a situation where the Jazz pick the best player available and if the big man from UCLA slips this far, they'd be silly to not select him. Anigbogu is a great compliment off the bench alongside either Derrick Favors or Trey Lyles. He's going to be able to protect the rim, rebound the ball and eventually fine tune his ability to rim run on the break. He already has an NBA body and if he fine tunes what he's good at, playing reserve minutes behind Rudy Gobert could be a dream come true for the Jazz.
25) Orlando Magic (via Toronto)- PF Ivan Rabb (Cal)
Rabb risked coming back for his sophomore year after being a projected lotto pick last year. It did not turn out great as his stock dropped after he showed little improvement in his game. His numbers improved because of more touches but not as drastically as many assumed they should or would.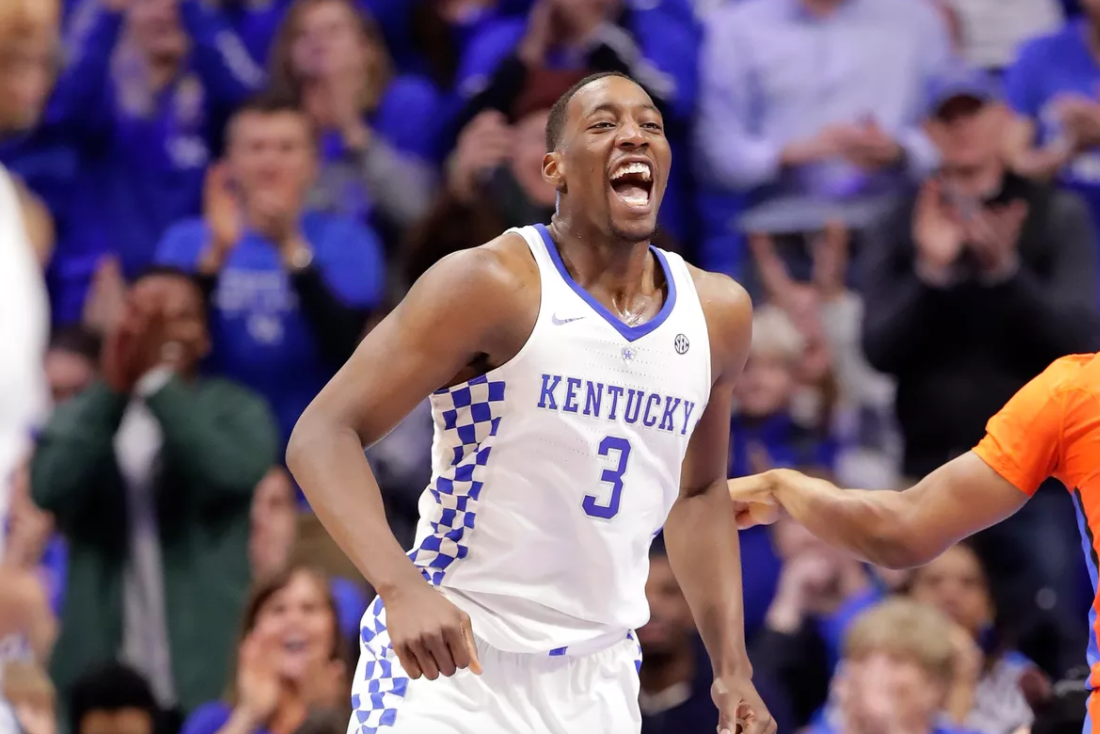 26) Portland Trail Blazers (via Cleveland)- PF Bam Adebayo (Kentucky)
Many thought Bam would be a lottery pick entering the year but inconsistencies in his game hurt that. As a result, Bam is no longer thought of as a potential starter. He will need to commit to being a great energy big and sliding in as a backup behind Jusuf Nurkic could be interesting. He has shown an ability to hit a 15-foot jumper and will need to further make that consistently.
27) Los Angeles Lakers- PG Jawun Evans (Oklahoma State)
Evans is seemingly a Chris Paul clone, same size, and similar game. He was the best pick and roll player in the entire country this past season and consistently carved defenses up. He won't reach Chris Paul all-star status but similar to Tyler Ulis last year will be in the league as a nice backup point guard for a long time. Evans could slide in as a potential backup for Lonzo Ball but it is risky asking two rookies to run your backcourt.
28) Los Angeles Lakers (via Houston)- C Tony Bradley (North Carolina)
Bradley was a surprise entry into the draft. He has not hired an agent and will decide on that after receiving feedback from the combine, but the clock is ticking. Bradley was a great offensive rebounder in his limited minutes on Carolina's championship team. His potential is tantalizing at 6'10" with a 7'4″ wingspan. With a good combine showing he will move higher in the first round with possible lottery consideration.
29) San Antonio Spurs- PF Caleb Swanigan (Purdue)
The Spurs next Dejaun Blair is right here. All kidding aside Swanigan to the Spurs could be an interesting choice with his ability to rebound well and stretch the floor. Swanigan as a first rounder is 50/50 to most execs, but it only takes one team and the Spurs could be a potentially good fit.
30) Utah Jazz (via Golden State)- PF/C Isaiah Hartenstein (Germany)
A stretch foot seven footer gets picked and can play both the four and five spot. He is relatively young so he may stay over in Germany for a year or two. Hartenstein has a chance to play with Gobert or back him up at the five in time.
Second Round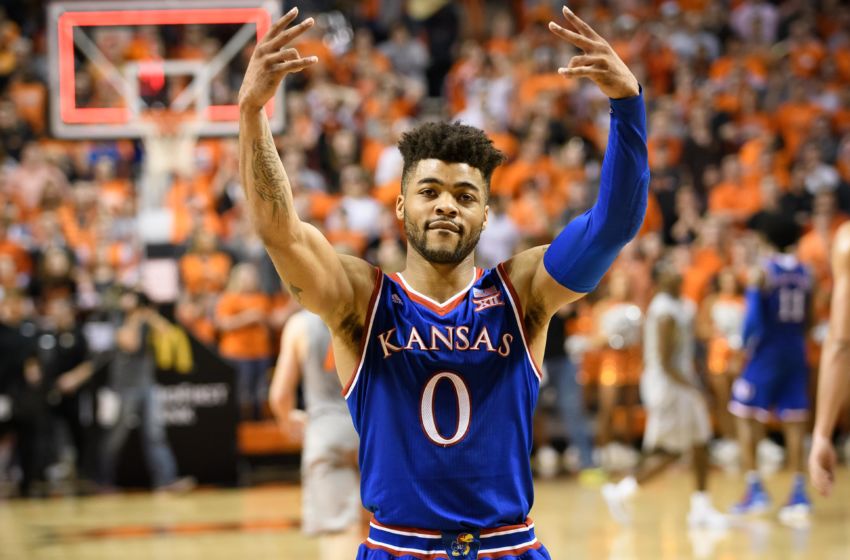 31) Charlotte Hornets (via Atlanta)- SF/PF Kyle Kuzma (Utah)
32) Phoenix- SF Dillon Brooks (Oregon)
33) Orlando (via Los Angeles Lakers)-PF Jordan Bell (Oregon)
34) Sacramento (via Philadelphia)- PG Frank Jackson (Duke)
35) Orlando- C Anzejs Pasecniks (Latvia)
36) Philadelphia (via New York)- PG/SG Derrick White (Colorado)
37) Boston (via Minnesota)- PF Jonah Bolden (Australia)
38) Chicago (via Sacramento)- SG/SF Wesley Iwundu (Kansas State)
39) Philadelphia (via Dallas)- C Thomas Bryant (Indiana)
40) New Orleans- PF Jonathan Motley (Baylor)
41) Atlanta- SG Josh Hart (Villanova)
42) Utah (via Detroit)- SF Devin Robinson (Florida)
43) Houston (via Denver)- PG Frank Mason (Kansas)
44) New York (via Chicago)- SG/SF Sterling Brown (SMU)
45) Houston (via Portland)- PF Alec Peters (Valopraiso)
46) Philadelphia (via Miami)- PG Edmond Sumner (Xavier)
47) Indiana- PF Mathias Lesort (France)
48) Milwaukee- PG George de Paula (Brazil)
49) Denver (via Memphis)- PG P.J Dozier (South Carolina)
50) Philadelphia (via Atlanta)- PG/SG Tyler Dorsey (Oregon)
51) Denver (via Oklahoma City)- SF Davon Reed (Miami)
52) Washington- PF Cameron Oliver (Nevada)
53) Boston (via Cleveland)- PF Vlatko Cancar (Slovenia)
54) Phoenix (via Toronto)- SG Dwayne Bacon (Florida State)
55) Utah- SF Alberto Albalde (Spain)
56) Boston (via Los Angeles Clippers)- SG Sindarius Thornwell (South Carolina)
57) Brooklyn (via Boston)- PG Monte Morris (Iowa State)
58) New York (via Houston)- PG Nigel Williams-Goss (Gonzaga)
59) San Antonio- SF/PF D.J Wilson (Michigan)
60) Atlanta (via Golden State)- SG/SF Jaron Blossomgame (Clemson)