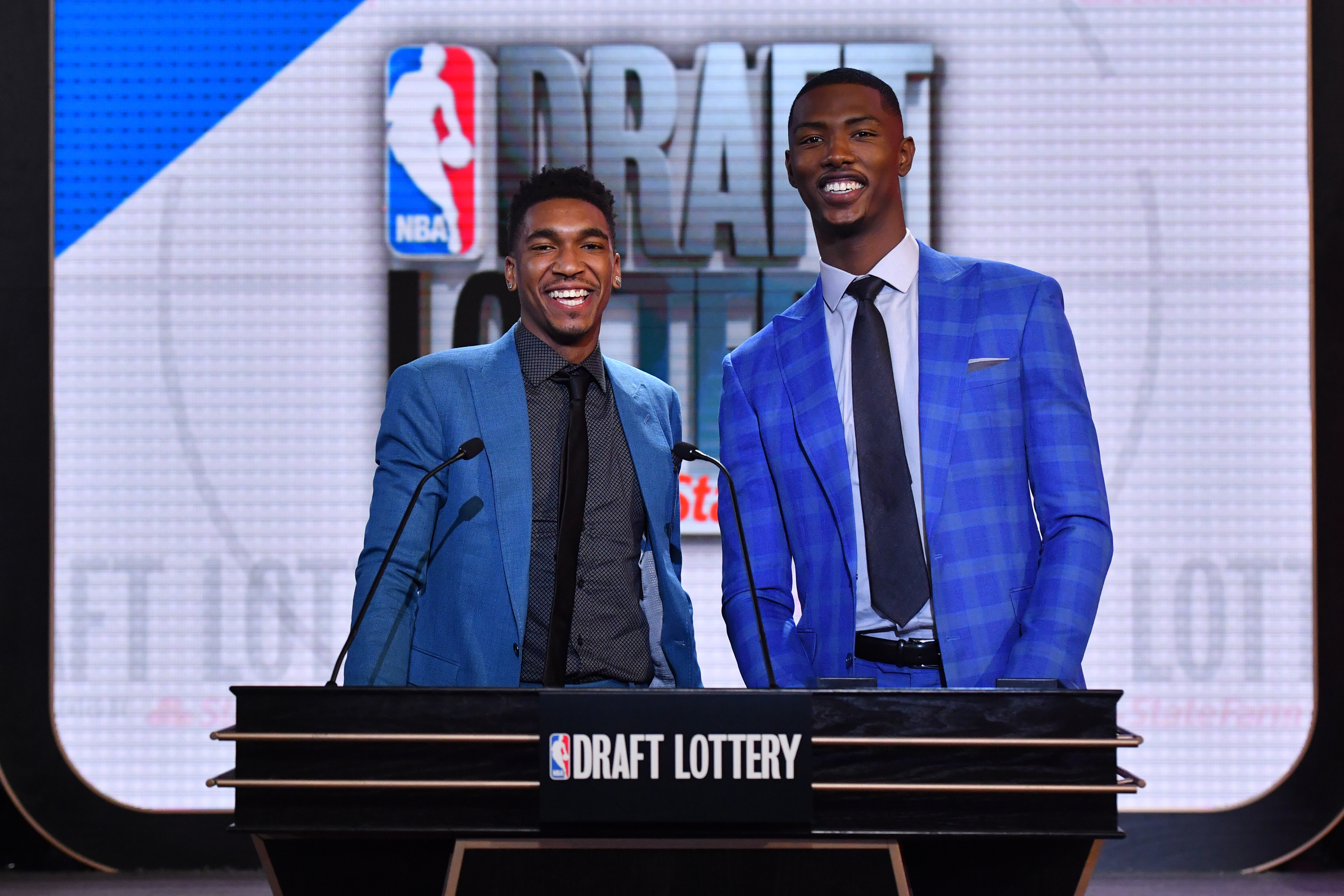 For weeks, so many have taken their crack at a 2017 NBA Mock Draft. Some have posed the question of a team taking a risk with the third pick, others have used their mocks to prop up the status of a fringe lottery pick but a number of places have presented mocks with the consensus selections based on some leaked information. We decided to throw all that aside and let the general managers pick.
Well, not the real general managers but some of the best, new NBA writers on the web were selected as the acting GM for a team randomly assigned to them. No favorite squads here, just pick what you think is best for your organization.
There were a few rules to start. We would be going two rounds, there were no trades allowed (until the Boston Celtics and Philadelphia 76ers did it for us) and please, don't reach and make an absurd pick. For the most part, we did pretty well picking players. (Don't hate us for forgetting about Ike Anigbogu. He's really good, we promise.)
We all decided to meet one day and do a big group chat to do the draft. We had a person playing commissioner and everyone who participated was kind enough to share their thoughts on their selection for their team. Let's see how everyone did.
So check it out below and let us know how we did either in the comments below or on social media.
2017 NBA Mock Draft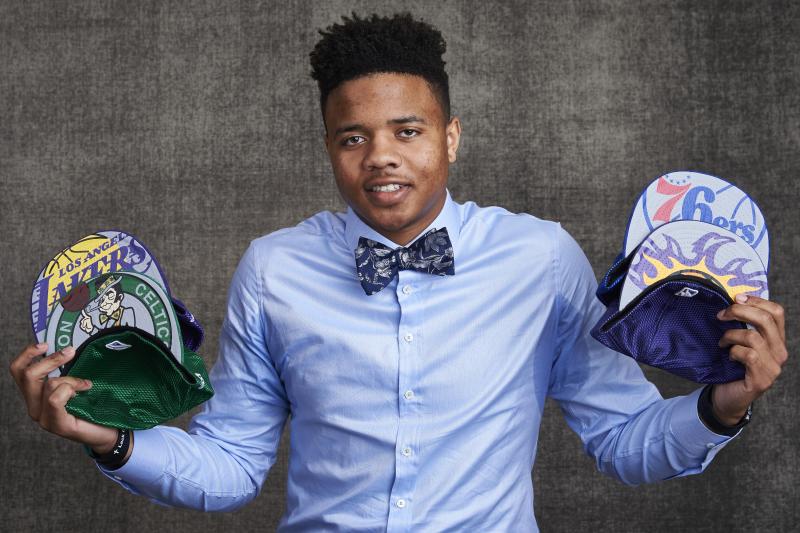 Round 1
1. Philadelphia 76ers
Markelle Fultz, PG
Pick by Josiah Brady aka @steadylosing
With the first pick, the 76ers have decided to boldly trade up and select possibly the draft's best shot creator, Markelle Fultz. At 6'4″ with a 6'9 3/4″ wingspan, Fultz isn't necessarily the type of lead guard that you would expect to organize offensive sets, but he doesn't need to showcase this trait in order to get serious top pick consideration. He's a very good athlete with surprisingly adept chase-down-block ability & a pretty good first step which enhances his dribble pull-up game.
It's still moot whether his college team's underwhelming performances incited poor shot selection, frequently telegraphed entry passes, and suboptimal awareness in pick-and-roll scenarios that could take a while to reverse. If the 76ers can continue to establish an optimistic, youth-driven culture that is conducive to success, then they should feel justified in their selection.
2. Los Angeles Lakers
Josh Jackson, F
Pick by Sagar Trika aka @BlazersbySagar
The Los Angeles Lakers selected Kansas forward Josh Jackson with the second overall pick in the DefPen Hoops 2017 Mock NBA Draft. We still believe that D'Angelo Russell can be the lead guard of our future and did not feel the need to draft a prospect such as Lonzo Ball. However, we are lacking some depth on the wing and believe Jackson can help alleviate that. His shot is still a work-in-progress, but we think he can develop that under our training staff.
3. Boston Celtics
Lonzo Ball, PG
Pick by Justin Jett aka @JustinJett_
A fluid guard with unique passing ability, Lonzo Ball gives the Celtics a secondary ball handler that they are in desperate need of. With good size to fit next to Isaiah Thomas, he does not lessen the shooting while also being able to run an offense sufficiently. The playoffs showed their need for a trustworthy secondary ball handler and Ball can be just that. He also has a natural nose for the basketball. He is seemingly always around on loose balls or offensive rebounding opportunities. A skill set that should translate to the NBA.
4. Phoenix Suns
Jayson Tatum, F
Pick by Ryan Niemchick aka @RyanNiemchick
Tatum for the Suns would be a great compliment to who they have currently. A very athletic 3/4 who has the physical tools to be very good on defense and has shown flashes of extreme offensive potential. The type of run and gun offense that I see the Suns running, they would fit a player like Tatum in seamlessly to pair with their already talented guards and other athleticism they have throughout their lineup in guys such as Derrick Jones JR. and Marquese Chriss.
Jayson has shown the ability to shoot, finish, post up, and be a playmaker in a high-powered offense at Duke. In the right system with a fair amount of minutes played at the NBA level, Tatum has the potential to blossom into one of the best players that this seemingly talented draft could produce.
5. Sacramento Kings
Malik Monk, G
Pick by Trey Daubert aka @TreyDaubert
As the new President of Basketball Operations of the Kings, I have been hired to rid the dysfunction within the organization and put this franchise back on the right track. With one of the worst rosters to work with in the NBA, let me explain my selections briefly.
My strategy holding the 5th and 10th overall picks were to wait out the point guard game. With Fox, Ntilikina, and Smith and ranked eerily close to each other on the draft board, I banked on getting one of them at 10. We will get to that later, however.
With Fultz, Ball, Jackson, and Tatum off the board, I picked the best player available on my board. If you think selecting Malik Monk 5th overall was a reach, I'm here to tell you why you're a fool. At the end of the day, you can't pick a bust, that's how I'll lose my job. Monk may never become a superstar per say but I know exactly what I'm getting when he enters the league.
Monk shot nearly .40 percent from deep this past year and will be an elite shooter in the NBA. If you're not replicating part of the Warriors game, you're a dinosaur. My comp for Monk was Ray Allen heading into the draft process. People forget Allen's early days with the Bucks that he was a high flying dunker as well. We saw those traits from Monk scouting him at Kentucky with the ability to an explosive leaper at the rim.
The Kentucky product also thrived in the pick-and-roll. 1.015 points per possession in pick-and-roll style is exactly what the NBA is predicated on. Our organization believes we haven't seen the best of Malik Monk just simply because of what he was asked to do at Kentucky. How high would Devin Booker go in a 2015 re-draft? The new era of the Kings learns from others mistakes.
We believe his athletic ability and elite 3-point shooting was too good to pass on. Monk is just one of those players who creates proper spacing and makes the other players around him better.
6. Orlando Magic
Frank Ntilikina, G
Pick by Austin Hutchinson aka @AE_Hutchinson
As the acting general manager of the Orlando Magic, I attempted to put myself into John Hammond's shoes. Obviously, in this point guard heavy draft, I wouldn't take a big man at 6. Aaron Gordon might strangle me. Taking the best player available is generally the best idea, and De'Aaron Fox had fallen to six. I had the chance to grab Dennis Smith Jr. or Fox, but who many had Phil Jackson taking at eight I personally love. I'm worried about Fox's ability to play in the NBA, both his frame and lack of a three point shot is concerning.
So I chose to draft Frank Ntilikina. Ntilikina has the length and wingspan to be an elite defender at both guard spots and even a 3 in the NBA. Though raw, he runs PnR like a pro and can shoot threes off the dribble. Scouts clamor over high basketball IQ. He isn't at Fultz or Ball level of vision and does force the occasional pass, but that shouldn't be a pressing issue with NBA reps. Ntilikina will have to work on his loose handles as well. He's oozing with potential, and that's exactly what Orlando is looking for in a combo guard alongside Elfrid Payton.
7. Minnesota Timberwolves
Jonathan Isaac, F
Pick by Jay Siskin aka @JaySiskin
Jonathan Issac could end up being the best player out of the 2017 NBA Draft with his ability to contribute right away on both ends of the floor — a prototypical player Tom Thibodeau covets.
The only problem for Minnesota is the fact that Issac might not be there at No. 7 when the Timberwolves send in their selection to Adam Silver. The 6-foot-11 wing could wind up in Boston or Orlando.
If Issac is there at No. 7, Thibodeau should have no hesitation come draft night. The former Seminole would fit in perfectly next to Karl-Anthony Towns and Andrew Wiggins. Thibodeau could take the pressure off of Wiggins by placing Issac on the other team's best player — thanks in large part to the fact Issac has the ability to guard positions 1 through 4.
8. New York Knicks
De'Aaron Fox, G
Pick by Austin Reed
With the eighth pick in the draft, the Knicks are hoping one of the top point guard prospects would fall into our lap and that is exactly what happened in this scenario with De'Aaron Fox. As someone projected to go in the top five, the Knicks would leap to get the highly rated prospect at the eighth spot. Fox's speed can really transform the team in transition and he has proven to be smart enough to learn and hopefully orchestrate the triangle. As he continues to develop that jump shot he will only continue to become that total package at point guard. Fox's speed and penetration should help open shots for Carmelo and Porzingis and it could be a step in the right direction for the Knicks. Hopefully, if the Kentucky point guard falls that far.
9. Dallas Mavericks
Lauri Markkanen, F
Pick by Oliver Maroney aka @OMaroneyNBA
From pick-and-pop to spot-ups, Markkanen threatens in almost every situation. As versatile as Markkanen is, he still struggles with drawing contact and asserting himself in the post. If he gets drafted to the right situation, he may make the biggest impact of any potential draftee based on his incredibly rare skillset. The fact that Dallas has the greatest international stretch-four to pair with Markkanen made too much sense to pass up.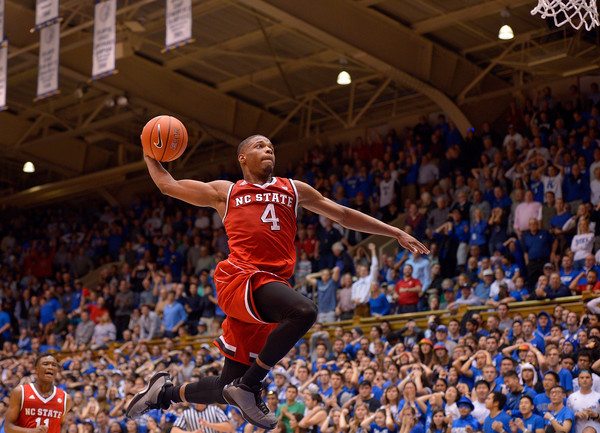 10. Sacramento Kings
Dennis Smith Jr, G
Pick by Trey Daubert aka @TreyDaubert
At 10, Dennis Smith Jr just so happened to be the point guard that fell to us. Again would you rather have De'Aaron Fox and Zach Collins our the package we wound up with? The beauty of the NBA Draft is that Smith may just wind up being the best point guard of the bunch. Remember Smith tore his ACL at the tail end of his high school career and often times it takes a few years to come back from that injury 100 percent. I don't think we have seen the best of him either.
I feel that from day one, Smith can go out and get us 20 each night and score the basketball at will. That's something he was able to do on a lousy N.C. State team raking in 18.1 points per game. The thing that separates Smith is his first step quickness and ability to finish at the rim. Our new point guard is just a nightmare in the open court and will really speed up the tempo to our offense.
The next step we need to work on is to develop Smith into the vocal leader, polished shooter, and willingness to be a passer instead of a ball stopper. If Smith can improve in those three areas, we drafted the best point guard in the entire class. Yes, we also know his defense is far from ideal but neither is Kyrie Irving's or Steph Curry's and they turned out pretty darn good.
11. Charlotte Hornets
Justin Jackson, F
Dylan Hargis aka @DylanHargis9
The Hornets could have gone with Donovan Mitchell or Luke Kennard at the 11th pick. The two shooting guards fit what Charlotte needs more, but Justin Jackson could be the better option long term for the Hornets. Michael Kidd-Gilchrist has yet to prove that he can be a quality starting small forward or that he can stay healthy. The Hornets will need to look at a big man with the 41st pick and look to free agency for a starting shooting guard. Justin Jackson can provide a scoring spark that has been missing beside Kemba Walker. Michael Jordan also tries once again to get a prospect from Chapel Hill to succeed in his organization.
12. Detroit Pistons
Donovan Mitchell, G
Pick by Saahil Pawar aka @S_Pawar21
The decision to go with Louisville's Donovan Mitchell here came down to positional versatility and the Pistons being sorely in need of another backcourt piece. At 6'3″ with a lengthy 6'10" wingspan and weighing in at 210 pounds, Mitchell has an NBA ready frame to play at either guard spot though he's more comfortable off the ball. With Reggie Jackson's future in Detroit looking murky and Kentavious Caldwell-Pope slated to become a restricted free agent this summer, Mitchell could be thrust into a prominent role earlier than expected.
The sophomore guard boasts elite athleticism which allows him to lock down his matchup defensively and his explosive bounce gives him the ability to get to the rack and finish with regularity. Mitchell also has a sweet outside stroke in his offensive arsenal, something that was featured during his sophomore campaign as he shot upwards of 35% from beyond the arc this past season. While Mitchell still needs to improve at creating his own shot and becoming more dangerous in isolation situations, his size, athleticism, and two-way potential should make him a rock-solid late lottery pick in this year's draft.
13. Denver Nuggets
Zach Collins, F/C
Pick by Noah Torr aka @NoahTorr
Zach Collins was selected by the Denver Nuggets for one reason only: Nikola Jokic. Jokic has proven that he is unable to play with another big on the floor besides a stretch four, but I believe that Collins can be the exception to that rule. The potential for Collins is through the roof, the Nuggets just need to find a way to hone him and get him locked in and ready to compete.
Collins has the ability to shoot and won't hesitate to take an open shot. Jokic, a point-center, needs guys around him that can stretch the floor and leave the paint open for him to operate. Collins doesn't have to be in the paint to get buckets and he proved that through his play at Gonzaga.
Collins can also be their new backup center if he needs to. Standing at 7'0, he would be a beast for opposing teams to handle. There is a slight issue, though, he has a problem imposing his size on others in the paint. He lacks the physicality that comes from scoring in the paint. His defense could also use some refining, but the tools are there.
I believe that Collins can truly help the Nuggets because they need a power forward who can play alongside Jokic, and they can find that through Collins.
14. Miami Heat
Jarrett Allen, F/C
Pick by Wardell aka @PonaxWardell
Like most years of late, the Miami Heat find themselves in what could be quite the unusual offseason. Pat Riley and Co. are in expected to be a high-level free agency destination, and their draft board should be reflective of that. Instead of nabbing the best available player on the board with the fourteenth pick, I have the Heat drafting what may be their toughest potential free agent acquisition: a cheap, suitable back-up to Hassan Whiteside.
Given that Miami has the fourteenth pick means they can get away with a bit of a gamble here, which is why I went with Jarrett Allen over John Collins. Many believe that Allen's natural length means he has a lot potential around the rim on both ends of the floor, the only question is whether or not he'll buy into his role as a rim protector and floor spacer. Guess that means I have a lot of faith in Heat culture.
15. Portland Trail Blazers
Luke Kennard, G/F
Pick by Orazio Cauchi aka @Paxer89
Luke is a great shooter and has a great body control. The reason behind the pick is really simple, I was looking for a scorer that can contribute from the bench and unload some offensive responsibilities from CJ McCollum and Damian Lillard. He can shoot very well both coming off the screens and from the dribble. Of course, his defense will be a concern, just like his athleticism, but the team clearly needs some more offensive options aside from Lillard and McCollum. In addition to that, Kennard is a student of the game and I'm confident that he can improve in several aspects of his game.
16. Chicago Bulls
Justin Patton, F/C
Pick by Aaron Johnson aka @AjohnsonNBA
The Bulls do not have much of a young core to work with, but by drafting Patton, they would be getting a modern NBA center to work with. While he did not attempt a heavy amount of threes, he did shoot 8-15 from deep as a freshman, 53.3 percent. He was efficient inside the arc as well, and led the Big East in field goal percentage, at 67.6 percent, which was also the second-best field goal percentage in the NCAA. Offensively, Patton has immense upside and if he can continue to develop as a rim protector, the Bulls will have themselves a nice two-way center for their uncertain future.
17. Milwaukee Bucks
OG Anunoby, G/F
Pick by Caleb Cottrell aka @Caleb_cottrell
After making the playoffs and pushing the Toronto Raptors, the Milwaukee Bucks are showing their potential. With Antetokounmpo, Brogdon, Parker, Middleton, and Maker, the Bucks just need depth at this point. I thought about grabbing a big man, such as Bam Adebayo or Justin Patton, but they still have Henson and Hawes on the roster, and they could possibly re-sign Greg Monroe.
Another option I thought about was Terrance Ferguson, given the Bucks willingness to draft players with upside. Ferguson could provide some shooting and defense to the Bucks roster in time.
With OG Anunoby, they are taking a risk due to his injury; however, they upper management hasn't had a problem with risk taking in the draft with Maker and Giannis. Anunoby, if healthy, can be the best defender in this entire draft class. With the way the Bucks lineup is set up, Anunoby can provide more defense and length with his 6'7 height and a 7'2 wingspan, thus allowing Jason Kidd to toy with a multitude of lineups. If he can improve his outside shooting, Anunoby could be the steal of the draft at 17 for the Bucks.
18. Indiana Pacers
Semi Ojeleye, G/F
Pick by Husani Weithers aka @RealSimbalism
With Paul George all but gone from Indiana, the Pacers next rebuild has been brought forward and management must focus on piecing together a young competitive team to satisfy the fans in its small market. In comes Semi Ojeleye whose combination of athleticism, shooting (.424 3P%), rebounding and defensive versatility should translate to a hard-nosed, "Swiss army knife"-type player in the NBA; a necessary component of competitive teams in today's NBA. At 6'7-235 lbs with a 6'10 wingspan, Ojeleye has the tools to contribute from Day 1 for the Pacers bolstering their defense and helping the team on the glass. In an ideal world, Ojeleye becomes a better scoring, less defensively versatile Draymond Green, unlocking the future Pacers' small ball capabilities and holding down the frontcourt with Myles Turner as his running mate.
19. Atlanta Hawks
TJ Leaf, F
Pick by Nekias Duncan aka @NekiasNBA
The Atlanta Hawks have short and long-term questions at the 4. Paul Millsap is one of the best at the position, but he's an unrestricted free agent this summer, and there's no guarantee he'll be back. Even if he opts to come back, he's 32 years old, and the Hawks should be looking for an eventual heir.
UCLA's TJ Leaf is a prospect with a high floor and a moderately high ceiling; he can help Atlanta now and later. He has a versatile skill set; he can spread the floor, pass, rebound, score on the block, and occasionally finish above the rim. He should fit right into Atlanta's offense. There are questions about his defense — he doesn't have great length or strength, so he'll likely never be a high-level rim protector — but he moves well enough to project as a competent team defender.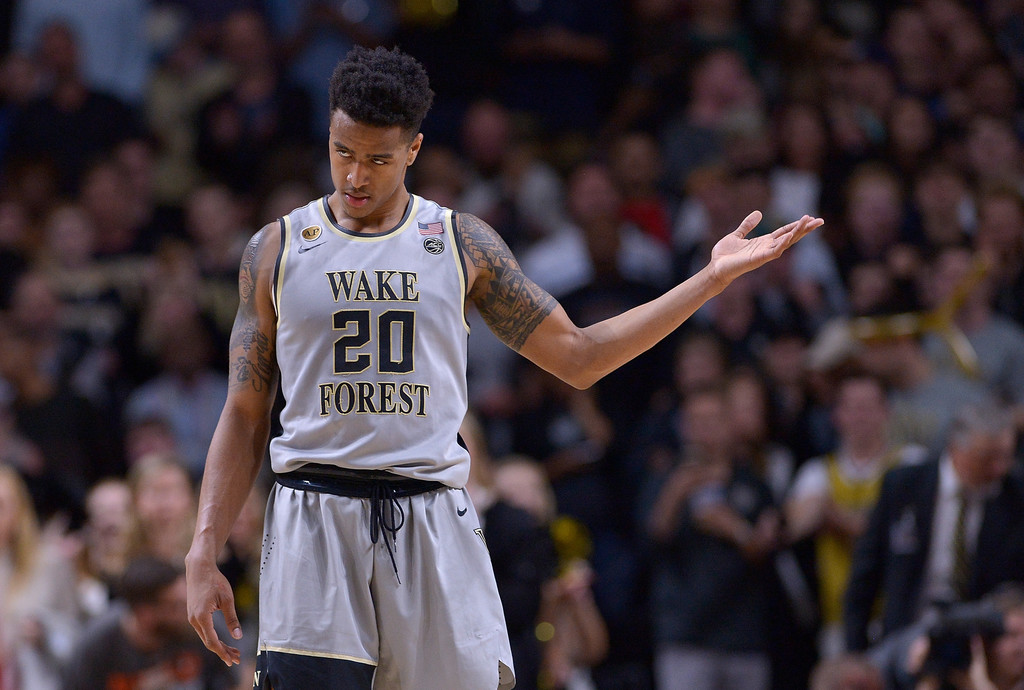 20. Portland Trail Blazers
John Collins, F/C
Pick by Orazio Cauchi aka @Paxer89
John Collins wasn't my top choice for this pick but I still believe he has some fantastic value for the 20th pick. John is an elite post scorer, a great high motor guy, and a very solid offensive rebounder. He's a relentless worker and will help the team to improve front court rotations. He needs to work on his instincts offensively and he has to improve a lot defensively, so he won't get much playing time at first. But a scorer like him he's hard to pass at that position.
21. Oklahoma City Thunder
Terrance Ferguson, G/F
Pick by Spencer Redmond aka @SpenRed
At pick 21, I was trying to go for the best available talent on the board. Luckily, I felt that Terrance Ferguson was not only the most talented player available, but he was the best fit for the Oklahoma City Thunder right now. Opting to play one year professionally in Australia rather than playing as a one-and-done in the NCAA, he was able to showcase his amazing athleticism, and improving three-point shot on an NBA-length three point line against professional talent.
Even with those great skills, Ferguson is still a very raw prospect who could prove to be a very high upside project for the Thunder moving forward. Even as a project, Ferguson could potentially help the Thunder out right now as a bench wing player, and help provide some much need three point shooting. Ferguson is an interesting draft choice, with improved ball handling, defense, and strength added to his thin frame, he could be a very effective player in the near future.
22. Brooklyn Nets
Anzejs Pasecniks, C
Pick by Andrew Bernucca aka @Krosoveri
There's so much to like for this kid at pick number 22 and he's a great fit for the Nets. The Nets were in desperate need of a backup center who can provide rim protection and with Pasecniks standing at 7-foot-2 he definitely fills that need. The Latvian big man is also fantastic in the pick-and-roll. He played with Herbalife Gran Canaria in the Liga ACB in Spain this season with American point guard Bo McCalebb and they loved running the PnR together. I expect that to translate to the NBA, with Pasecniks and Jeremy Lin forming my favorite PnR duo that doesn't involve players from the Sixers. Pasecniks has great hands and an impeccable touch, he's also very agile especially for his height. The list of strengths goes on with his solid shooting stroke and ability to attack of the catch. He may not be Kristaps Porzingis, but he might be able to challenge him for the best Latvian big man playing in New York.
23. Toronto Raptors
Harry Giles, F
Pick by Kam Harper aka @BeantownLegacy
The Toronto Raptors are in a bit of a bind at the moment. With multiple starters becoming free agents, Toronto needs a blend of young talent to plan for the future. Duke forward, Harry Giles, has had injury problems in the past but, if he can stay healthy, Giles might have has much potential as anyone in the draft.
Front court players that can stretch the floor will always have a place in today's NBA. With Kyle Lowry, Serge Ibaka, PJ Tucker and Patrick Patterson all hitting the free agency market, the Raptors could be dealing with a major lack of depth at power forward.
Giles is a bit of a risk due to his injury history, but at pick #23, he could be the steal of the draft.
24. Utah Jazz
Bam Adebayo, C
Pick by Zack Geoghegan aka @ZackGeoghegan
After averaging 13 points and eight rebounds in his one season at Kentucky, Edrice "Bam" Adebayo is one of the more slept on players in this draft. He has an enormous frame mixed with pure brute strength that is a load to handle down low. Standing at 6′ 10″, Bam can punish his opponents on the glass and around the rim simply by out-muscling them. His outside touch is shaky, but he has a great feel for the game and is bouncy enough to spring for almost any lob. With Derrick Favors recent injury history and only one year remaining on his deal in Utah, Bam could be a pick worth molding into a starting power forward in the NBA. He can immediately come in the league and be physical with anyone in the paint, but in today's NBA, he has to extend his shooting range if he really wants to expand his game.
25. Orlando Magic
Cam Oliver, F
Pick by Austin Hutchinson aka @AE_Hutchinson
While earlier we might have hesitated and skipped picking a wingman due to our glut at that position, a guy like Cameron Oliver is someone we really think could help make a strong impact off the bench early on. He's a high energy guy but there are concerns about him being locked in all the time when he takes the floor. We hope him playing behind Terrence Ross and Aaron Gordon could help improve his effort level.
26. Portland Trail Blazers
Isaiah Hartenstein, C
Pick by Orazio Cauchi aka @Paxer89
Hartenstein is only 19 years old but has some very interesting tools for a late round pick. He's very mobile and has a great frame, can finish well at the rim and can run the floor in transition. For a player of his size, 7'1", he has a very good vision, can pass the ball pretty well from the post. Maybe he's not immediately ready for the NBA but can grow a lot with a little bit more of experience in Europe with Zalgiris Kaunas or maybe in the D-League. Considering the crowded front-court, Hartenstein can be a solid draft & stash option.
27. Brooklyn Nets
DJ Wilson, F
Pick by Andrew Bernucca aka @Krosoveri
Pasecniks filled one need for the Nets in rim protection, and Wilson fills another with three-point shooting. New head coach Kenny Atkinson loves the four-out-one-in system where the team fires from deep with no remorse, I mean seriously, like no remorse at all. The Nets broke their franchise record in three-point attempts but ranked 26th in three-point percentage in the league. Allow me to reiterate, no remorse. Wilson can help the Nets out, big time. He shot 37.3 percent from deep last season and has a very fluid and quick form. He's also shown the ability to shoot off-the-dribble as well. The Nets just have to hope he turns into an Ersan Ilyasova type player and not Earl Clark.
28. Los Angeles Lakers
Jawun Evans, G
Pick by Sagar Trika aka @BlazersbySagar
With the 28th pick in the draft, the Lakers selected Oklahoma State guard Jawun Evans. We had Evans higher on our draft board than #28 and did not expect him to be available to pick at this point, which came as a nice surprise. We think he can step in nicely as a potential backup guard and be an upgrade over what we have at the moment.
29. San Antonio Spurs
Josh Hart, G
Pick by Rob Lopez aka @R0BaTO
The San Antonio Spurs are preparing for life after their Hall of Fame backcourt. Manu Ginobili could be retiring this summer and Tony Parker is coming off a serious injury and it's unclear how much time he has left beyond next year, the final year of his current contract. Plus, Patty Mills' future with the Spurs going into his free agency this summer isn't that clear. San Antonio already started to plan for life after their championship backcourt rotation by drafting Dejounte Murray last year and giving more playing time to Jonathon Simmons. But who can be that third rotation guard? How about the four-year former national champion, Big East Player of the year and All-American in Villanova's Josh Hart?
Hart is a solid shooter and floor general and if the Spurs are interested in bringing in someone to pair with Dejounte Murray as an off-ball slasher and shooter. He has the pedigree to play with a team like the Spurs and his skills are often overlooked given the top guards in this draft and a glut of bigs in the middle of the pack. Hart might be on the outside of the top six guards but he's a great option for San Antonio to consider with their future backcourt in doubt.
30. Utah Jazz
Monte Morris, G
Pick by Zack Geoghegan aka @Zack Geoghegan
Monte Morris was one of the smartest players in college basketball last season. Morris has an incredibly high basketball IQ, as he led the NCAA in assist-to-turnover ratio last year while averaging 6.2 assists per game. He isn't an impressive physical specimen but he's incredibly crafty and knows how to run a high-octane offense. He's shifty with the ball and can maneuver through the lane with ease while also remaining calm. He needs to improve his outside shot (37 percent from the college three-point line leaves a lot to be desired, although he has proven that he can hit from NBA range) but he has an arsenal of shots; from floaters to mid-range to pull-up jumpers that can be useful when shooting against length. He likely won't be a starter in the near future, but he has all the tools to be an exceptional backup point guard in an immediate role.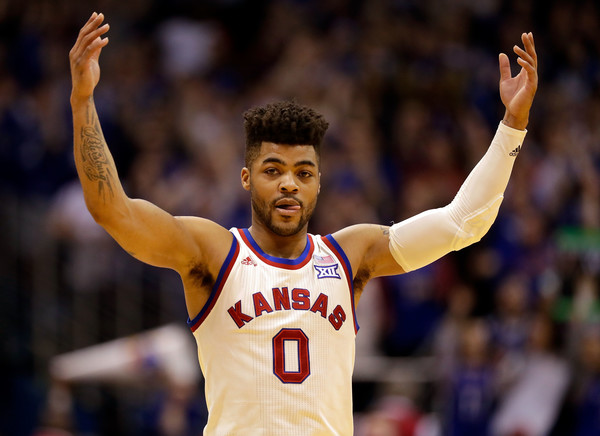 Round 2
31. Atlanta Hawks
Frank Mason, G
32. Phoenix Suns
Derrick White, G
33. Orlando Magic
Dillon Brooks, G/F
34. Sacramento Kings
Caleb Swanigan, F/C
35. Orlando Magic
Wesley Iwundu, G/F
36. Philadelphia 76ers
Jordan Bell, F
37. Boston Celtics
Tyler Lydon, F
38. Chicago Bulls
Edmund Sumner, G
39. Philadelphia 76ers
Ike Anigbogu, C
40. New Orleans Pelicans
Tyler Dorsey, G
41. Charlotte Hornets
Ivan Rabb, F
42. Utah Jazz
Sindarius Thornwell, G
43. Houston Rockets
Alec Peters, F
44. New York Knicks
Tony Bradley, F/C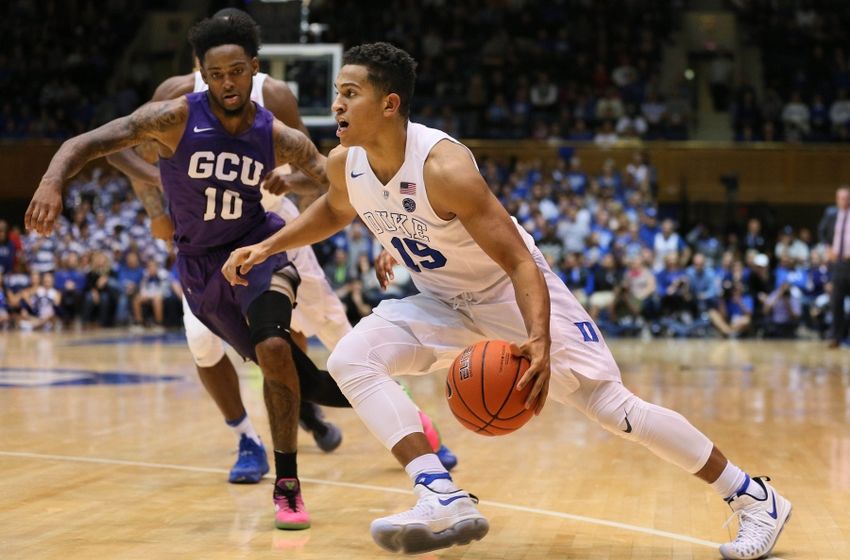 45. Houston Rockets
Frank Jackson, G
46. Philadelphia 76ers
Sterling Brown, G
47. Indiana Pacers
George De Paula, G
48. Milwaukee Bucks
Thomas Bryant, C
49. Denver Nuggets
Devin Robinson, F
50. Philadelphia 76ers
Kyle Kuzma, F
51. Denver Nuggets
PJ Dozier, G
52. Washington Wizards
Jonathan Motley, F
53. Boston Celtics
Davon Reed, G
54. Phoenix Suns
Derrick Walton, G
55. Utah Jazz
Jaron Blossomgame, F
56. Boston Celtics
Mathias Lessort, C
57. Brooklyn Nets
Jonah Bolden, F
58. New York Knicks
Nigel Williams-Goss, G
59. San Antonio Spurs
Vlatko Cancar, F
60. Atlanta Hawks
Amida Brimah, G